Choosing Furniture for Your Outdoor Space
Jordan Parrish

How To Maximize Your Outdoor Living Space

Whether you have a patio, balcony or deck where you enjoy the outdoors, you want to be comfortable and stylish. Balancing the two doesn't have to limit your design choices. Your outdoor living space should be an extension of your home and reflect your personality. Choosing outdoor patio furniture that's right for you and your space is one of the most important decisions in creating an ideal outdoor environment at your home.

The average outdoor space is about 1500 square feet, which sounds big in theory. Balconies can be much smaller, while backyards have more possibilities. Look at your space and how you want to use it to really maximize the area. Here are some practical tips from us at AuthenTEAK to help you create a luxurious oasis for entertaining or relaxing.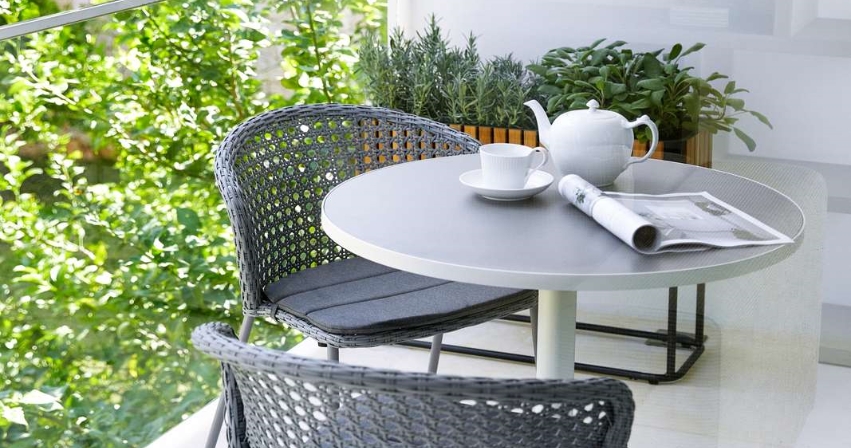 Transforming the Balcony

The problem with balconies is a limited space that typically can't be increased. You simply have to work with what you have. You want seating arrangements that provide privacy, but you don't want to limit your view. You want to keep the area in front of the door clear, so opt for a long chaise on one side of the balcony and club chairs on the other side. Long plant boxes filled with hedges on each side of the balcony will block out your neighbors. Choose small tables to sit next to the chaise and chair for coffee or drinks. Outdoor throw pillows will add color and comfort.
The Key to a Usable Patio

A patio has much more room than a balcony, but it can get cluttered very quickly. You want the patio to be an extension of your home and transition into the yard. Design is key, because traffic flow will make the space more usable and flexible. When considering outdoor patio furniture, look for furniture that can be moved to accommodate different-sized crowds. Keep the center of the patio open to let people walk into the yard.

An outdoor dining table with dining chairs or benches on one side of the patio lets you enjoy dining al fresco whenever the weather permits. Add a patio umbrella to maximize comfort. A small outdoor suite of patio furniture that includes a sofa and matching chairs will provide comfortable seating. Don't forget to include a coffee table or side table so guests can set down their drinks. Look for large outdoor pillows that can double as extra seating.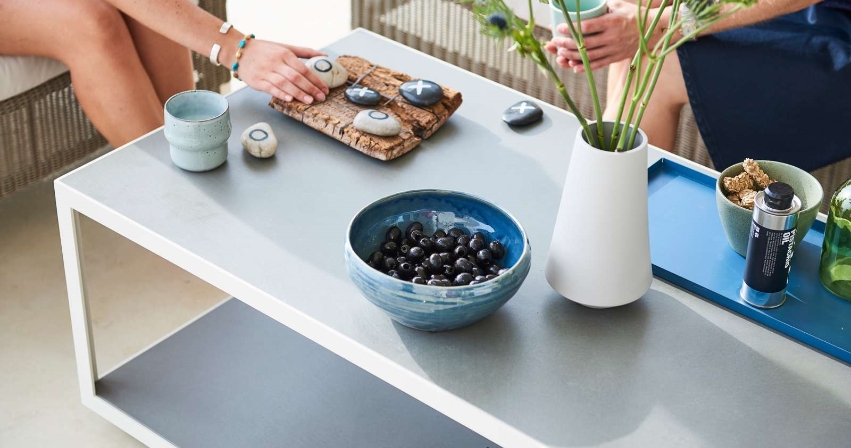 How Large Is Your Deck?

A deck is a lovely outdoor space that can be big or small. The same concepts that apply to the patio apply to a deck. Keep a simple layout and be aware of traffic flow. You don't want to block access. Choosing furniture on the smaller side will help you maximize the space while giving you a place to enjoy the great outdoors. Look for a slim dining table with a leaf that can be extended when you have extra people.

Choose a light-colored sofa that is smaller in scale while still being plush and comfy. Choose accent pieces that will do double duty, such as a side table that hides an ice bucket or a teak table that doubles as a stool. There should still be room for your BBQ grill on the deck, making your outdoor space the ideal place to have a dinner party.
A Narrow Townhouse Backyard
The Townhouse yard might be long and narrow, but the potential is endless. You may need to work around your landscaping, but you have more space than a balcony or deck. Create separate gathering spots to maximize the yard and retain the sense of an open space.

For the main seating area, you'll find a large selection of patio furniture sets, including dining sets and lounge sets that are suitable for your yard. Remember to add tables for drinks and snacks. Keep the dining table and grill close to the back door. This makes it easier to carry food and drinks from the kitchen. Add an outdoor refrigerator to keep drinks cold and ice handy if you have room.

The Pool
If you have a pool in your backyard, you probably have a lot of space. You can go big with comfy chaise lounges for lounging by the pool to a big dining set for your outdoor parties. To keep the yard from feeling cluttered, keep each area focused on one purpose. The long side of the pool is for relaxing. Keep the short side of the pool for talking and eating.

Shop With Purpose
Whether you're looking for outdoor patio decor to coordinate with your current arrangement or want a small patio furniture set to maximize the space on your deck, shop with us for outdoor furniture that will transform your outdoor living space into a paradise.