Ask the Experts: Fall Patio Décor Tips for Seasonal Charm
Katie O'Leary

Autumn offers a vibrant palette for patio decorating. To share the best fall patio ideas for this season, we spoke with Steve McKenzie, of Atlanta's McKenzie Design. As Steve says, "fall is a celebration of color," and your porch, deck or veranda décor should reflect the unique tones of the season. Whether you want to fully embrace seasonal décor by outfitting your patio with pumpkin displays or subtle accents are more your style, the following fall patio décor ideas offer inspiration for every design aesthetic.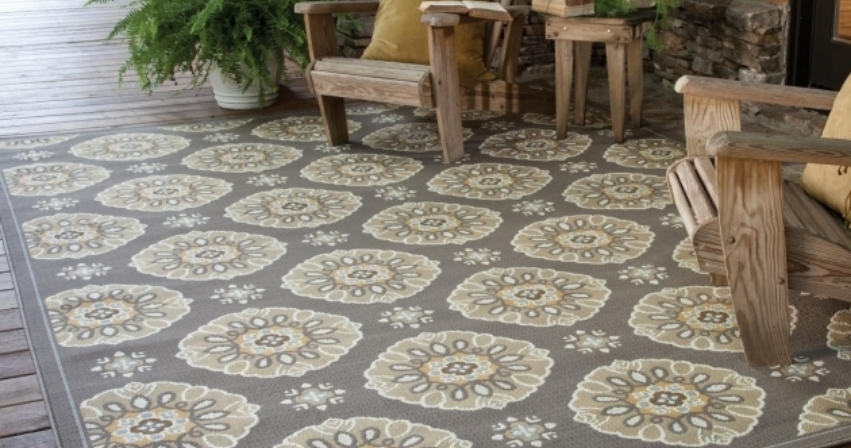 Add a Fall Rug for a Homey Feel
Area rugs add value to any outdoor space—both in design and functionality. A great fall outdoor rug can eliminate the boundary between indoor and outdoor space and encourage patio use during the cooler months. As Steve says, "rugs help define outdoor spaces as rooms."
Incorporating a fall rug into your outdoor living space that matches the texture and colors of your fall patio décor will enhance your patio's seasonal charm.
Pot Planters with Fall Flowers
Festive planters add a sophisticated, seasonal touch to any patio.
"Pots planted with strong fall flowers are a great way to give your patio some color. Ornamental kale, mums and pansies are all great options," Steve says.
Fall flowers are low maintenance and provide a great decor option for those looking to outfit their outdoor space with some fall flare without too much effort. Even if you decide that real flowers are too much work, there are plenty of beautiful artificial arrangements to choose from.
Create a Pumpkin and Gourd Display
Pumpkin and gourd displays offer a timeless seasonal aesthetic to any fall patio. There's nothing quite as eye-catching as a bold, beautiful array of orange, red and green pumpkins and gourds. If you're going for a rustic aesthetic, consider adding a hay bale to your display.
Put Outdoor Throws on Your Patio Furniture
With cooler temperatures, comes the need to incorporate decor that enhances the comfortability of your outdoor space while enhancing its design. Enter outdoor throws. Using blankets as fall patio décor is a great way to give your patio a warm, inviting atmosphere during the cooler months.
"Fall is a great time to bring out outdoor throws, so people can linger and wrap up in cool evenings," Steve says.
With cozy, chic blankets, fall nights can be spent enjoying a great bottle of wine, and crisp mornings can be spent snuggled up with a captivating book. To get décor inspiration tips for every season, subscribe to our email list or check out our Instagram.