Unique Winter Outdoor Décor Ideas for Your Home
Katie O'Leary

Icicles, snowflakes, glistening trees – the winter season can bring so many eye-catching natural delights! Whether winter is your favorite season, or you simply want to add a bit of fun flair to your outdoor space, there are tons of ways to do it. Here are some of our favorite winter outdoor décor ideas for all design aesthetics. With the simple winter décor ideas outlined below, you can make your outdoor space Instagram-worthy in no time.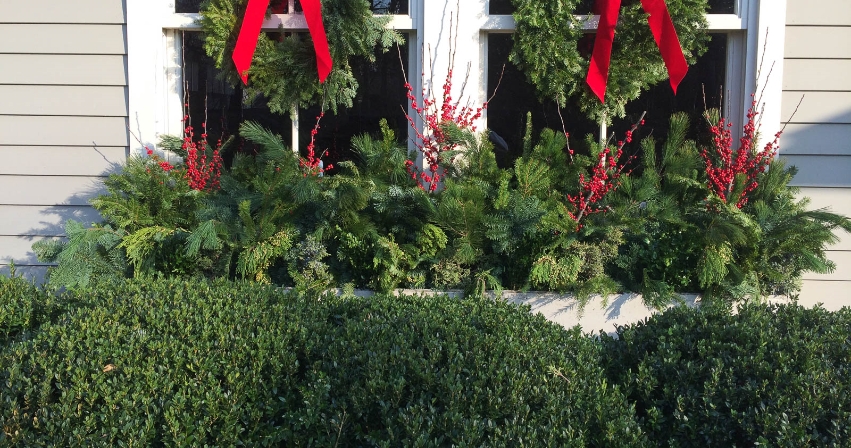 Fill Planters with Seasonal Arrangements
One of the best ways to punch up your winter outdoor décor is to fill your outdoor planters with seasonal arrangements. An arrangement of evergreens, twigs and winter berries in an outdoor planter provides a timeless, minimalist ambience to any outdoor space. To give your arrangement a festive touch, consider adding ornaments or other seasonal decorations that complement your plants. 
Add Rustic Touches
The cozy, down-home farmhouse aesthetic just seems to naturally lend itself to winter décor. Indeed, there are plenty of farmhouse-themed outdoor winter decorating ideas that are super simple. Fill baskets with throw blankets, pinecones or firewood for a fast and easy rustic touch. Repurpose a chair from your outdoor dining set as a fun log holder. Add a finishing touch with an evergreen wreath – a seasonal touch that never goes out of style.
Light up Your Entryway with Luminaries
Lining your entryway with lights provides your outdoor space with a seasonal glow. You can get creative with crafting luminaries to fit your design aesthetic. For the DIY-minded, consider creating your own candle holders out of birch trees. Using a circular saw, you can cut birch trees into varying heights and drill holes to create space for a candle. Alternatively, consider using mason jars or lantern holders to house votive candles. Any grouping of luminaries will light the way for holiday guests while dialing up your winter outdoor décor.
Winter can be a time of great natural beauty – why not bring some of that to your outdoor patio? With our simple and stylish outdoor winter decorating ideas, you can make your outdoor space the center of attention this winter.
For additional winter outdoor décor tips and other style suggestions, subscribe to our email list or follow us on Instagram.