Hosting the Holidays Outdoors
Katie O'Leary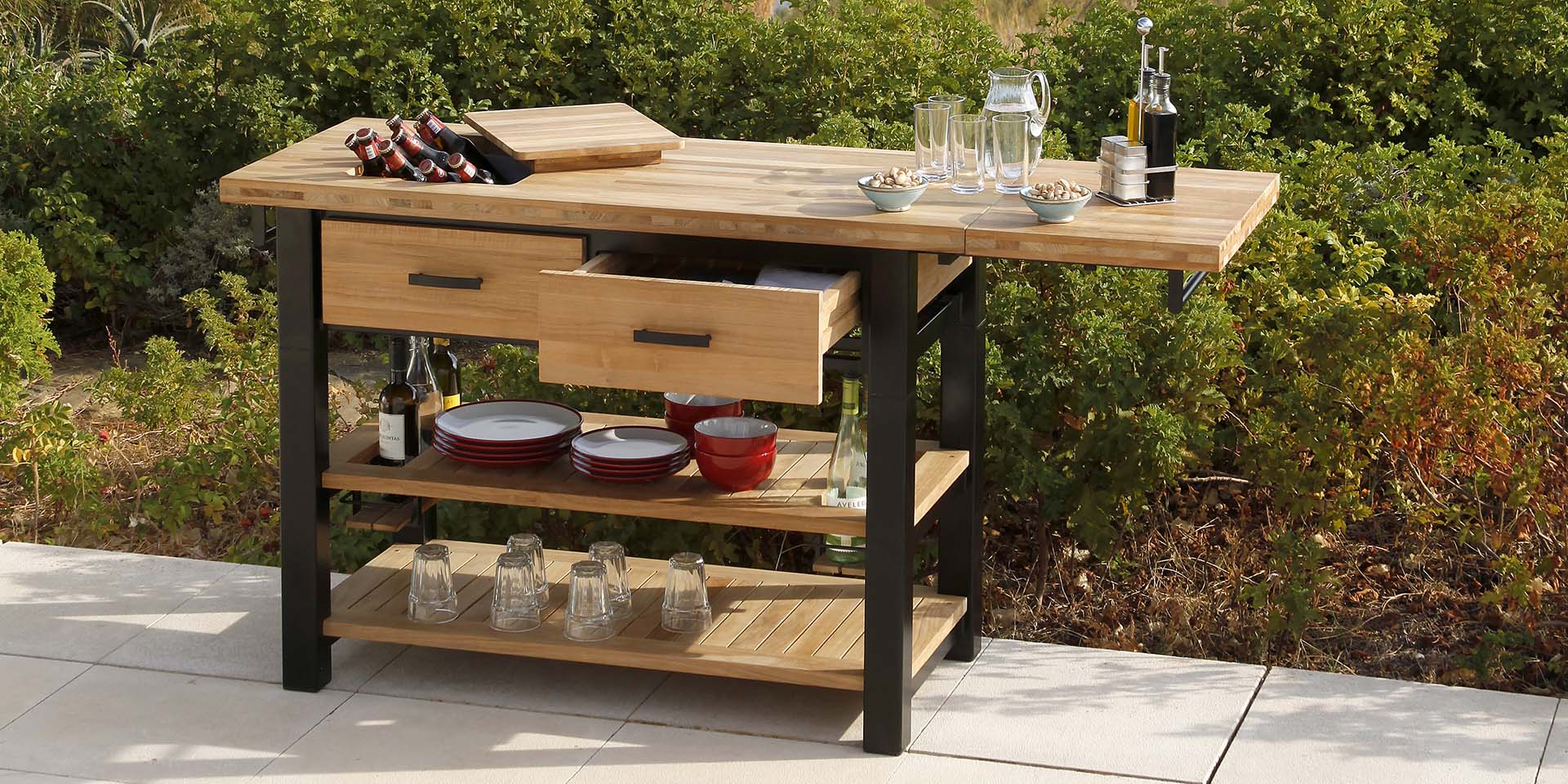 Bringing family and friends together for the holidays is something we all look forward to, but sometime the though of entertaining a large crowd can bring on some serious holiday stress.
For a relaxed holiday gathering that incorporates a laid-back approach and the beauty of the outdoors, plan to host outdoors in your yard or on the patio. Entertaining guests outside your home has many advantages including easier clean-up, more room for guests to roam, and less stress all around.
What better way to get in the mood for Thanksgiving than dining outside surrounded by fall foliage the way the very first Thanksgiving was celebrated? And if you live in a climate warm enough to celebrate Christmas dinner or New Year's Eve outdoors we say go for it! Here are our tips for creating an outdoor celebration friends and family will be raving about for years to come.
Start with Your Dining Furniture
Just like with indoor entertaining, a large enough table and enough chairs to accommodate all of your guests is always a top concern. Luckily, like their indoor counterparts, outdoor extension tables can easily accommodate a crowd. If you don't already have an outdoor table for dining, we recommend a model with expanding leaves so that you can return it to a smaller size when you're not hosting a large group. Tables with trestle bases, like the Arundel by Barlow Tyrie, are great when you know you'll be pulling up multiple chairs around the ends of the table with no legs to get in the way.
If you need to add more chairs to your assortment to accommodate your gathering, we especially like these folding styles in teak. They look great around the table and store easily when you're not hosting a large group. Another way to fit more guests around the table is with bench seating. Consider a bench for one side of the table as a way to accommodate children, or just squeeze in additional guests.
Make Serving Easier
Don't let the lack of outdoor prep and serving space keep you from taking the party outdoors. A weather proof serving cart, buffet or console will give you much needed serving space and is a great place for setting up beverages or appetizers to keep your guests outdoors. If you're planning on hosting an event in multiple areas of your yard, a cart on wheels, like the Barlow Tyrie Mercury or Kingsley Bate Teak serving cart, is a great choice. However, simply setting up an outdoor console table on your patio or near the grill can make hosting easier by providing a much needed place to set down platters. Another option, bar and counter height tables make great surfaces for serving and cocktails, and can be left outdoors year round.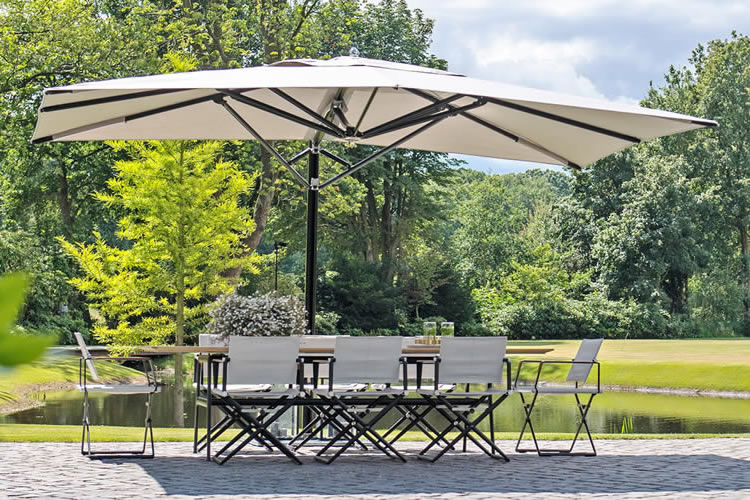 Shade Your Guests
An umbrella is an outdoor entertaining must-have if you're planning your gathering during sunny daytime hours. Although many tables come with a hole for the umbrella in the center, we recommend trying a cantilever style instead. There are a few benefits to using an offset or cantilever umbrella over your dining table. First, you get full use of your tabletop without the umbrella pole obstructing your space or your view of your friend seated across the table. Second, a cantilever umbrella equipped with a pivot mechanism can easily spin away from the table after the meal is through to shade an adjacent seating area.
When choosing a cantilever umbrella to shade a table follow the same rules as you would when selecting a market umbrella. Your canopy shape should match your table shape. In the case of an extension table you would want to select a rectangular umbrella. Make sure your umbrella extends 2 feet past the edges of your table. This 10x13' Cantilever umbrella from Treasure Garden is a great choice to cover a large extending table.
Set the Mood with Outdoor Lighting
If you're planning to party into the twilight hours, make sure to consider lighting for your event. Outdoor lighting options abound, from festive string light strands with a retro feel to LED and solar powered options which are easy to set up and require no wiring or electricity. Hanging pendant lights from the trees or from a pergola above your table is easy with these solar options from Gacoli. Umbrella lights are a fast, easy way to light up your table with a festive glow. These options snap onto a market umbrella and provide hours of illumination.
Besides setting the mood, lighting can increase safety and comfort of your guests. Think about the functional areas of your outdoor space - like your grill area, bar and serving areas, paths and walkways and make sure you'e providing sufficient lighting in each.If you need more focused light, at the bar or grill area, try floor lamp options from Gacoli. To light your driveway or backyard paths, solar pathway lights are easy to install and require no wiring.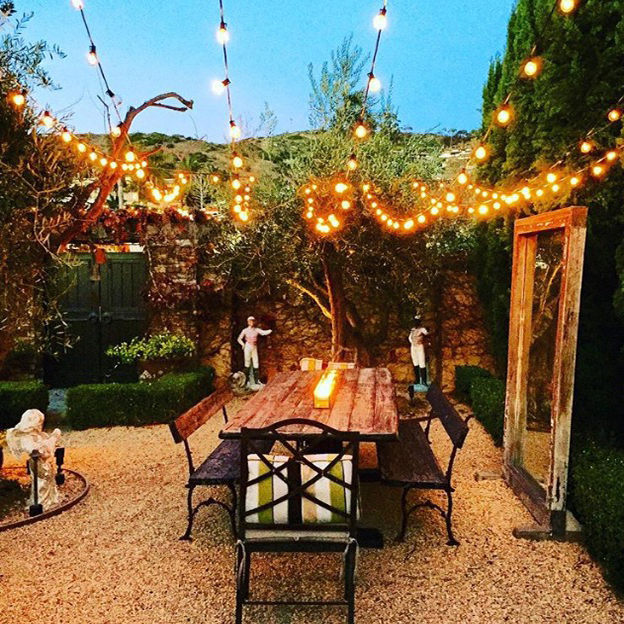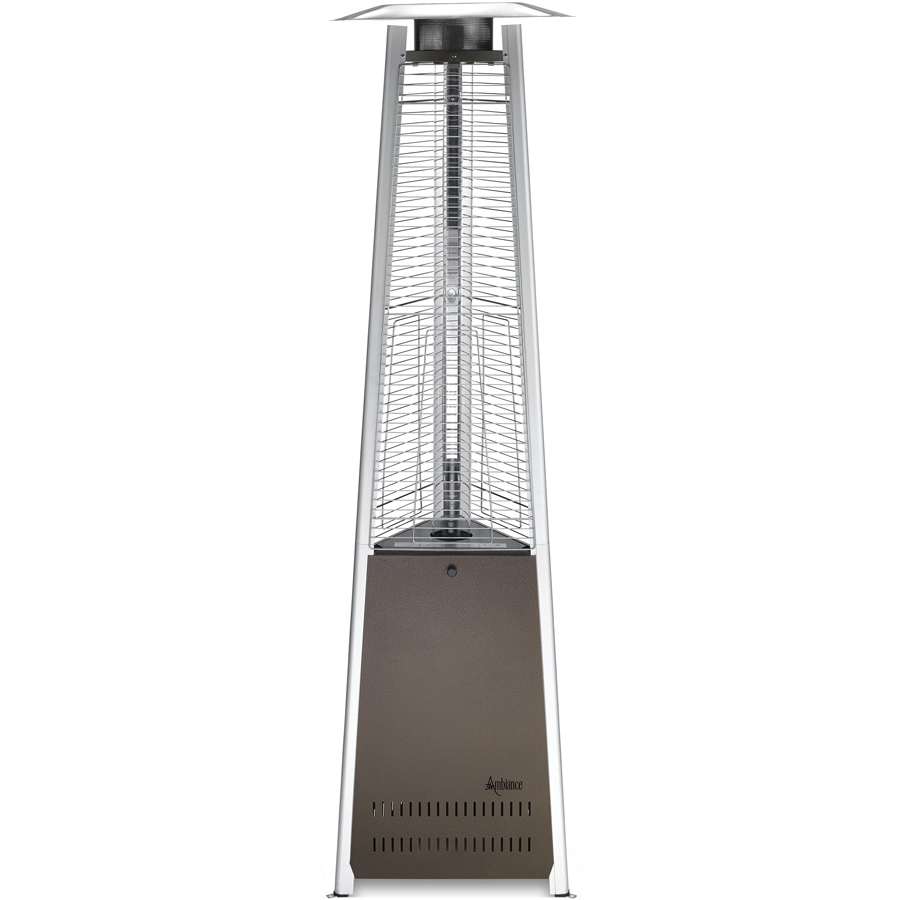 Keep Guests Warn with Portable Space Heaters
Don't let chilly weather put a damper on your entertaining plans. A portable space heater which runs on a liquid propane can be placed anywhere on your patio or yard and provide radiant heat to warm keep guests warm and happy. Always a good item to have on hand, we suggest a model like the Patio Comfort Ambiance Portable Gas Torch for effective heat at a reasonable price point.