Ideas for Great Christmas Holiday Outdoor Décor
Jordan Parrish

No Place Like Home for the Holidays
The holiday season is a great time to show off your home and to spread holiday cheer. Your year-round home outdoor décor, such as planters and lights, can continue to have the same impact while transitioning to holiday outdoor decor.
Planning for the Season
For many people, the holiday decorating season begins somewhere in the middle of October, and doesn't end until after New Year's Day. Depending on your family's traditions, you are most likely decorating for at least three distinct holidays during this period, but it doesn't have to be overwhelming. Careful planning and focusing on the important elements will allow you to make the most of your home décor and show off your seasonal spirit.

Choose a Focal Point
Many people put their emphasis on the front entry, since this is an easy way to create impact for everyone who comes through your door. If you have large outdoor planters near your entry, consider how they can highlight the holiday theme.
Lights and Ribbons
Two of the easiest elements to incorporate into your theme are festive lights and ribbons. Hardware and craft stores recognize that homeowners are using lights to decorate almost year-round, so it's easy to find strings of lights in colors that capture the season. Purple and orange are popular Halloween choices, and the same orange works for Thanksgiving. In addition to lights, ribbons wrapped around fiberglass planters, tucked into decorative planters, or accenting a holiday wreath can create impact. Many decorators like wired ribbon, sold in most craft and floral stores, because it holds its shape.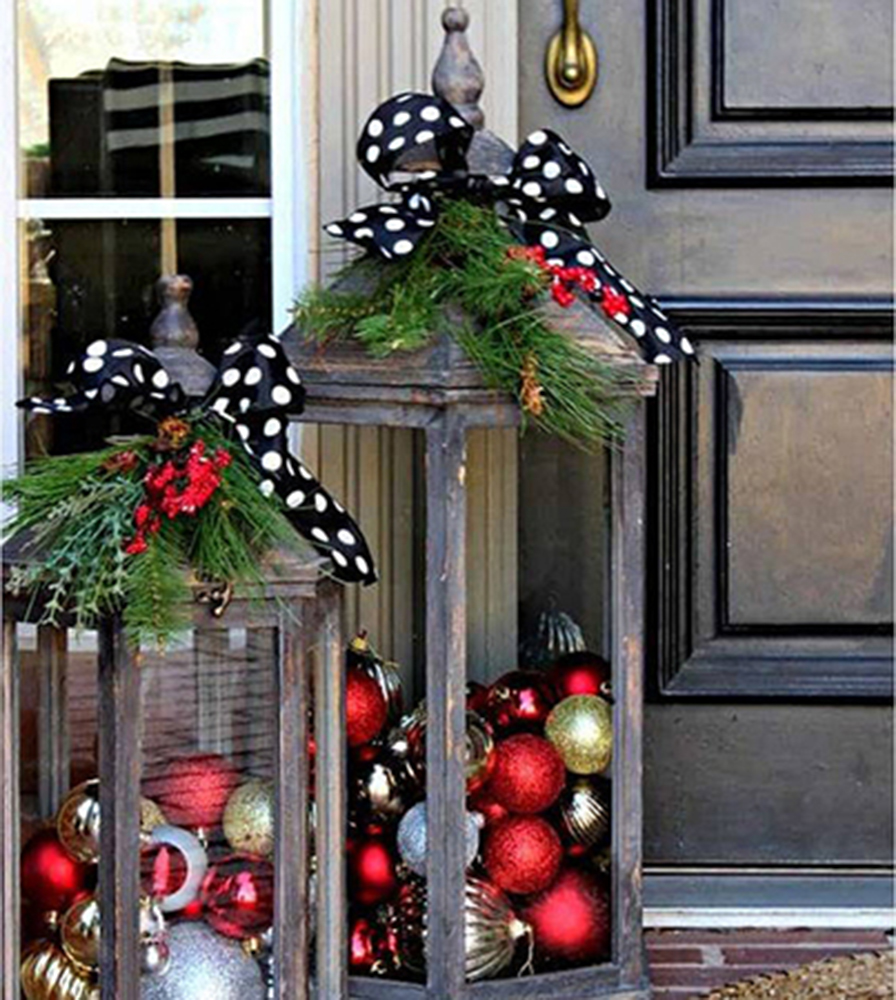 Harvest Touches
In addition to specific holiday elements, harvest themed decorations are an appropriate addition for Halloween through Thanksgiving. Colorful pumpkins and gourds, garland of colored leaves, even a scarecrow sitting on the bench are all possible components of a lively and festive display. Adding these touches when you begin your fall decorating can also make the shift from one holiday to the next a less overwhelming process.
Deck the Halls
Christmas outdoor decorations are usually the most elaborate of the year. It's a good idea to do some extra planning for these decorations, and consider each of the following as you do so: budget, time commitment, installation requirements and maintenance.
It's easy to get caught up in the Christmas spirit and buy every shiny new decoration that catches your eye, but you're likely to end up with an attic full of untouched items. Before you start your Christmas decorating, make a plan. Think about the look you want to achieve. How much time will it take to set up, and what supplies do you need? Are there aspects of your display that will require maintenance? If there's a storm, will you need to alter your display in any way? Planning ahead can go a long way to minimizing stress and unwelcome surprses, so you can enjoy time with family and friends.
Memories and Traditions
The best things about decorating for the fall and winter holidays are the traditions you build and the memories you create. Maybe your family always begins its holiday decorating on the same day of the year, or you celebrate the decorating with a special meal. Perhaps you take pictures in front of your freshly-decorated home for holiday cards. Whatever your traditions may be, your holiday home décor is sure to play a vital part in spreading holiday cheer.

Relax and Enjoy
After all of the decorating is done, when your house is sparkling with lights and your front door shines with its fresh new wreath, it's important to take the time to appreciate the work you've done. The whole reason for holiday outdoor décor is celebration, and the way that it invites friends and neighbors to join in the celebration with you. A beautifully decorated home is its own special holiday gift to you and to your loved ones. A few minutes among your Halloween pumpkins in the fall, your harvest display at Thanksgiving, or your Christmas outdoor decorations is sure to put you in the holiday spirit.