Use Outdoor Planters to Define Your Outdoor Space
planting ahead
It's no coincidence that many designers chose to use planters to frame a front door. The use of containers and plantings draws the eye, adds impact, and makes the most of a space. Placing them beside the entrance to your home transforms your front door into an impactful visual statement. In the same way, other outdoor spaces can benefit visually from the addition of some carefully thought-out planters. Keep reading for tips on how to add visual appeal, define your space, and create a cohesive outdoor look with planters.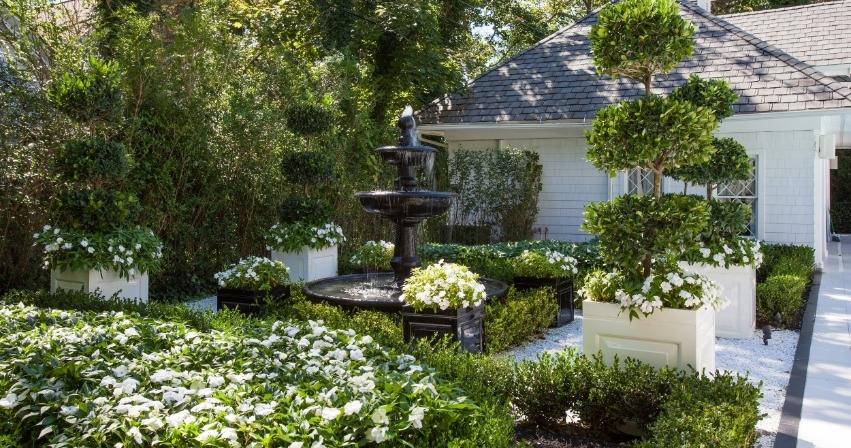 Where to Use Planters:
Planters are a great way to define outdoor spaces and break up large areas into smaller sections with distinct uses. For example, using planters to divide a long narrow terrace into an area for dining and an area for lounging, separating an outdoor kitchen space from a children's play area, or distinguishing the end of the driveway from the start of an outdoor patio area are all great ways to use planters outdoors to define your space. You may also wish to use planters to screen out unwanted views or add privacy. Placing planters against a fence or railing, or at the end of a shared patio or balcony can help block an unattractive view or just block sightlines to your neighbors. Placing a planter directly in front of a window or an outdoor sunbathing area can provide you with an extra degree of comfort inside or out.
Tall planters are great for privacy, but also consider using low planters filled with bamboo which grows quickly and creates a great visual screen.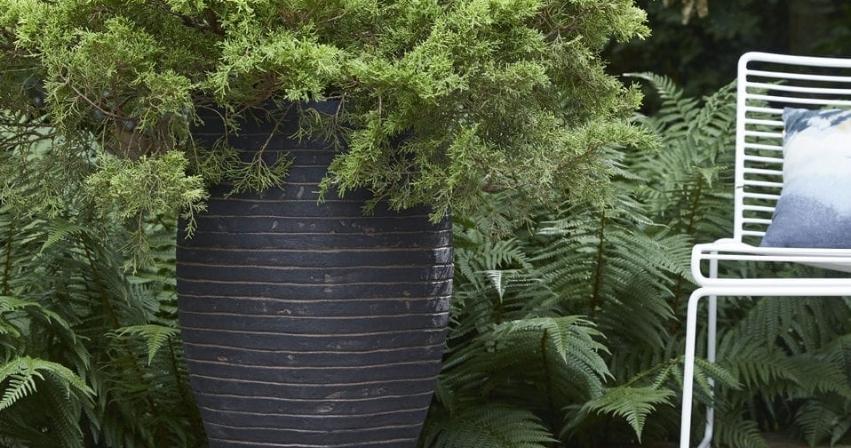 How to Select Space Defining Planters:
Now that you understand the many uses of planters outdoors to define and enhance your space – here are our top recommendations for how to select your outdoor planters.
Landscape Planter Materials:
Outdoor planters come in many different materials with different looks and benefits:
Fiberglass planters are versatile, and lightweight and can mimic the look of wood, stone, or terra cotta. No matter what look you are going for from traditional to ultra-modern, there's a fiberglass planter out there to fit your needs.
For the look of stone without the weight, we recommend Fiberstone planters by Pottery Pots – a combination of fiberglass and ground stone that gives a natural, textured look.
Teak planters are your best bet if you want the natural look of wood. This durable species can stand up to damp and cold conditions without rotting like other less hardy wood species.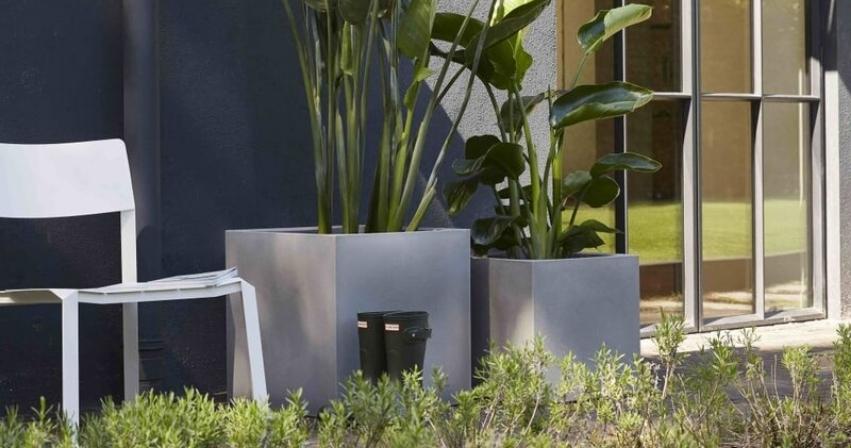 Planter Shapes and Sizes:
When selecting planters to define spaces follow these basic rules on shape and size:
Pick 2 or 3 sizes or shapes and then repeat them throughout your space for visual consistency.
Square and rectangular planters are a good pick when space is tight and you need to push right up to the border of your space. Round planters make a greater statement but require a little more space.
If using a variety of differently shaped planters, keep either a consistent color or finish to create a cohesive look. For example, if you pick white pots you can mix glossy and textured finishes to create an interesting composition.
When deciding between two sizes, it's almost always best to choose the larger size. The most common mistake when picking a planter is to go too small. In the case of planters, bigger is almost always better.
A Note on Color:
Neutral pots let your plantings stand out while brightly colored containers draw the eye and become a focal point. To give your home instant landmark status, a large planter in a bold color will certainly do the trick. Have a signature color? This is the place to use it. Consider matching a colorful planter with another colorful accent on your home like the front door or window trim for even more impact.

Need help selecting the right planters for your space? Contact our design professionals for personalized attention.