Create Your Outdoor Kitchen With AuthenTEAK
Jordan Parrish

Warmer weather is here and that means that now is the perfect time to complete your backyard paradise with an outdoor kitchen. We know it can get overwhelming with the wide variety of options available, so we're here to help you in selecting the perfect pieces for your future outdoor kitchen. Our wide selection of custom outdoor kitchens, powerful gas grills and commercial-grade stainless steel appliances paired with our best-in-class customer service and design expertise guarantees peace of mind when choosing pieces for your outdoor kitchen. Whether you're local to Atlanta and able to stop by our showroom or are starting the outdoor kitchen process online or over the phone with us, we guarantee a seamless process as we provide top-notch customer service sure to make this experience easy and enjoyable.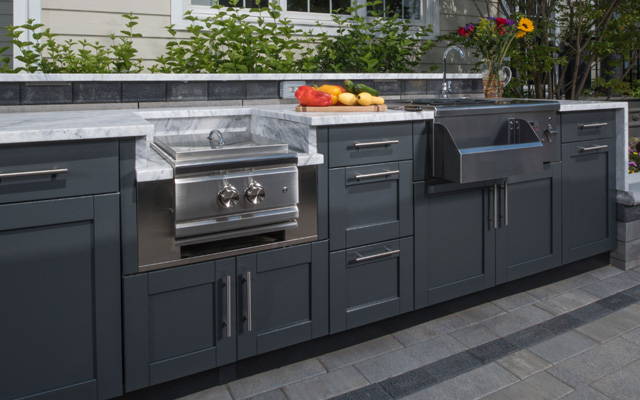 OUTDOOR KITCHEN CABINETRY
We are proud to offer outdoor kitchen components by industry-leading brands that have proven to be exceptional in not only providing an ideal place for outdoor parties and meals but in withstanding the elements beautifully, sure to catch the eye of your guests and neighbors. Danver is a brand of outdoor kitchen cabinetry that we're especially elated to offer, as they offer some of the most customizable outdoor kitchen cabinetry on the market that makes completing your outdoor kitchen seamless.
Danver Outdoor Kitchens
Danver offers one-of-a-kind designs with a plethora of options, whether you choose their classic Brown Jordan style kitchen, or create your own combination of styles, Danver is sure to have what you're looking for. Danver's stylish cabinetry options include but are not limited to five unique door & handle styles and dozens of options to choose from when selecting your wall, base, and corner unit cabinet styles. Danver's outdoor kitchen cabinetry and framing shines with its clean European-style cabinetry that not only maximizes functionality in your outdoor oasis but does so while creating a sophisticated and beautiful aesthetic. Visit our showroom or call our design experts to get started in choosing your outdoor kitchen's customizable cabinetry from Danver.
Urban Bonfire
Urban Bonfire is another top brand that we're proud to have on display in our Atlanta showroom, as well as having it available to customize and purchase over the phone. Urban Bonfire offers a variety of outdoor kitchen island cabinetry, available in a variety of finishes and options. The sleek style of Urban Bonfire outdoor kitchens is sure to set you apart from your neighbors and guarantees your outdoor kitchen to be a beautiful centerpiece to your outdoor paradise. Urban Bonfire offers a beautiful assortment of cabinetry finishes, door styles & handles, and countertops & work surfaces. They make it possible to create a truly personalized outdoor kitchen that's sure to be an outdoor masterpiece.
If you're going a different route in working with a contractor to create your own custom kitchen cabinetry at home, we offer stainless steel outdoor kitchen storage units that are perfectly accommodatable to your DIY cabinetry. Check out our access doors, access drawers, and outdoor cabinetry from top brands like Lynx, Alfresco & Saber.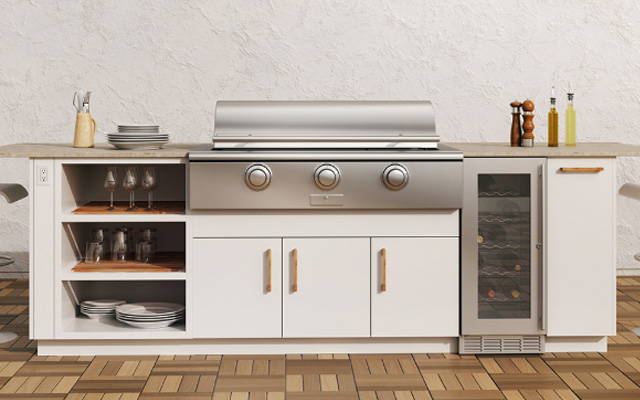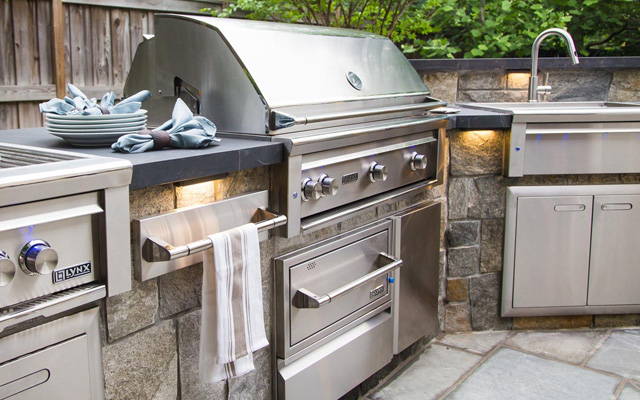 BUILT-IN GAS GRILLS
Choosing the perfect built-in gas grill is imperative as it will be the centerpiece of your future outdoor kitchen. We offer a variety of built-in gas grills from industry-leading brands like Lynx, Hestan, and Alfresco. When selecting your built-in grill, be sure to consider how many people you regularly cook for and what you enjoy grilling. All of our built-in gas grills are chef-approved and built to last in the outdoor elements as they're carefully crafted using 304-grade stainless steel.
Lynx Grills
Lynx grills are notorious for both their performance and sleek style. Not only do Lynx grills provide a top-of-the-line cooking experience with their powerful burners and professionally engineered cooking grates, but they're also guaranteed to shine in your outdoor space with their stylish blue lights and sleek good looks. Lynx built-in gas grills are available in a wide selection of options and variations, from size to burner configuration, allowing you to customize and create the best fit for your dream grill.
SHOP LYNX GRILLS >
Hestan Grills
Hestan grills have recently taken the outdoor cooking industry by storm with their state-of-the-art professional grill collection. Hestan grills showcase the perfect blend of an outdoor cooking powerhouse with sleek, stylish, and sparkling looks. Available in a variety of finishes, Hestan grills are well-known for their color options, as their built-in and freestanding grills are available in varieties of red, orange, blue, and other vibrant colors guaranteed to catch your neighbor's eye. We're proud to offer Hestan in both our Atlanta showroom and online. We stand behind the performance and quality of Hestan grills and encourage you to complete your outdoor space with the power of a Hestan built-in gas grill.
SHOP HESTAN GRILLS >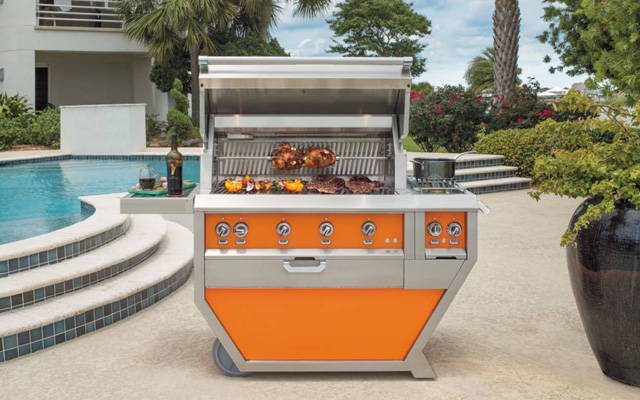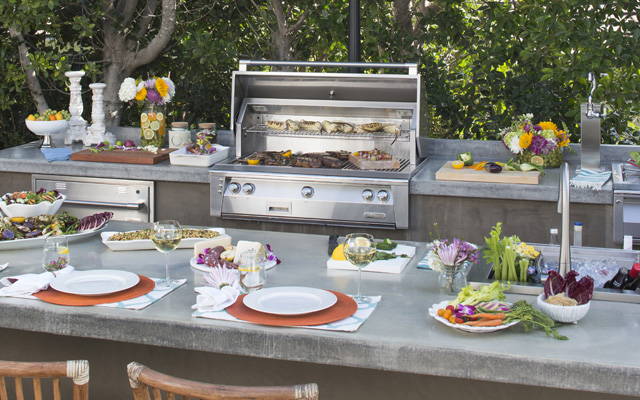 Alfresco Grills
Alfresco built-in grills have maintained an excellent reputation in the world of outdoor cooking for many years, as their grills are exceptionally built to provide undeniable, chef-approved cooking power. Alfresco grills are also available in a variety of sizes and burner configurations, and also have a selection of additional cooking accessory add-ons to accommodate even the most specific of outdoor cooking requests. Whether you're searing steaks on the high-performance sear burner or frying fish in the drop-in fryer, Alfresco grills are sure to satisfy your outdoor cooking needs.
SHOP ALFRESCO GRILLS >
DON'T FORGET
After choosing your built-in grill, cabinetry, and storage units, don't forget to complete your outdoor kitchen with essentials like outdoor refrigeration, trash bins, and sinks. While these pieces can often be overlooked, they're some of the most important factors to ensure that your outdoor kitchen is a true extension of your home and will contain anything you need while preparing meals & hosting outdoors. Our outdoor refrigerators & ice makers are outdoor approved, guaranteed to maintain your desired temperature while in your outdoor space. Make sure you explore our selection of outdoor sinks and trash bins to ensure the total completion of your outdoor oasis.
SHOP OUTDOOR KITCHENS & APPLIANCES >
Need help designing your dream kitchen? We can help!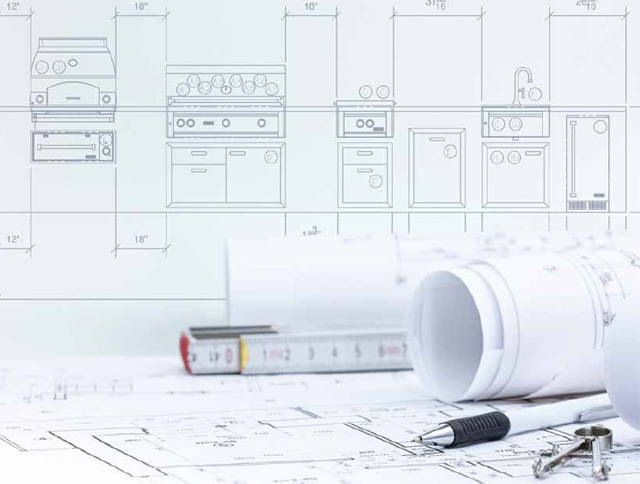 Our in-house designers are here to help you create your ultimate outdoor kitchen. From product selection to space planning and custom sketches, AuthenTEAK is proud to help guide you every step of the way to ensure you experience total peace of mind when designing your future outdoor kitchen.
If you're a Georgia resident or happen to be in town, stop by our Atlanta showroom and get inspired by our beautiful outdoor kitchen displays in our award-winning showroom. Unable to visit us in-person? No problem! Give us a call at 1-866-360-8325 and we'll make sure to guide you through every step of the way.
We look forward to hearing from you and helping you make your dream outdoor kitchen a reality!