AuthenTEAK 15th Anniversary
Jordan Parrish


Extending your home into your outdoor space to experience the joy of luxury patio living has become vital in the process of creating a well-rounded home. Whether you're moving into a new home or revitalizing your existing one, it's important to have an outdoor area for you to comfortably host guests and relax in an outdoor oasis that's comfortable, inviting, and beautiful.
AuthenTEAK, an award-winning Atlanta showroom knows the importance of creating an ideal outdoor oasis at your home or business. That's why for the past 15 years, we've promised to provide an exceptional level of service in helping you achieve your vision of the perfect patio.
AuthenTEAK began in 2004 as a weekend-only business founded by co-owners Eric Brenner and Damon Fogel. Over the past 15 years, customers have experienced best-in-class customer service and unparalleled design expertise as guaranteed by the AuthenTEAK promise; "Industry-Leading Brands. Expert Design Guidance. Outstanding Customer Service."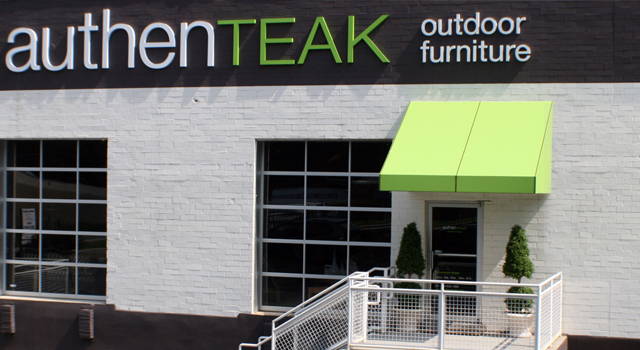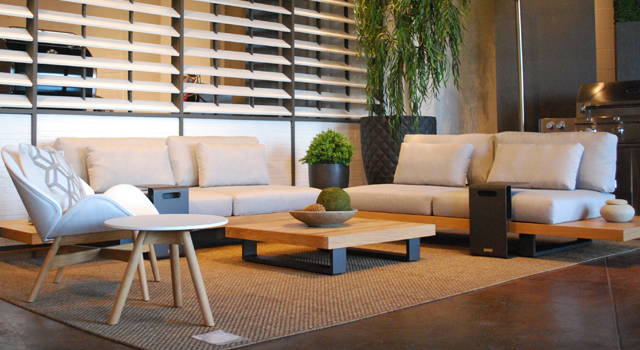 Between providing top-rated outdoor furniture and patio essentials from world-class brands and the unmatched personalized customer service provided by AuthenTEAK and its knowledgeable designers, it's no wonder that AuthenTEAK has grown exponentially since its start in 2004, now immensely thriving as one of Atlanta's top outdoor furniture companies.
As AuthenTEAK continues to grow, we still stand behind our promise of creating a personalized and successful experience for each customer. Our goal is to help you create your dream outdoor space without having to stress over the details. That's why we provide free design services in which you're paired with an in-house designer from our team of experts.
Between our designer's guidance and expertise and our wide selection of stylish patio furniture, décor, and outdoor essentials from top outdoor brands, you're sure to have an enjoyable and effortless experience in designing your outdoor masterpiece.
AuthenTEAK's complimentary design services guarantee peace of mind when it comes to choosing the best outdoor furniture for your space. Our designers not only specialize in product selection, but also in space planning to make sure that your patio, deck or backyard is maximized to its full potential, while still creating an open and inviting environment for you and your guests.
Jeff, a seasoned in-house designer at AuthenTEAK, explains how he enjoys the entire process of working with someone to create their ideal outdoor oasis, "My favorite projects are the ones where we help the customer with their entire process—beginning to end. Starting with a site visit to determine how they're planning to use their space, to presenting furniture and fabric choices and recommending grilling, heating and shade options. Once a project is complete, it's especially rewarding to receive feedback from customers who are loving their new outdoor spaces. It's the best!"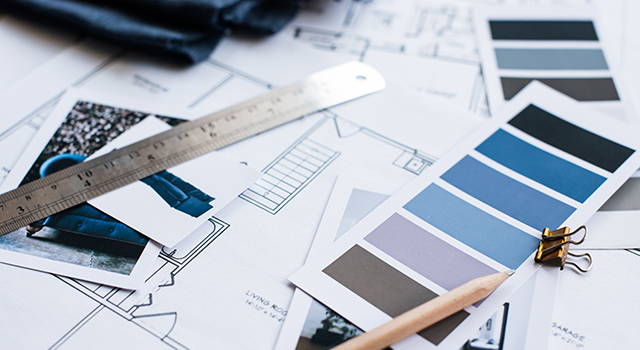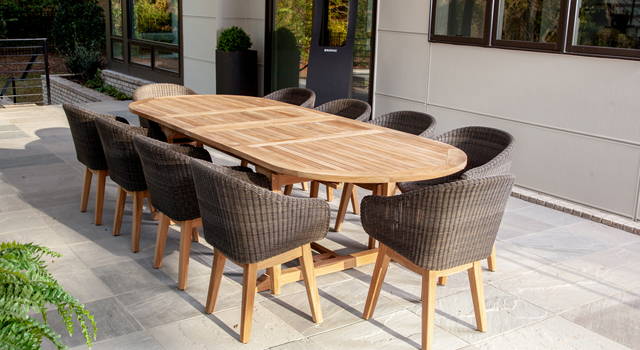 We encourage customers to share their visions and design preferences of their ideal outdoor space. Our wide variety of outdoor furniture, patio umbrellas, rugs, planters, grills, and heaters make it easy to accommodate your vision. Whether you're focusing on creating on a comfortable seating area with deep-seating cushioned furniture, a beautiful stainless-steel outdoor kitchen for patio dinner parties, or finding the perfect chaise lounge for afternoons spent poolside, we have a quality option that that's sure to fit your needs.
As AuthenTEAK celebrates 15 years of providing customers with best-in-class experiences, we continue to stand by our promise and proudly sustain relationships with past customers, helping to maintain their outdoor furniture and providing any sort of replacement pieces if needed.
Kat, an experienced design expert at AuthenTEAK, mentions her willingness to help and guide people through the maintenance and upkeep of their outdoor furniture."Even years after the initial design, we're always more than happy to help customers find replacement cushions or miscellaneous parts for the brands we carry. We also continuously provide guidance in the upkeep of different fabrics, or information on the more technically complex outdoor products like patio heaters and fire pits." This is just another example of AuthenTEAK truly going above and beyond to provide a best-in-class, well-rounded customer experience.
Whether you're redesigning your outdoor space, moving into a new home, or just want to peruse our 15,000 sq. ft. in Atlanta, we at AuthenTEAK Outdoor Living welcome you to join us in celebrating 15 years as a leader in the outdoor living industry.