We Talked to the Experts: Our Guide for Patio Furniture that Can Be Left Outside During the Winter
Katie McKenna O'Leary

While aesthetics and function are major selling points for patio furniture during the warmer months, once the temperatures start dropping, homeowners invariably begin to ask the same question: Do I have patio furniture that can be left outside in the winter? The answer to this perennial question can mean the difference between enjoying your furniture for another year or facing a big expense come spring. We talked to the experts to get the low down on the best patio material for cold climates and tips on how to ensure your patio furniture makes it through the winter.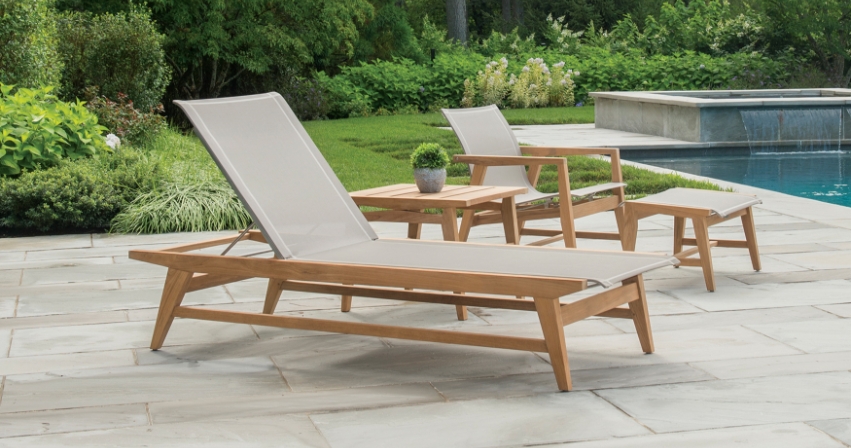 Can I Leave My Patio Furniture Outside?
First the good news: The overwhelming majority of patio furniture types can indeed be left outside in most parts of the country. But to be certain, you'll need to know exactly what type of furniture you're working with, says Megan Pierce-Dozier, with outdoor furniture leader Kingsley Bate.
"It depends on the material," according to Pierce-Dozier, one of the experts who agrees both the body material and frame can make or break your outdoor furniture during the winter.
While the materials that cover a chaise chair may be waterproof, for example, the frame may not. One tricky example is wicker furniture. The majority of wicker outdoor furniture is manufactured using a type of resin or vinyl that is as attractive as natural wicker with much greater durability. 
However, not all resin wickers are created equal. The majority of wicker outdoor furniture is constructed from two kinds of synthetic plastics: polyethylene and PVC. Polyethylene resin wicker is resistant to the effects of UV rays, water and snow, making it a great example of patio furniture that can be left outside during the winter.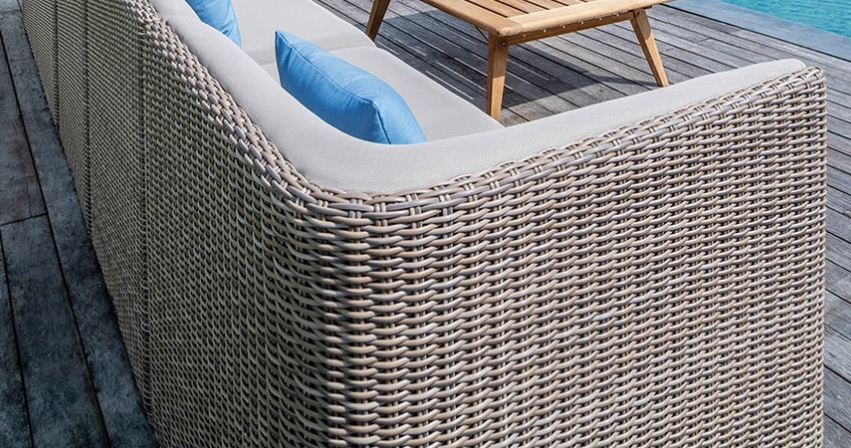 For added durability, look for polyethylene resin wicker that has been dyed all the way through rather than painted. Dyed resin wicker is much more durable and will retain its color in harsh climates.
Conversely, PVC resin wicker is not one of the best patio materials for cold climates. It's prone to corroding and chipping when exposed to weather and it's toxic to the environment to boot. If you leave this furniture outside in the winter, don't be surprised if it's unraveling by the spring!
But that's not all there is to wicker – you also need to know about your frame.
Whether or not your wicker furniture can be left outside will also depend on the frame's material. Iron-based frames will rust when exposed to precipitation and should be avoided. In order to leave your wicker furniture outside, you'll want to ensure your frame is made from all-weather hardware, such as aluminum, stainless steel or galvanized steel. Since aluminum is a lightweight material, people living in windy climates should make sure any aluminum frames are reinforced with all-weather steel, so that it doesn't get blown around.
In short, if you want to make a wicker wonderland in your backyard, the best patio material for cold climates is wicker made from polyethylene that has a weather-resistant frame.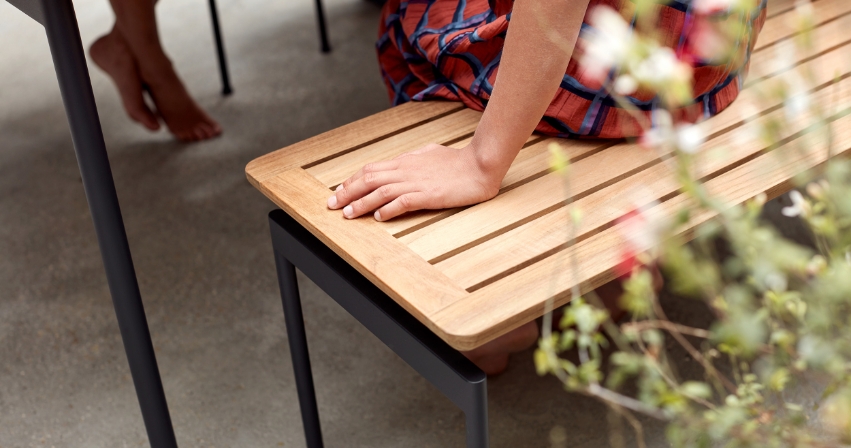 What About Teak Patio Furniture?
We specialize in teak furniture with good reason: Of all the hardwoods, teak is the hardest and most durable. It is one of the only woods in the world that has a natural oil content, which acts as a water repellent and keeps it from cracking and warping.
That means that with few exceptions, a backyard that is outfitted in teak is full of patio furniture that can be left outside during the winter.
"Go right ahead and leave it out, it looks great with a few inches of snow," says Charles Hessler, Executive Vice President of Barlow Tyrie. With a home base in New Jersey, the veteran patio furniture brand knows a thing or two about what will outlast cold temperatures.
"Teak is an all-weather material and is used extensively in marine applications. As long as the product is made using first-grade teak and uses all-weather hardware, there shouldn't be an issue leaving it out," Hessler says. "It can be an expensive material to use – but there is just nothing better."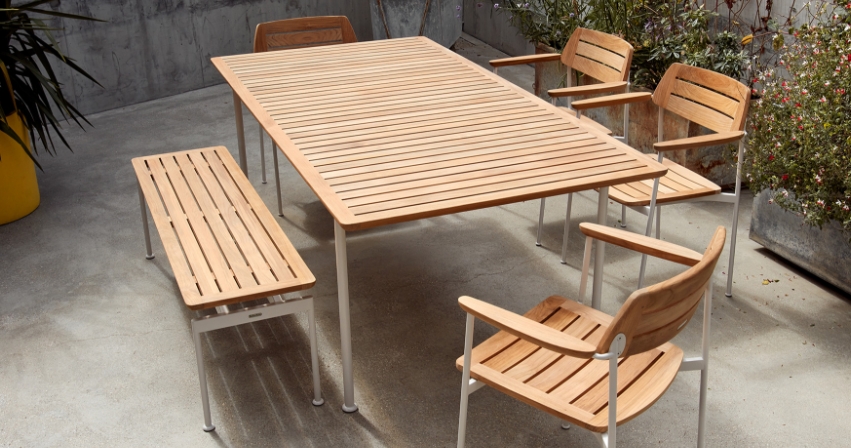 So, how do you determine if your patio furniture is made from first-grade teak?  We compiled a few tips:
• Grade A teak is timber taken from the center of the log and is the highest quality teak wood. Look for a uniform, golden brown color along with a close grain structure and oily surface.
• Grade B teak is timber that is extracted from the outer heartwood section. Furniture composed of grade B teak can be identified by a lighter gold color than its grade A counterpart and an uneven grain.
• Grade C teak is taken from the outer sections of a mature tree and contains virtually none of teak's protective oils. Furniture made from grade C teak can be identified by an uneven color and soft surface.
One caveat: While teak chairs, tables and more are generally patio furniture that can be left outside during the winter they typically weather out to a soft, silver-gray color.
"A yearly scrub up with our teak cleaner and a soft scrub brush in the spring will bring the teak – almost – back to looking new and clean," says Hessler.
In short, if you want patio furniture that can be left outside during the winter, first-grade teak is the way to go. Beware of chemically treated teak, easily identified by its slightly darker color than the trademark golden brown color of the real stuff.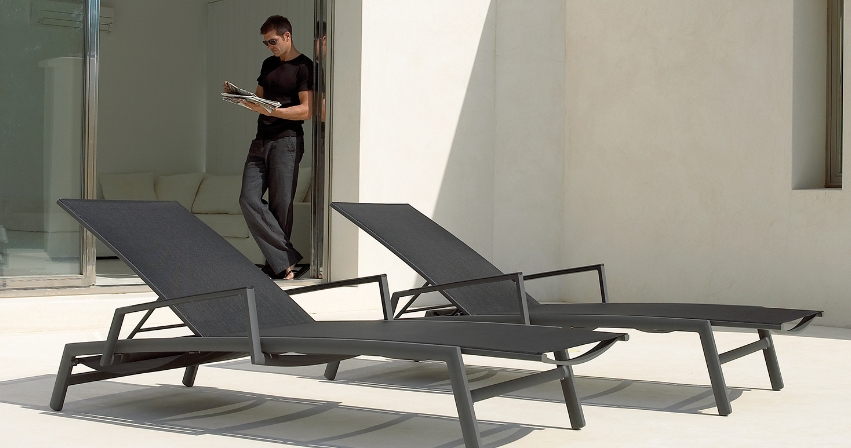 Is Metal Furniture Safe Outside During the Winter?
While precipitation and metal don't sound like the best mix, our experts say aluminum and some steel pieces are surprisingly durable options for patio furniture that can be left outside during the winter.
Aluminum is a great material choice for outdoor furniture because it doesn't rust. While aluminum technically does oxidize when exposed to the elements, this oxidation process does not cause the material to expand and weaken like steel. Therefore, if you are looking for patio furniture that can be left outside during the winter, aluminum is one of the best patio materials for cold climates. 
Steel furniture is a little trickier. Steel is an iron-based material, which means on its own, it makes a terrible choice for outdoor furniture because it rusts, expands and weakens. But steel has a lot of great properties: It's environmentally friendly, has a strong bearing capacity and provides a modern aesthetic. It's no surprise people have figured out ways of reinforcing steel to make it a durable, high-quality material choice for outdoor furniture.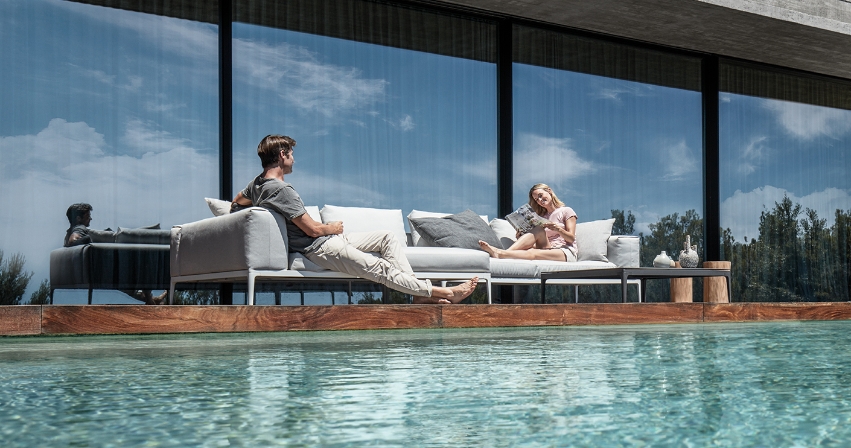 If your furniture contains any of the following kinds of steel, it has weather-resistant properties: 
• Stainless steel. Stainless steel is the shiny form of steel used on most modern kitchen appliances, such as refrigerators and sinks. Stainless steel is rust resistant because it contains chromium, which creates a passive film of chromium oxide that prevents the corrosion and oxidation that occurs in traditional steel. 
• Powder-coated reinforced steel. Powder coating involves applying a protective layer to the surface of steel. Usually, this is accomplished by giving the powder a positive charge that bonds to steel's negative charge, creating a strong barrier that protects against adverse weather.
• Hot-dip galvanized steel. This is the gold standard for steel patio furniture that can be left outside during the winter. It involves dipping steel into a bath of hot zinc to create a protective zinc coating that acts as a weatherproof barrier.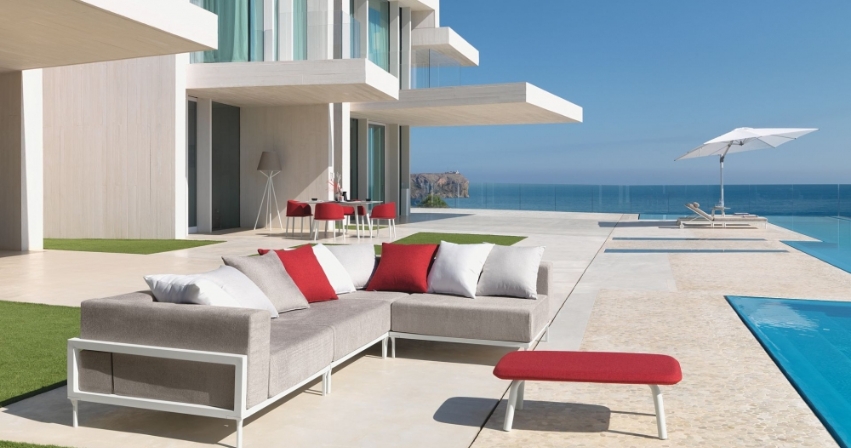 A Note on Furniture Covers
While all of these types of steel are durable and have protective layers from harsh weather it doesn't hurt to double down during the colder months with a furniture cover. 
"Furniture covers are also an option. You just want to make sure your furniture is thoroughly cleaned and dried before putting the cover on," says Megan Pierce-Dozier, with Kingsley Bate.
Don't want the headache of moving all your outdoor furniture inside for the winter? The experts we talked to would say with the right furniture, you don't have to. Ultimately, choosing high-quality materials is the best strategy for buying patio furniture that can be left outside during the winter. Keep it in mind as you prepare for the darkest days of winter – or when you're loading up on your AuthenTEAK favorites this spring.
For more outdoor furniture informational guides and design tips, subscribe to our email list or follow us on Instagram.