Outdoor Heater Buyer's Guide
Katie O'Leary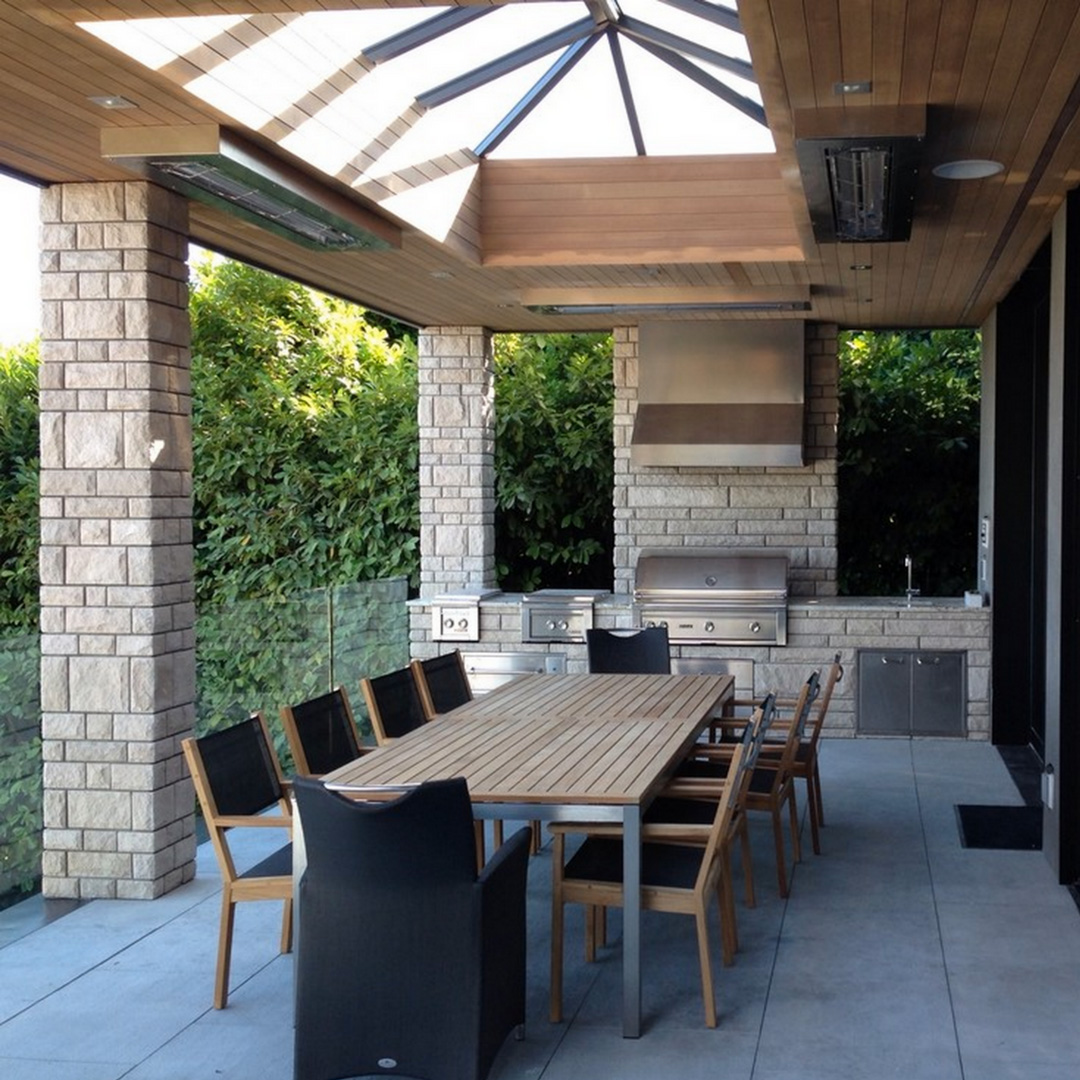 With a patio heater, you can enjoy your outdoor living space in comfort from late fall into early spring. At AuthenTEAK, we offer a variety of heaters in a range of styles and capacities. Whether you're looking to buy a patio heater for a small outdoor patio or a large commercial space, our collection offers a heater for every purpose.
WHICH PATIO HEATER IS RIGHT FOR YOUR SPACE?
We carry a range of patio heaters from industry-leading brands including, Infratech, Bromic, Heatscope and Patio Comfort—all known for their quality and durability. This guide will help you determine how to buy a patio heater that is best suited for your outdoor space.
HOW DO PATIO HEATERS WORK?
Outdoor patio heaters operate differently from indoor heaters, which use a fan to heat and circulate the air in a room. An outdoor heater operates by using a fuel source - either electric, natural gas or propane - to create heat that is directed towards a heating element within the unit. When the heating element warms up, it emits heat in rays, which are absorbed by surrounding surfaces. This is called radiant or infrared heating. In this way, outdoor heaters are efficient at heating people and objects but do not dry out the air in a room or create static electricity.
PATIO HEATER FUEL SOURCES:
If you are looking to buy a patio heater, you should consider what fuel source is best suited for your space. There are three main fuel sources for outdoor patio heaters: electricity, natural gas and propane. Each will produce even heat to warm your surroundings. The fuel type you pick will depend largely on your environment and proximity to utility hook-ups. Here are overviews of each type:
Electric Heaters
Outdoor heaters powered by electricity are efficient and produce no emissions. The cost to operate these heaters is in between the cost of natural gas – the least expensive option – and liquid propane (aka LP gas).
Best use: Electric heaters are ideal for partially enclosed areas where electrical wiring is easily accessible, like a sunroom or screened-in porch. Electric heaters are usually designed to direct heat in one direction and are commonly placed around the perimeter of an area so that their heat is directed inward.
Benefits: While not portable like a propane heater, an electric heater can offer consistent heat and easy operation. A variety of models exist that are designed to seamlessly blend into your space.
Energy efficiency: Heat output differs from model to model. Some infrared heaters can use as little as 300 watts of electricity. These heaters generate immediate heat when turned on, which means no pre-heating time.
Natural Gas Heaters
If you are looking to buy a patio heater for a large space, natural gas heaters are a great choice. Natural gas heaters are fueled by a physical natural gas-line connection and provide widespread warmth. Their high-intensity heat can broadcast in a 10 to 15-foot diameter.
Best use: Gas heaters are ideal for everything from large home patio areas to restaurant and resort environments. They come in smaller ceiling-mounted and wall-mounted units that can accurately direct heat in smaller spaces.
Benefits: Though not portable due to their permanent hard gas-line connection and need for professional installation, they offer consistent, dependable heat in large outdoor areas without needing tank refueling.
Energy efficiency: The price of natural gas is relatively low compared to liquid propane, and most gas heaters have "smart" ignitions and timers that help reduce fuel waste.
Propane Heater
If you're looking to buy a patio heater that can easily be moved around your outdoor space, propane heaters are a great option. Propane heaters are fueled by an attached, hidden liquid propane tank and don't require an electrical connection, which makes them the most portable type of outdoor heater available.
Best use: Often large, free-standing and powered by a tank in their base, they can broadcast a heat diameter as wide as their natural gas counterparts. They're ideal for huge, uncovered areas needing broad coverage, such as warming stations at an outdoor party or at the entrance to a restaurant or a hotel.
Benefits: Propane patio heaters are the most portable of heater types by far. Most have wheels in their base to make relocating them a breeze. They're a top pick in the hospitality industry, where portable heat may be needed in multiple outdoor venues.
Energy efficiency:As a fuel, propane is the most expensive of the three heater types, and though owning one means keeping spare tanks on hand, it also means enjoying the flexibility of easily relocating it to heat any space within minutes.
HEATER STYLES
In order to buy a patio heater for your outdoor space, you must consider what style will fit both your spatial real estate and design aesthetic. We provide a variety of outdoor heater styles with varying heating capabilities for residential and commercial customers alike. Your perfect option might depend on the number of people you typically host and the dimensions of your entertainment space. To ensure you make the right choice, we recommend reviewing the three basic models: stand-alone, tabletop or mounted.
Stand-Alone: The most common type of patio heater, free-standing units, typically max out at eight feet high and can generate up to 40,000 BTUs—or units of thermal energy—per hour. In larger commercial units, stand-alone heaters can generate 100,00 BTUs or more. Stand-alone heaters are fueled by gas or propane and are ideal for large, unenclosed spaces where you are providing warmth for a lot of people at once, as they broadcast heat in a wide diameter.
Tabletop: Resembling miniature versions of stand-alone, these heaters can generate about 12,000 BTUs per hour — or about 25 percent of the heat of big gas or propane stand-alone heaters — and can be powered by either electricity or propane, providing nice versatility. If you're looking to buy a patio heater for a small space, tabletop heaters are a great choice.
Mounted: When ground space is limited, these ceiling- and wall-mount heaters are a terrific option. They occupy a small footprint and generate heat toward a specific area, with various models providing anywhere from 3,300 to 12,000 BTUs. Available in both electric and natural gas, these heaters come in several different sizes to match the size of your space and your heating needs. For a custom look, pick a heater that will disappear into the ceiling, like these recess-mounted options from Infratech. Smaller styles like this one can also be mounted to outdoor umbrellas to keep guests extra toasty.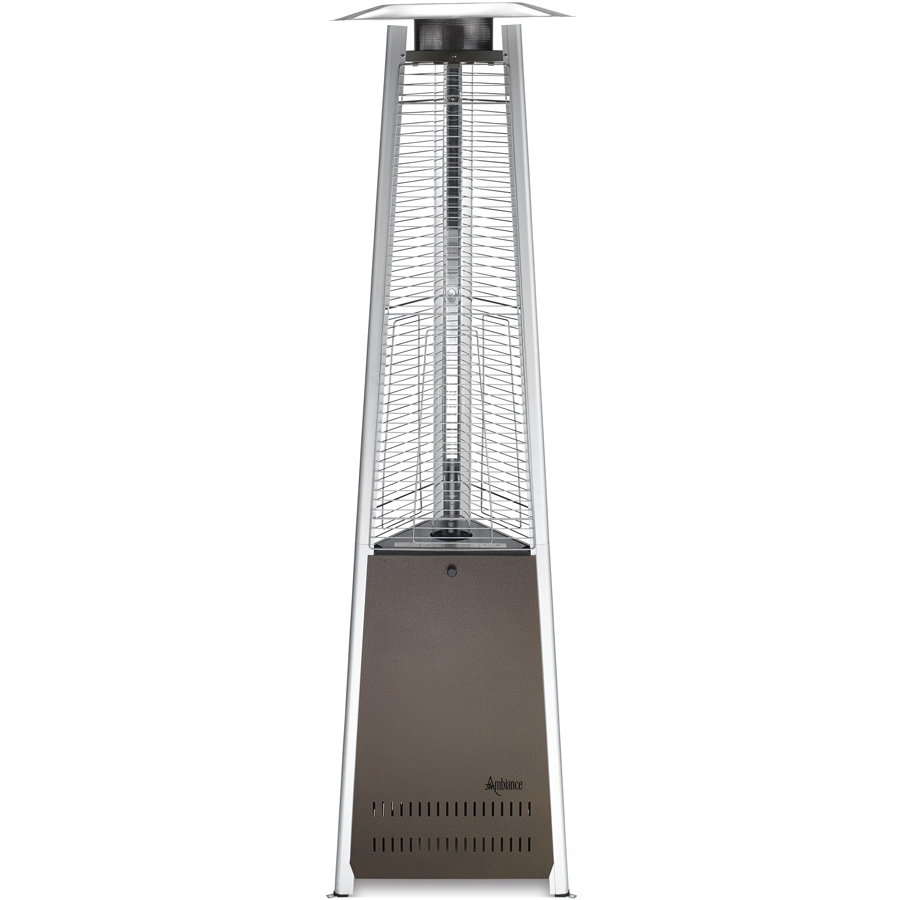 SAFETY
When you buy a patio heater, it is important to look at the safety features. Every outdoor heater AuthenTEAK offers, regardless of fuel type or structural style, has integrated safety features, such as heat shields, smart ignitions, safety switches or timer turn-offs. When making your selection, identify each one's safety features and installation recommendations, so that you can achieve the right measure-of-clearance around your heaters. These are identified in the owner's manuals and vary by heater type and size.
CHOOSE WITH CONFIDENCE
AuthenTEAK offers a broad range of premium-quality, innovative and efficient patio heaters for every space and budget. When you select a heater from us, you'll know it has been designed to last outdoors and comes with manufacturer's warranties and the ongoing support and expertise of the AuthenTEAK team. Get ready to enjoy your outdoor space more often and longer — from late fall through early winter — with the help of one of these heaters.
Have more questions? Chat or call our showroom professionals for assistance with selecting the right outdoor patio heater for your space. We're here to help.