Spring Into Spring – Your Spring Cleaning Checklist
Katie McKenna O'Leary

Spring is the season of freshness and renewal – not only for nature, but also for our homes. Spring cleaning is all about getting your hands dirty and doing all the deep cleans you may have avoided during the cold months. Cleaning every corner of your home can be overwhelming and time-consuming, which is why we've compiled a list of tips to make spring cleaning easy and even enjoyable. Check out our Consider our spring cleaning checklist your unofficial guide to freshening your home with minimal stress.
Get the Right Spring Cleaning Supplies
Before you start your spring cleaning regimen, you may want to consider ditching the cleaners under your sink and replacing them with chemical-free alternatives. Using cleaners that are free of toxins is the best way to create a neat and healthy home. Specifically, you want to avoid air fresheners and other cleaners that have fragrances, volatile organic compounds (VOCs) and other irritants.
Clean Fans and Ceiling Fixtures
The best approach to spring cleaning is to start tasks from the ceiling down. This way, you won't lose any progress by having dirt accumulate on areas you've already cleaned. We suggest starting with your fans and other ceiling fixtures. Before cleaning, you'll want to protect your floors by covering them with an old sheet or towel. For maximum protection, cover an area that is twice the span of the blades of your fan or circumference of your ceiling fixture. Then, use an extendable duster to clear away dust and debris.
Spring Cleaning Your Windows
When windows are exposed to the sun, they heat up, making them prone to streaking. So, for best success, clean your windows on an overcast day. Start by dabbing the glass with a mixture of hot water and mild soap to break down dirt and debris. Then apply a glass cleaner and use a microfiber cloth to wipe away any remaining dirt. Microfiber cloths are extremely absorbent, making them a superior to paper towels or old t-shirts. Also, it's a good idea to use a toothbrush to clean the cracks and crevices in your windows where debris is likely to build up. Finish your window cleaning by dusting your blinds or shades.
Clean Up Your Furniture
Freshening up your furniture is an important part of spring cleaning that is often overlooked. Regular use of both indoor and outdoor furniture lets moisture and debris accumulate and create the ideal environment for dust mites. To keep your furniture protected, it's important to give your favorite pieces a deep clean. We recommend using a steamer for indoor furniture spring cleaning— it's a great chemical-free solution that is still extremely effective. If you have an upholstery attachment for your vacuum, use it as a final touch after steaming.
It's equally important to give your outdoor furniture some much-needed attention. Just like indoor furniture, outdoor furniture accumulates dust and debris. As part of your spring cleaning checklist, you should give all your patio pieces a thorough rinse down. Be sure to follow the cleaning protocol that is appropriate for your furniture. In general, teak cleaners and 303 products do the best job at getting patio pieces looking good as new.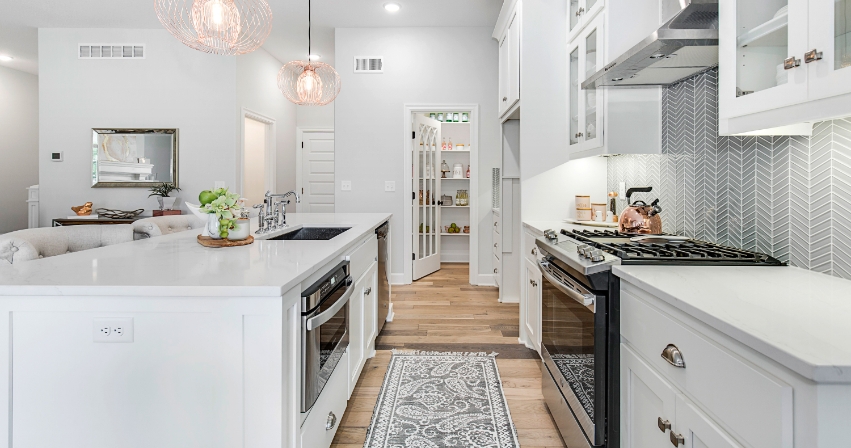 Spring Cleaning Your Kitchen
Spring is a great time to give your kitchen's hardest working parts some attention. If your kitchen sink has a disposal, it's essential to give it a thorough rinse down as part of your spring cleaning regimen. Running lemon rind slivers through your disposal with cold water is an effective trick for getting rid of any stubborn gunk or odors. To give your dishwasher a good cleaning, throw a couple of cups of vinegar into the machine and run it on the hot cycle. Not only will this make your dishwasher sparkle, but it will keep it running smoothly for longer. Every spring cleaning checklist should include refrigerators. To clean your fridge, start by removing all food items. Then, wash removable items—such as bins and shelves—in a warm, soapy solution. While you're letting these pieces dry, give the interior of your fridge a good wipe down. If there are stubborn stains, you can create an effective cleaning paste by mixing baking soda and water. Once the interior is cleaned, wipe down all handles and door seals with soapy water.
When you tackle your home's dirtiest spots with a thorough spring cleaning, you'll create a more livable space for spring and summer. For additional cleaning and maintenance tips, subscribe to our email list or follow us on Instagram.