Tips for Buying the Perfect Rug
Katie O'Leary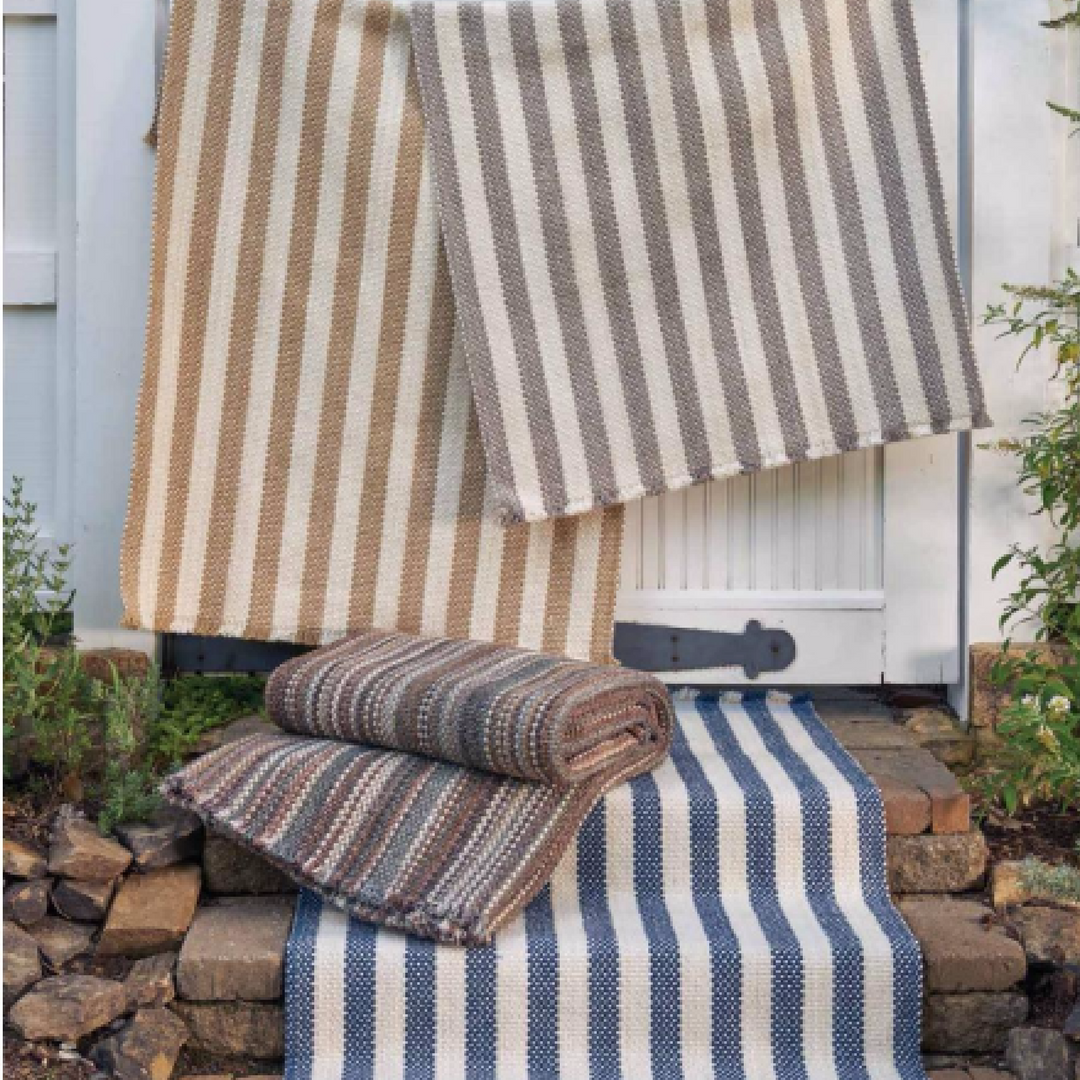 Selecting the perfect all-weather rug will define your space and infuse it with your personal style. In addition to the obvious aesthetic value, outdoor rugs serve many practical purposes. When buying a rug, consider some of the following functional benefits:
An outdoor rug can:
Define specific outdoor living spaces, like lounge areas and dining areas.

Protect outdoor flooring surfaces from furniture or the elements.

Provide cover for less attractive outdoor flooring areas, like a concrete patio, garage or workspace.

Provide traction to areas that can occasionally become slippery.

Keep dirt at bay in outdoor spaces that transition to indoor spaces.


HOW TO CHOOSE A RUG FOR YOUR OUTDOOR SPACE:
We encourage you to keep the following criteria in mind when selecting the ideal rugs for your outdoor spaces.
OUTDOOR RUG MATERIALS:
All of AuthenTEAK's rugs are constructed from man-made, synthetic materials that are every bit as comfortable and attractive as a natural rug you'd find inside your house. Synthetic materials also prolong the life and beauty of your all-weather investment. Buying a rug with synthetic fibers will provide you with:
Resistance to fading over time
Resistance to mildew
Easier maintenance, as synthetics clean easily with soap and water
With proper care, a synthetic outdoor rug will last many years. Adding a rug pad made specifically for outdoor use elevates it over outdoor surfaces to enhance drainage and extend the life of your investment.
OUTDOOR RUG STYLES:
Our all-weather outdoor rugs are available in two styles: flat weaves and looped weaves. Both have benefits and knowing the differences will help ensure you choose a rug that meets your design preferences.
Flat Weaves
Flat weaves mimic natural materials like sisal and seagrass but offer better durability and mildew resistance.
They are appropriate for fully exposed spaces as they dry quickly after rain.
They can also be ideal indoor rugs in high traffic areas like under a kitchen table, in a mud room or anywhere you want to replicate the look of a natural woven rug with less maintenance and more durability.
Looped and Pile Weaves
Looped-and pile style all-weather outdoor rugs have similar plush finishes found in most indoor rugs.
They are ideal for covered areas – like sunrooms or covered porches – where they won't be exposed to heavy rain.
A looped or pile all-weather rug is an appropriate substitute for indoor-only rugs when you want softness and stain resistance, like kid's playrooms or family rooms.
SHAPES AND SIZES:
Like traditional indoor rugs, all-weather outdoor rugs come in square, circular and rectangular shapes. Always pair round rugs with round tables and square or rectangular rugs with square or rectangular tables. Where more casual, non-dining seating is concerned, a square or rectangular rug is typically the standard.
Here are some tips for buying a rug that is the right size rug for your outdoor space:
In dining areas, match the shape of your rug to the shape of your table, allowing 24" of rug beyond the table's edge so that the chairs rest comfortably on the rug.
In casual seating areas, follow the same guidelines of indoor rugs – you may choose to have all furniture entirely on the rug, only front legs of chairs and sofas on the rug, or no seating on the rug at all, opting for just the coffee table on the rug with seating placed around the edges. This can be a personal choice and may be guided by available space or your budget. A rug that extends all the way under your entire seating collection is the ideal luxurious look, but is not a must. As a general rule, purchase the largest size rug the space will accommodate, while taking your budget into consideration.
Matching 2'x4' or 3'x5' rugs are a great choice for front and back entrance doors in a mudroom or laundry room. Most of our all-weather rugs also come in runner sizes that are great solutions for areas often susceptible to wetness, like bathrooms or in front of long vanities or bathtubs.
Most of our all-weather rugs also come in runner sizes that are great solutions for areas often susceptible to wetness, like bathrooms or in front of long vanities or bathtubs.