5 Grill Recipes Likely To Make Your Mouth Water
Jordan Parrish

Outdoor cooking is both a hobby and an enjoyable way to cook delicious meals—take advantage of your gas grill and/or charcoal smoker and try one of the handpicked concoctions below and save yourself the hassle of sorting through seemingly endless options.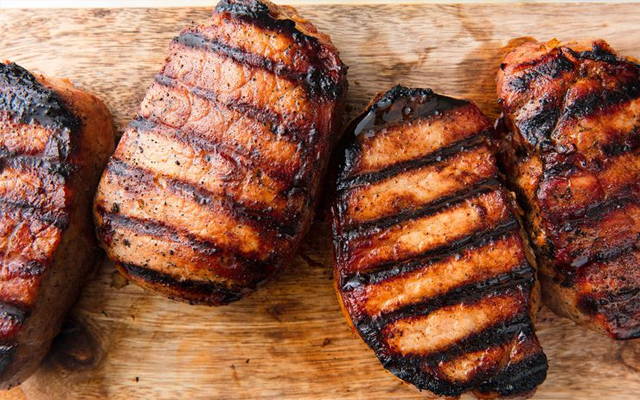 1) Honey Soy Grilled Pork Chops
These pork chops are one of many grill recipes that will leave you coming back for more. Not only are these chops simple, only calling for a marinade consisting of honey, soy sauce, garlic powder, and red pepper flakes, but they are also the perfect accompaniment for side dishes like rice and broccoli. They would also be an excellent addition to a convenient stir fry that puts to use all those veggies in your fridge.
SEE THE RECIPE >
2) Aloha Grilled Chicken
This chicken recipe is bound to transport you and your family to a warm tropical island. Not to mention, it comes together quickly. The marinade is sweet and citrusy with elements like pineapple juice, ketchup, garlic, ginger, and soy sauce. To top it off (literally and figuratively) this recipe is sublime with an embellishment of grilled pineapple. You won't even have to worry about preparing a dessert.
SEE THE RECIPE >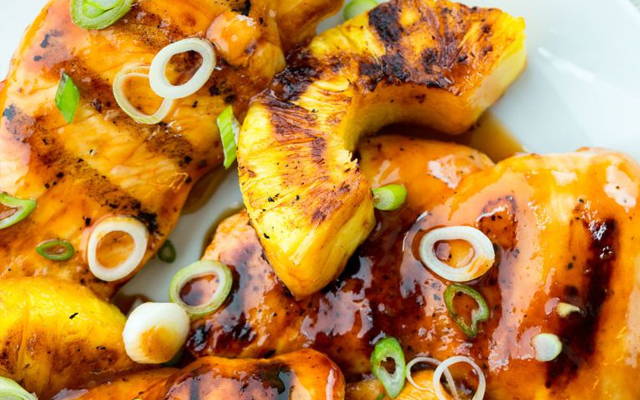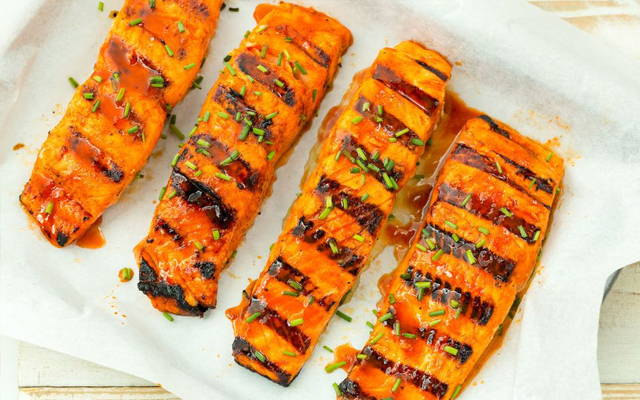 3) Hot Shot Grilled Salmon
Let the name speak for itself and let your grill do the rest. A sriracha, lemon, and honey-based marinade gives any prime cut of salmon just enough flavor without compromising the simplicity of the fillet itself. A key for a fully marinated salmon fillet is to let it soak in the marinade anywhere from three hours to overnight in the fridge. As with other BBQ grill recipes, some of the best flavors come from reserving half of the marinade to use as a baste over the grill later. This will give your choice of meat/fish a chance to become saturated while it's cooking as well.
SEE THE RECIPE >
4) Grilled Ribs
A grilled rib recipe isn't for the faint of heart. It can be time-consuming and a bit tedious, but rarely is it not worth it. This particular rub is composed of dark brown sugar, kosher salt, dry mustard, smoked paprika, garlic powder, and black pepper. Once you coat the three slabs of baby back pork ribs with the rub, you'll wrap them tightly with plastic wrap and let the ribs chill for eight hours. From there, you'll likely need to set several alarms to ensure you're checking the ribs and shifting them frequently enough when they hit the grill. Out of the other grill recipes, this is likely the most difficult, but the reward is also (potentially) greater.
SEE THE RECIPE >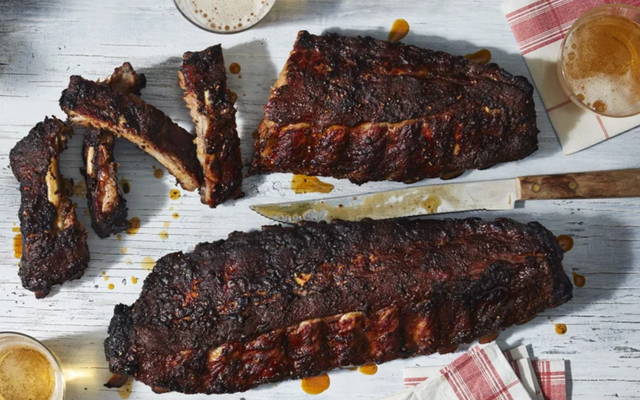 5) Applewood Smoked Chicken
Like the previous rib recipe, this chicken's rub includes dark brown sugar, smoked paprika, garlic powder, and kosher salt. Onion powder, chili powder, and oregano are welcome additions. For this recipe, you'll want to take the time to learn how to properly cut a whole chicken (it's not as hard as it sounds), as well as really take the time and energy to properly saturate the rub into the chicken. Hint: you will need to add more pressure than you think. As you've probably heard before, your best slogan when it comes to smoking anything is "slow and low." Let your smoker do its work.
SEE THE RECIPE >
You Have To Start Somewhere
If you've been in a cooking rut, or just haven't decided which one of these recipes you should take a stab at, this list should give you a starting point. We look forward to seeing your outdoor cooking creations!