4 Ways to Spice Up Your Entryway and Greet Autumn in Style
Jordan Parrish

Unmatched Style
Fall is a time of gathering, and what better way to welcome friends and family than by designing a warm and inviting front porch? The reds, oranges and yellows of autumn create a beautiful backdrop for seasonal entryway décor.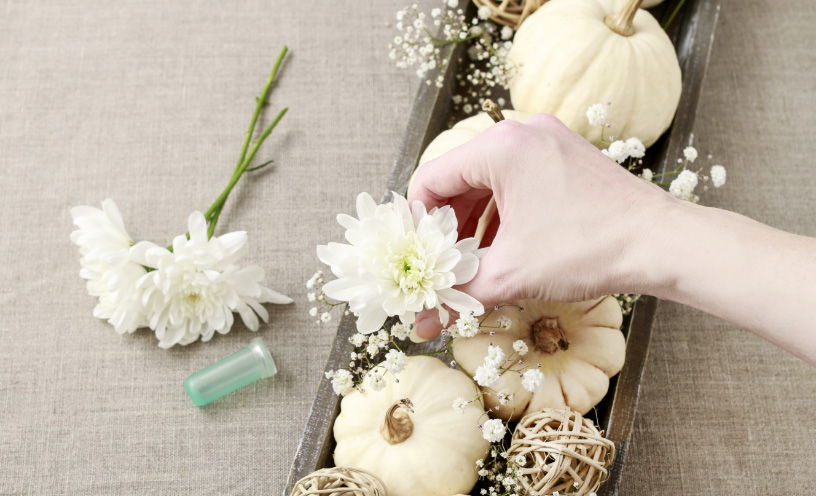 Think DIY
Beautiful decorations don't have to break the bank. Investing a little time and creativity can not only save you money, it can also allow you to bring your personality into play. Welcoming guests should be personal, after all, so, grab some hay bales, colorful pumpkins and leaves, and get started!
Pumpkin Time
Did you manage to save some pumpkins from the carving knife? Perfect. One fun way to transition from Halloween to Thanksgiving is by painting them to match your new seasonal entryway décor color theme. The pumpkin pie in the sky is the limit here. Create a vibrant color scheme using chartreuse and pink stripes or plaids painted down the sides of your happy, orange pumpkin. Or keep it calm with your favorite autumn greetings in lovely black or antique white scripted lettering. However, if you still have the pumpkin carving bug, carve a pumpkin planter! Make an opening large enough for a pot of mums or another fall floral. After emptying, insert the pot and you've created a unique statement for your seasonal entryway décor. Place it atop a tall fiberglass planter or inside a cute wheelbarrow or wagon for added interest. If something more intricate is to your taste, you can paint pumpkins white and carve scalloped edges around the opening and drill holes to create an eyelet lace along the rim. Or spray your pumpkins gold and even Cinderella will be jealous.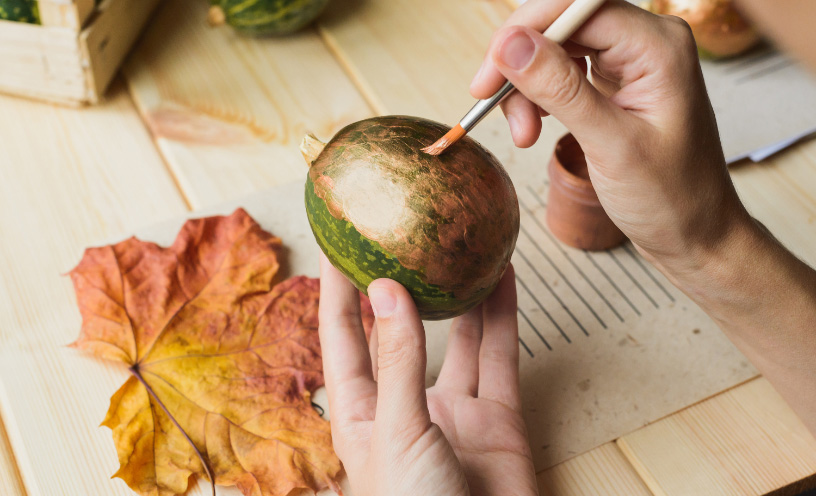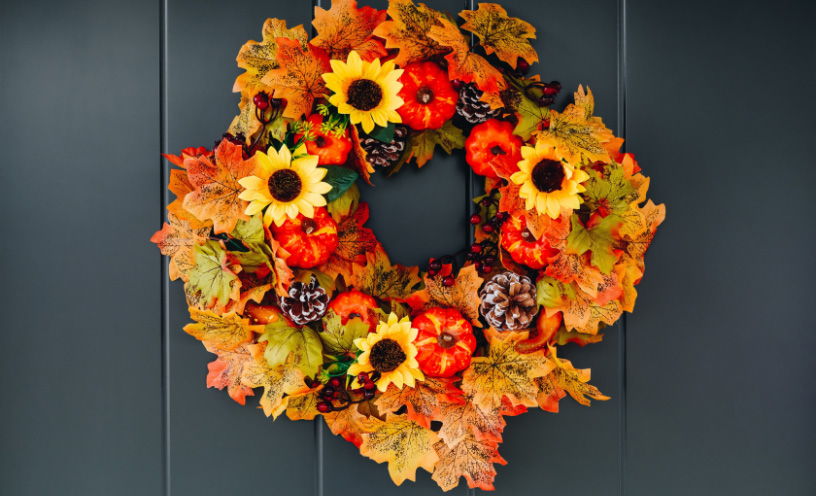 Don't Leaf This One Out!
Autumn is all about the beauty of nature, and oh, those fall leaves! There are many ways you can incorporate them into your holiday outdoor décor. Make wreaths for your front door using leaves as an accent on a grapevine circle, or as the main showstopper, highlighted by adorable little pumpkins, or large, lush autumn blooms. You can even use the lovely red maple leaves spread across your lawn. Preserve your favorites by soaking them in liquid glycerin for a few days or coating them in decoupage. Using a needle and thread, string them together, poking through the center of each one to make a ruffle of leaves. Secure to a wire wreath frame or even wire coat hanger bent into a circle, and you have a wreath uniquely yours. Tie it up with an elegant ribbon creating truly welcoming seasonal entryway décor.
Unplanted Planters
If an early frost has your front planters looking less than lovely, add a little variety to the usual pot of mums by pulling out some of the soil and placing floral foam bricks inserted flush with the top of the pot. Add three stunning black and white aspen or birch branches from your fall trimmings, and then insert branches of berries and fall leaves to fill in. Top the foam bricks with hay and place small, colorful gourds around the base of the branches. Complete the look of your seasonal entryway décor with outdoor string lights wrapped around the limbs. You could also fill an empty pot with the tall white and black branches and set it in the corner of your entryway, then layer the look by placing two shorter, different-sized fiberglass planters filled with fall blooms in front to create a beautiful vignette. Who says all planters need to be upright? You could also have a little fun by tipping a planter on its side and letting pumpkins look as though they are tumbling out in all their multi-colored glory.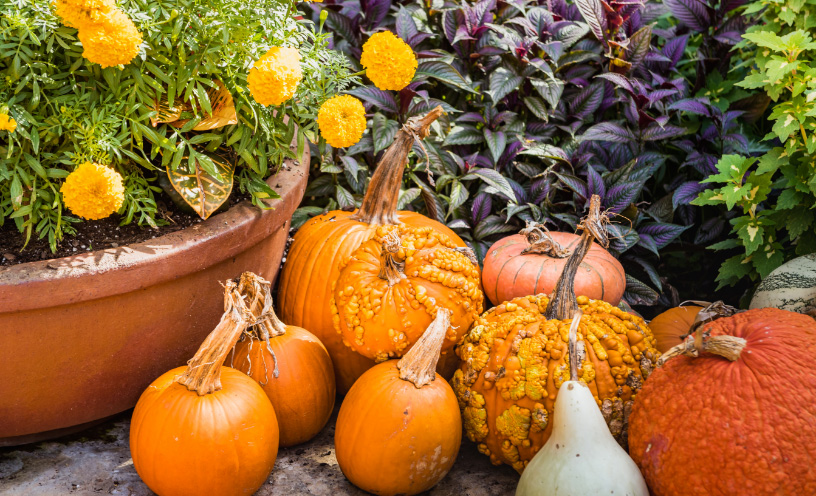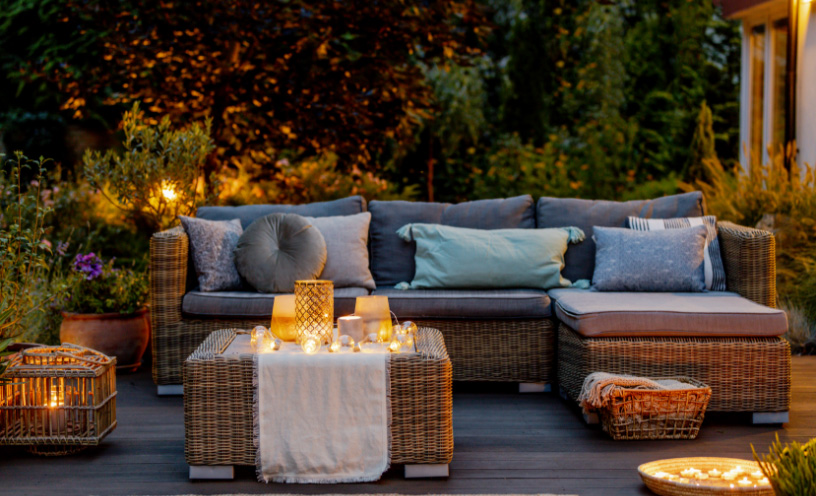 More Than Just a Seat
When the weather cools, it's not likely that you'll be outside soaking in the warm evening air. But don't leave your front bench empty! Add texture and pattern to your seasonal entryway décor with outdoor throws and pillows. To add a personal touch, you can stencil your pillows with welcoming words for your guests. Then add pumpkins and gourds both on the bench and ground beneath, creating color triangles to draw the eye. Welcome the changing seasons with changing seasonal entryway décor to reflect your own style and personality. Have fun creating a warm and inviting space to greet family and friends for the holidays.