Best Outdoor Electric Patio Heaters for Winter 2020
Katie O'Leary
As fall and winter evenings start to bring cooler temperatures, long nights on your patio can feel out of the question. However, with an effective patio heater, you can comfortably enjoy your patio long after the sun goes down. To help you choose the best outdoor heating solution for winter 2020, we've compiled some helpful tips. Outlined below are some important factors to consider when choosing a heater and our picks for the best electric patio heaters and propane solutions for this season. 
Three Things to Consider When Choosing The Best Electric Patio Heater or Propane Heating Solution
Do patio heaters work? The short answer is yes. However, to effectively heat your space, you'll need to invest in a patio heater that has the best power source, range and heat output for your needs.
•Power source. Patio heaters have a variety of fuel and power source options. Among the most popular are propane, electric and natural gas. To best warm your space, you'll need to consider what power source will be most compatible with your needs. 
•Range. Are you looking for a small tabletop patio heater to keep you and a friend warm over dinner or a larger heater for the outdoor seating at your restaurant? Different heaters have varying ranges. Larger heaters can generally heat up to 12 feet of space while smaller alternatives will only warm the air within a couple of feet.
•Heat output. The intensity and heat effectiveness of patio heaters are measured by their heat output. Propane and gas-burning heaters are measured in British thermal units (Btus), and electric patio heaters are measured in watts. To find the best heating solution for your space, compare the Btus and watts of different models, and choose the one that will suit your temperature preference.
Taking these factors into consideration will help you choose the best electric patio heater or propane alternative for your outdoor living space.
The Best Electric Patio Heaters
Electric patio heaters produce infrared heat, which is the same heat produced by direct sunlight. This means that rather than heating the air around you, the heat produced by electric patio heaters is absorbed into your skin and clothes. Similar to an indoor space heater, electric patio heaters work by simply plugging them into the wall and flipping the on button. Their ease of use and low maintenance protocols make electric heating solutions an appealing option. However, in general, electric patio heaters tend to have lower heat outputs than propane alternatives.

Our pick for the best electric patio heater for this winter is Infratech's motif CD-series dual element electric patio heater. This heater produces 6,000 watts—which is about 20,500 Btus—of energy, placing it at the high end of heat output for electric patio heaters. For its high heat output and sleek design, we think Infratech's dual element is the best electric heating solution for this winter.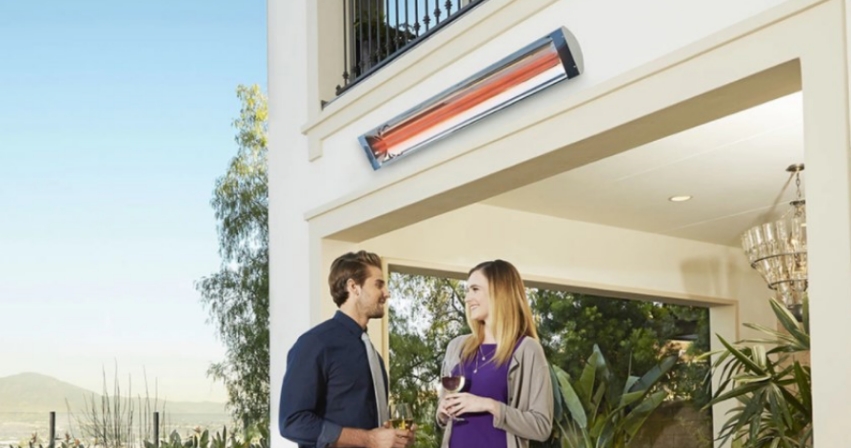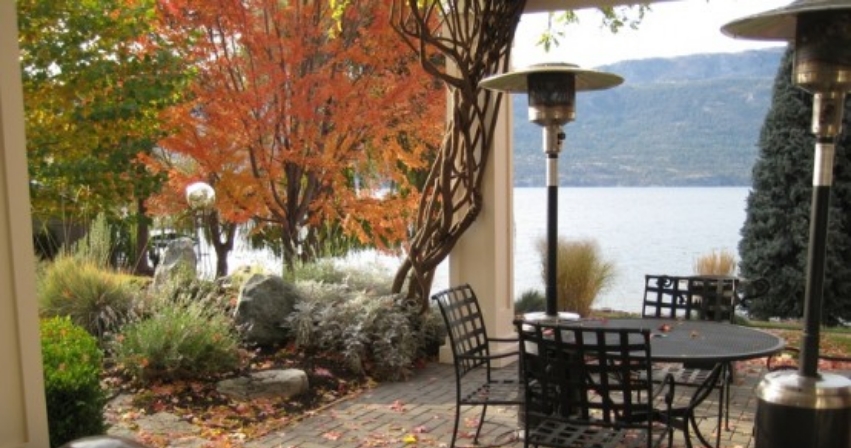 The Best Propane and Natural Gas Patio Heaters
Propane patio heaters produce radiant heat. This means that rather than heating you directly, propane heaters warm the ambient air around you. Since propane heaters physically change the temperature of the air, the heat they produce can last longer than electric alternatives.  However, unlike electric patio heaters, propane heaters require regular maintenance to prevent carbon buildup or other blockages from accumulating in the burner area.

Our pick for the best gas-powered heater for this winter is Sunglo's portable LP heater. This mushroom style patio heater provides 40,000 Btus of heat energy and effectively warms a 12-foot area. Additionally, its stainless-steel construction provides protection against harsh winter weather.

Patio heaters make cozy, dreamy evenings outside in the winter a reality. Choosing the best electric patio heater or propane heating solution for your patio will ensure you have a cozy outdoor living space. For additional information on outdoor heating solutions and other ways to make use of your patio this winter, subscribe to our email list or follow us on Instagram.