Choosing a Fire Pit for your Backyard or Patio
Katie O'Leary

As the weather gets cooler, many homeowners turn to fire pits to extend their outdoor season. The warmth they provide can increase your enjoyment of a cool Spring or Fall evening, and there's nothing more enjoyable than snuggling up with your loved ones in front of a warm fire when the weather is cool. Add in a plate of s'more…perfection!

With so many options available, you might be wondering which fire pit is right for your space and purpose. Do you go with wood burning, propane tank or natural gas line set-up? Read along as we help you sort through your options and pick the perfect fire pit for your family.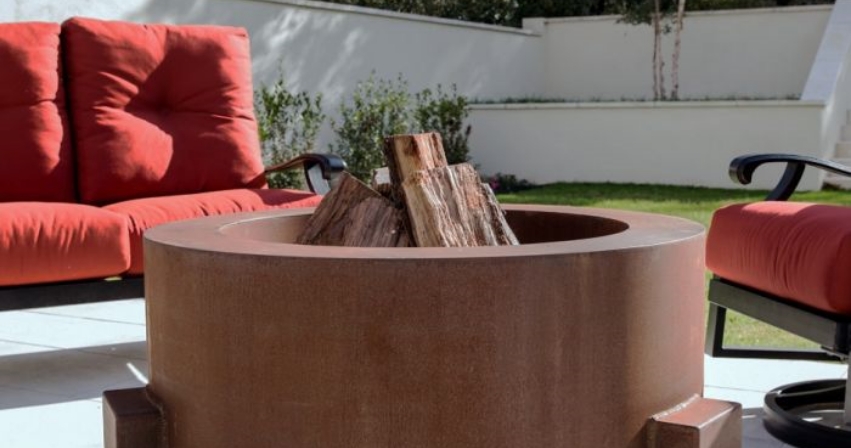 Wood Burning Fire Pits
If you are a fire pit purist, wood-burning may feel like the only way to go. That smell of burning wood is often the first sign of cold weather ahead and evokes nostalgic memories in many of us. There are many wood burning fire pit models to choose from. We particularly love the decorative feel of Fire Pit Art's Barefoot Beach model pictured above.

This fire pit is constructed from sculpted carbon steel and made to last a lifetime. The steel construction weathers to a rich patina that needs no maintenance.

Love the look of these wood burning fire pits but want the convenience of propane and an electric starter? Many of our wood-burning fire pits may be customized with natural gas or propane options and electric starters. When these options are available for a particular model you will find them on the product page listing and be able to customize accordingly.

Click here to see all of our wood-burning fire pit options.
Propane Fire Pits
If you are looking for a fire pit that will be ready at the turn of a knob, a propane tank model is a good choice. Perfect for an outdoor seating area, a hidden propane tank model eliminates the smoke that wood-burning models produce and are always ready to light up. These models work with fire glass or lava rock inserts which provide a decorative look and no ash to clean up.

A propane tank fire pit is a family-friendly option as you can more easily control the flames and immediately shut the fire pit with the valve if need be. Because it produces no smoke, these are a great option when you have a small yard or are close to your neighbors who might not want to experience the smoke that a wood-burning pit creates. Just make sure to always keep a spare propane tank handy so you don't have to end the party early when your tank runs out.

Click here to see all our propane tank fire pit options.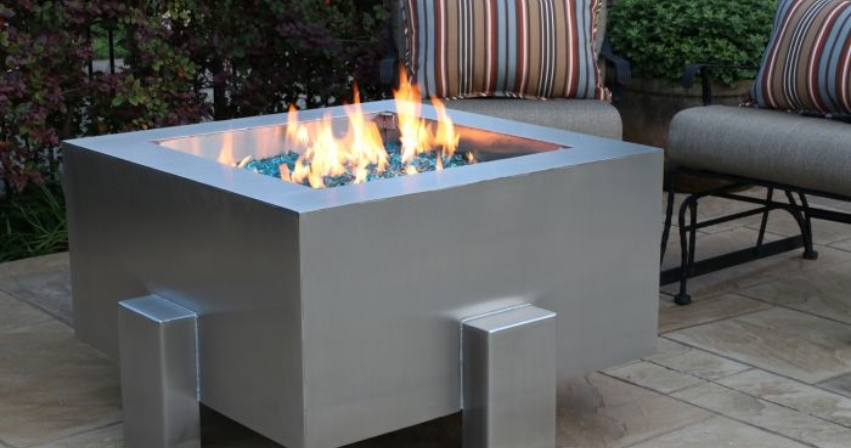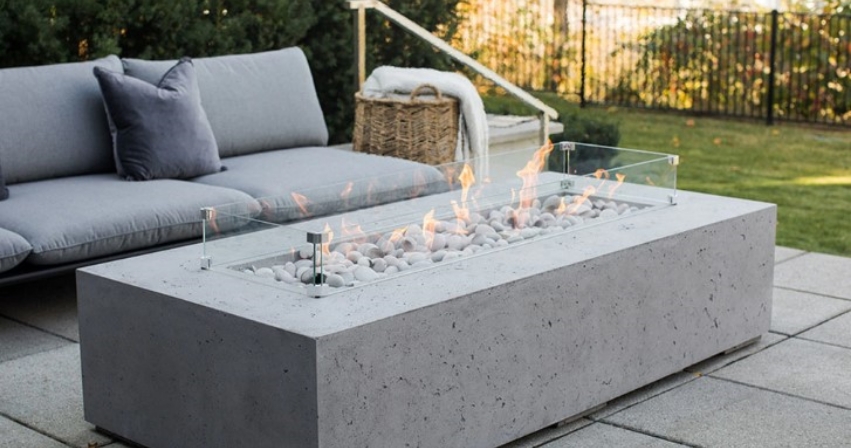 Natural Gas Fire Pits
If you are in the process of planning your outdoor space and know you want it to include a fire pit, plan in advance for your natural gas line to connect to it. Similar to hidden tank models, this option provides you with an easily accessible, instant fire pit experience whenever the weather is right and you'll never have to worry about the gas supply running out as you do with propane.

The gas line connection also takes up less space than a stored tank fire pit, so your fire pit can have a lower profile resulting in a more comfortable height for seating areas. Here's one of our favorites by Dekko.

Click here to shop all gas line fire pits.