Inspiration
Patio Relaxation 101: Backyard Hammock Ideas and More
Any designer or architect will tell you the key to creating a patio paradise is viewing your outdoor space as you would any other room. This way, you'll incorporate the essential elements—comfort, design and functionality—that make a space inviting and livable. Looking to achieve that vacation relaxation in your outdoor space but don't know where to start? We've got all the backyard hammock ideas, landscaping tricks and design tips for creating your own backyard paradise.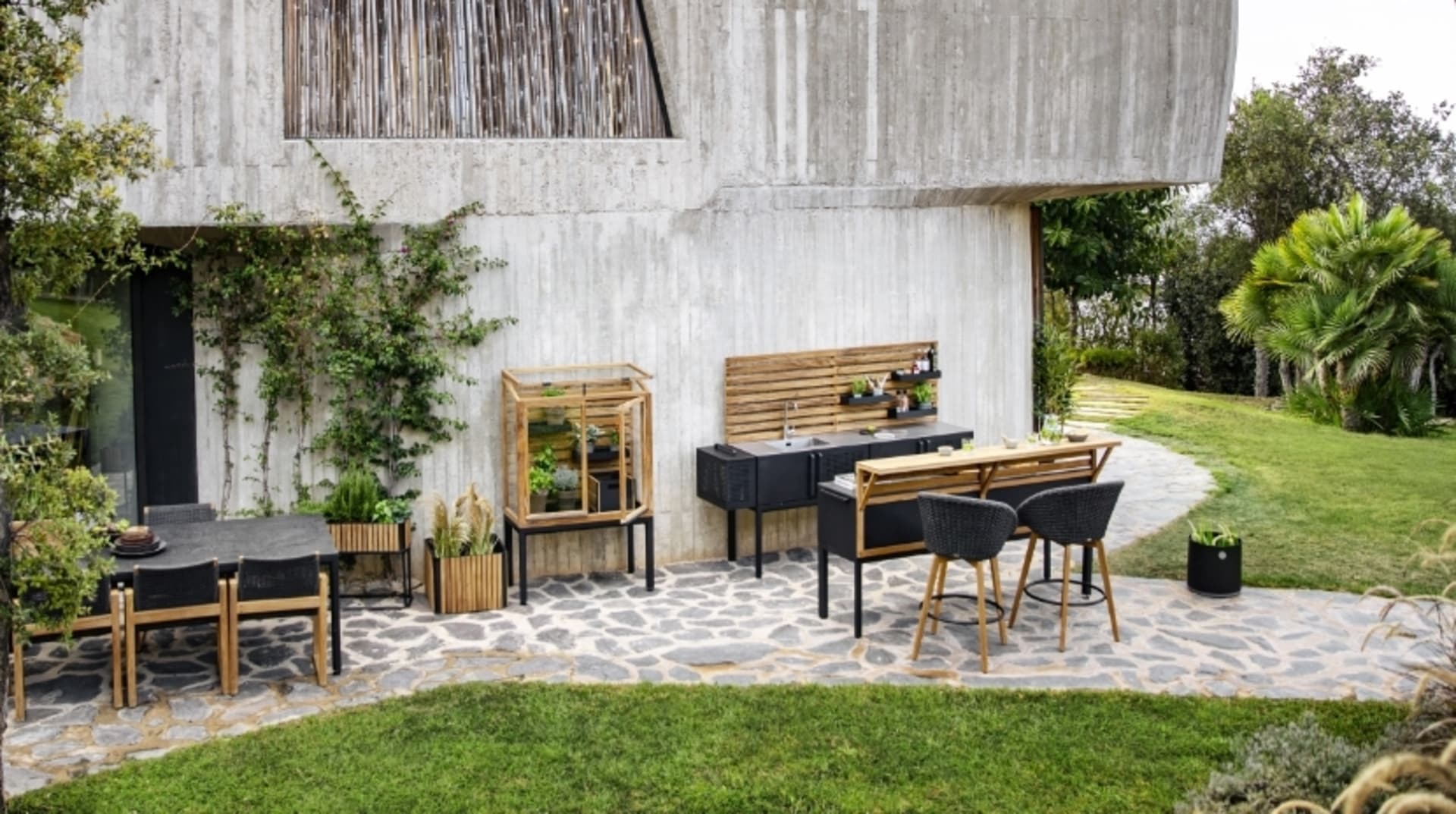 Start with Function: How Do You Plan on Using Your Space?
If your outdoor space doesn't serve your objectives, it won't matter how great it looks. The last thing you want is to design a space that won't be used. So, start with asking yourself how you want to use your yard. Are you someone that loves a quiet place for reading or enjoying a cup of coffee? If so, you should look into backyard hammock ideas. Are you someone that loves to entertain and cook? If so, an outdoor kitchen and dining area should be essential staples of your outdoor space.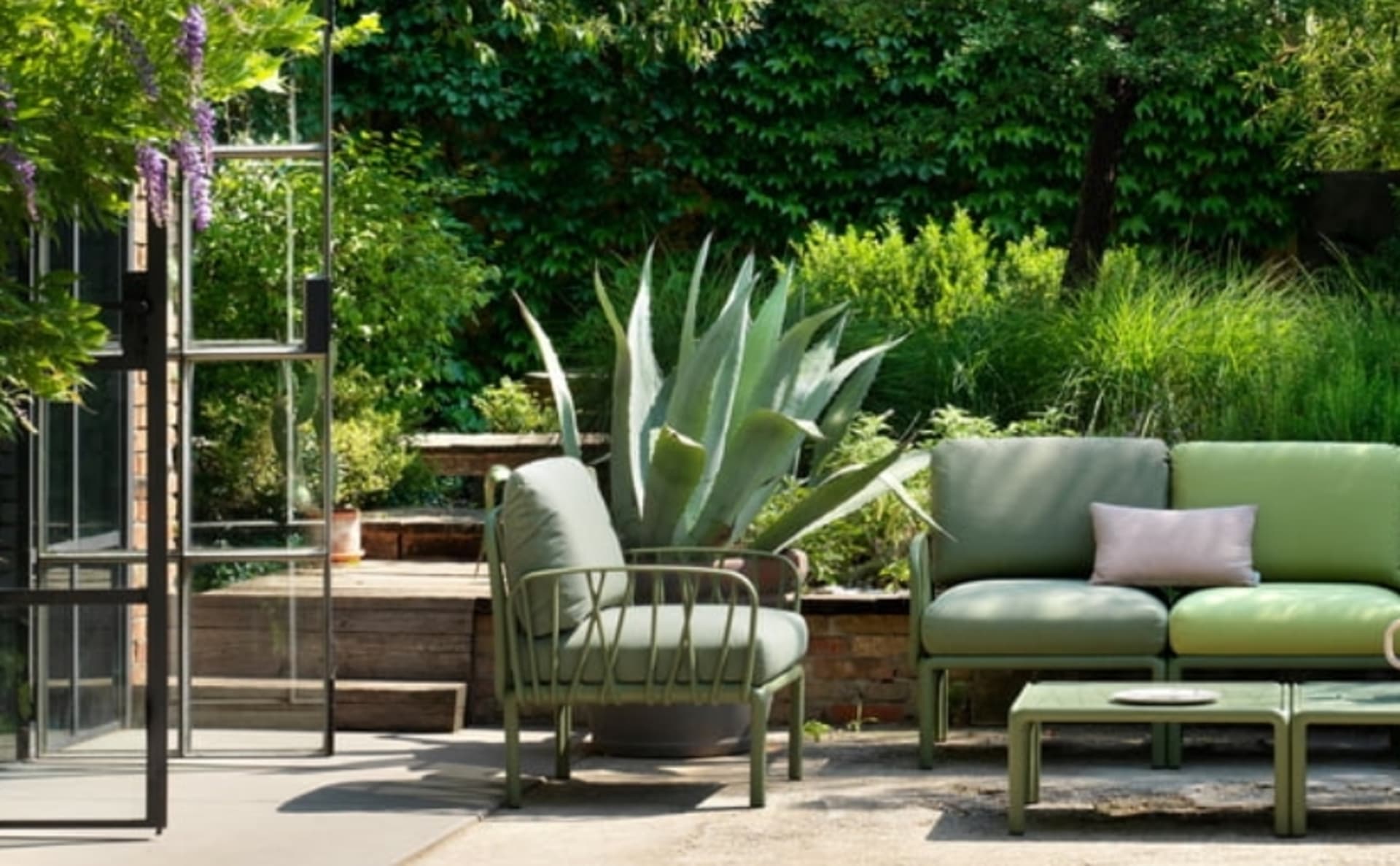 Consider Dividing Your Yard into Different Sections
Have you ever been in a house with a floorplan so thoughtful, that it creates the perfect flow? Achieving an inviting, well-laid-out flow in your outdoor space can really elevate its appeal and functionality. Intentional landscaping is a great tool for designing areas that permit the free flow of foot traffic in your yard. Paved paths or stepping stones that create a journey—allowing you to gracefully move from your outdoor kitchen to a quiet seating area—will allow you to fully maximize every corner of your yard.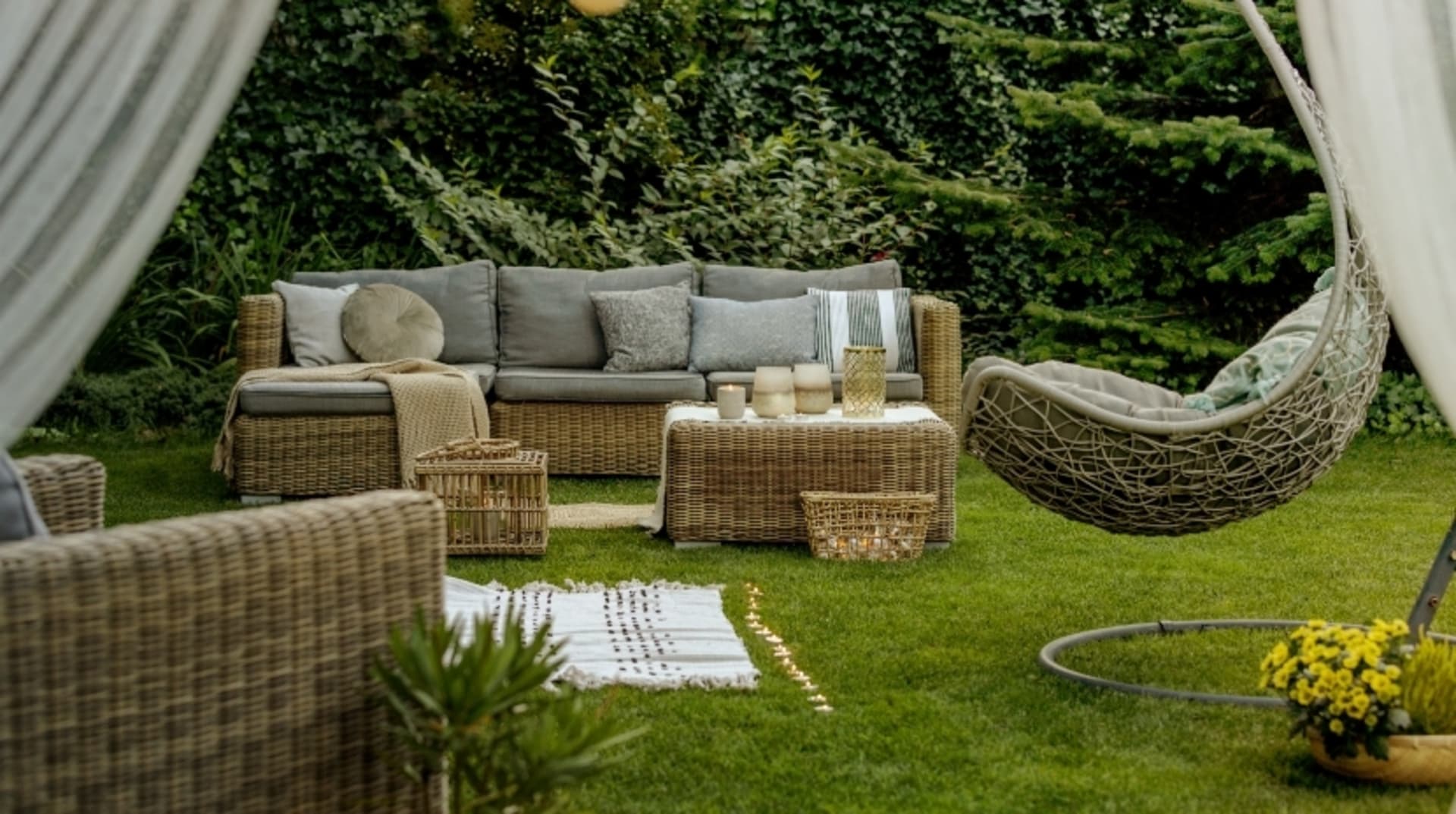 The Art of the Nook
Formal dining and seating areas certainly have their place in a backyard setup. However, part of truly achieving that vacation vibe is creating intimate, tranquil nooks throughout your yard. One of the easiest ways to create a casual setting for talking, lounging, or napping is to add a backyard hammock somewhere on your patio. There are so many ways to get creative with incorporating hammocks into your space, but some of our favorite backyard hammock ideas for this season include:
With these backyard hammock ideas, you can create a miniature getaway within your yard.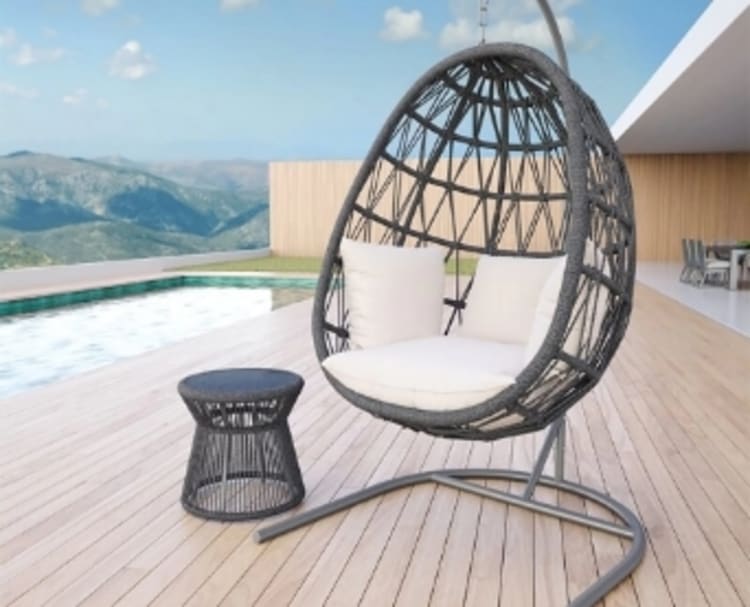 Hillside Hammocks
If the landscaping of your yard is leveled, it can be a nice idea to place your backyard hammock on the top part of your yard. This can provide a nice escape from the formal gathering areas of your patio.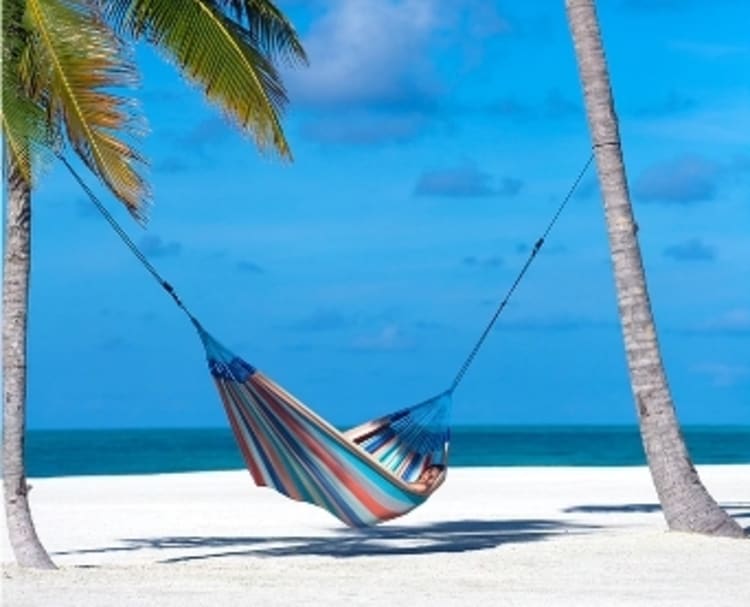 Cotton Hammocks
South American-inspired cotton backyard hammocks are becoming increasingly popular. The colorful patterns, stripes and fringe accents offer a unique accent to an outdoor space.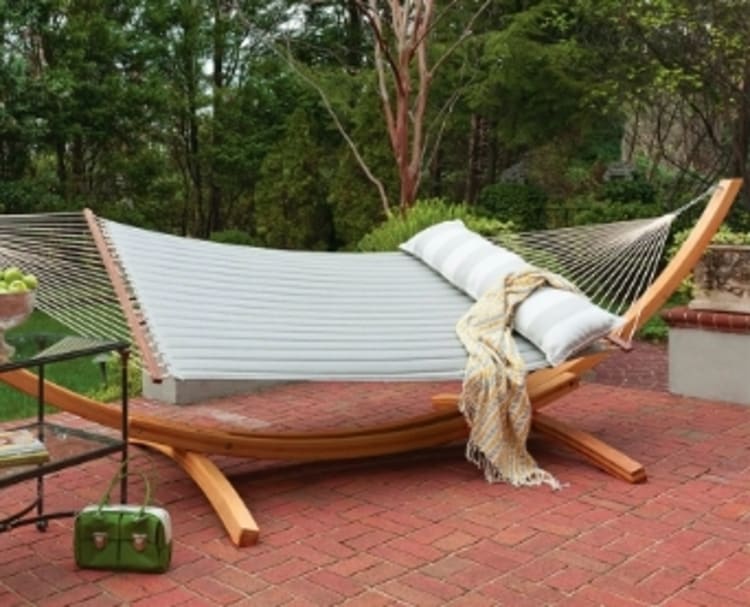 Garden Hammock Stands
If your garden or yard has a nice flat space, it can be nice to add a hammock stand. Sway away amidst the scents of your spring and summer blooms while enjoying a colorful backdrop.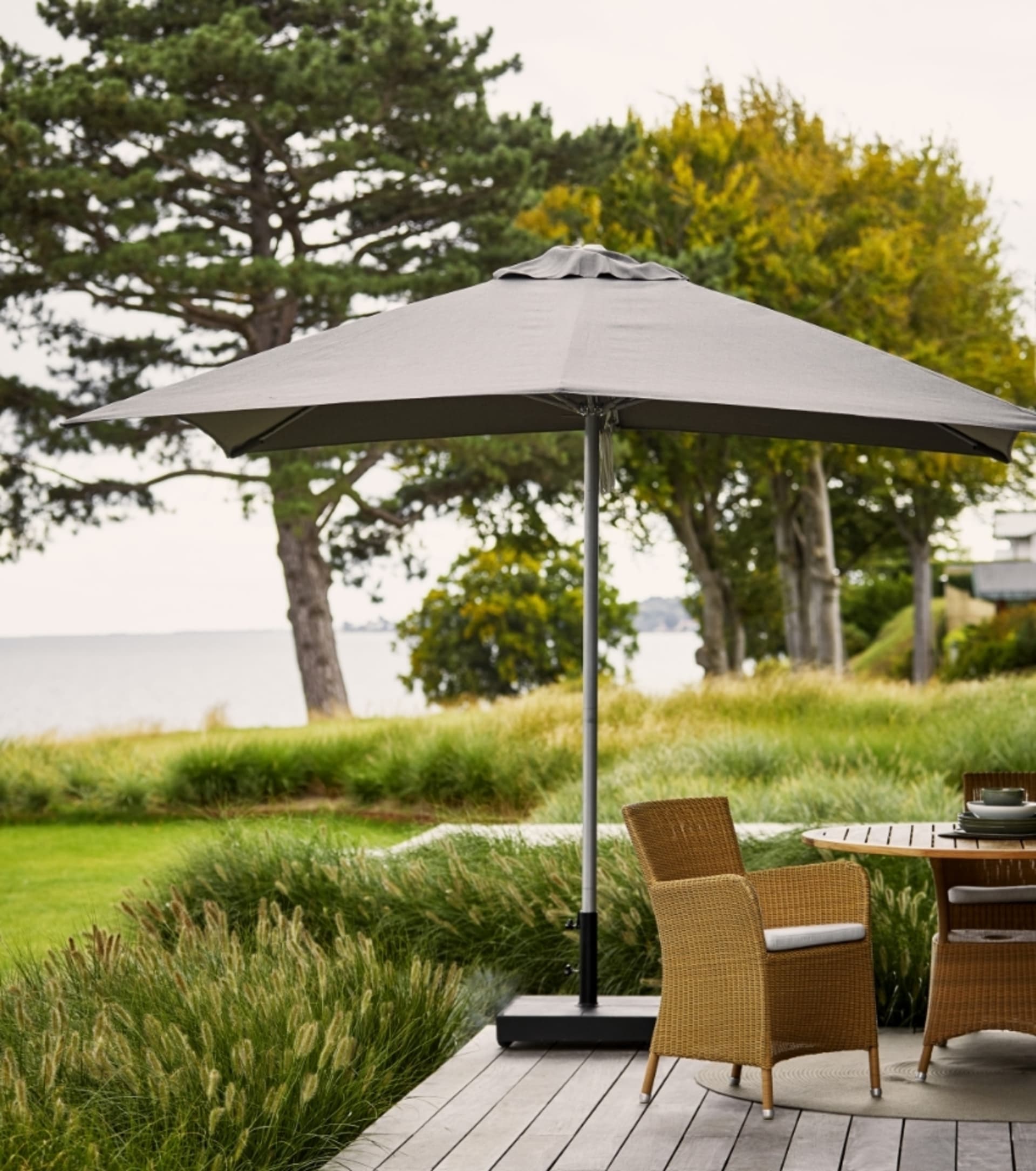 Make It Comfortable
Outdoor living rooms provide different challenges than their indoor counterparts. Creating an outdoor space requires accounting for natural elements like the sun. When designing your backyard paradise, it's important to incorporate comfort features. Ensuring you have good shade and ways to fight off the bugs will help enhance the livability of your space and naturally increase its use. Adding citronella candles and a good patio umbrella are two easy ways to dramatically increase your patio's comfortability.
Patio relaxing is no longer reserved for resort goers. Investing in a backyard paradise will bring the serenity, sophistication, and beauty of your favorite outdoor spaces to your own home. With our backyard hammock ideas and comfort suggestions, you can create a relaxing backyard getaway.
For more patio inspiration and design tips, subscribe to our email list or follow us on Instagram