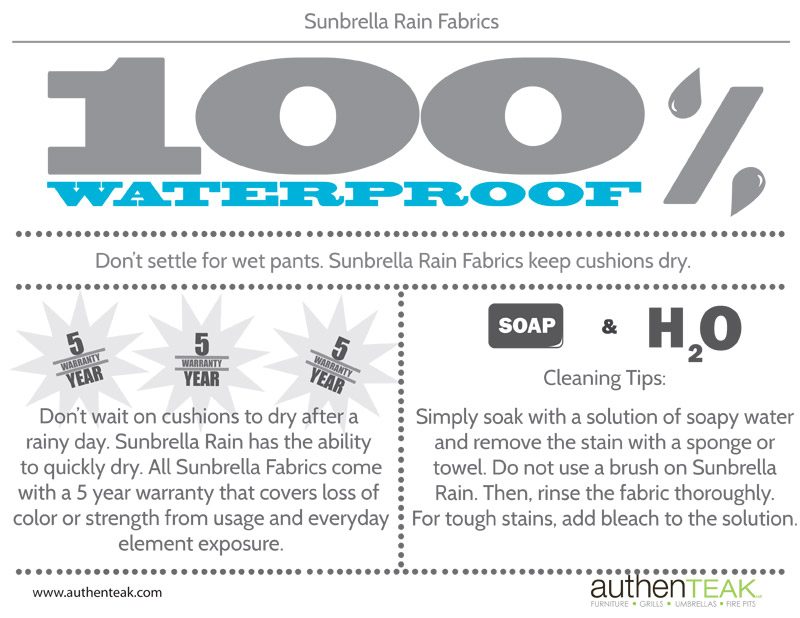 Sunbrella Rain Fabrics
Innovation is the name of the game when it comes to the outdoor living industry. Manufacturers are constantly looking for ways to improve comfort and aesthetics while making products that are simultaneously more durable and resilient to stains and exposure to the elements. Earlier this year textile manufacturer Sunbrella launched an exciting new category of fabrics in their Rain collection that take all-weather upholstery to a whole new level.
Traditional Sunbrella fabrics have built-in moisture repellents, but those can wear out over time from the abrasion of cleaning and require supplemental treatments such as 303 Fabric Guard. Sunbrella Rain fabrics have a permanent, 100% waterproof barrier that not only increases protection of the cushion cores but also accelerates the cushion drying process. As with all other Sunbrella textiles, the Rain fabrics are incredibly easy to clean and are highly stain resistant. Amazingly the Rain finish does not affect the color or hand of the fabrics, leaving them as soft and luxurious as any other outdoor textile on the market.