How to Select the Perfect Outdoor Bar Stool
Jordan Parrish

When summer arrives, so does patio season! Before you invite the neighbors over for a barbeque, you may need to dust off the deck and spice up your patio with the perfect outdoor bar stools. Outdoor bar stools are not only trendy, but also a comfortable seating option for your outdoor space. Here are four things to think consider when selecting your new outdoor bar stools.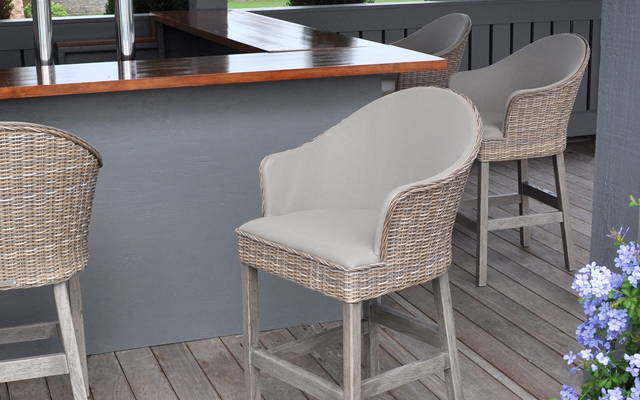 Size and Height
The first thing you want to think about when it comes to selecting the best outdoor counter height bar stools, is how high your counters are! Whether you have a walk-up, freestanding bar or several tall tables, it is critical that you find stools that are the right height. Before you run out and shop, make sure you measure the height of your countertops. Outdoor patio bar stools should sit at least 10-11 inches below the bar and be placed, at minimum, 25 inches apart from one another. This gives your guests ample room to eat, drink, and mingle without feeling cramped or confined.
Shape and Texture
Now that you know what size stool you're looking for, what material are you hoping to get? Outdoor patio bar stools come in all shapes and textures, each with its own pros and cons. For instance, wood is classic and beautiful, but may not last as long as metal. Metal, while durable and sleek, may be uncomfortable for some folks or for long meals outside. Fabric coverings and cushions can add an element of comfort to any style chair, but remember to get fabrics that are specifically made for outdoor use, such as Sunbrella. Ultimately, it is up to you to determine which type of bar stool is best for your outdoor patio. Keep you, your family, and your future guests in mind and you'll find the right one in no time.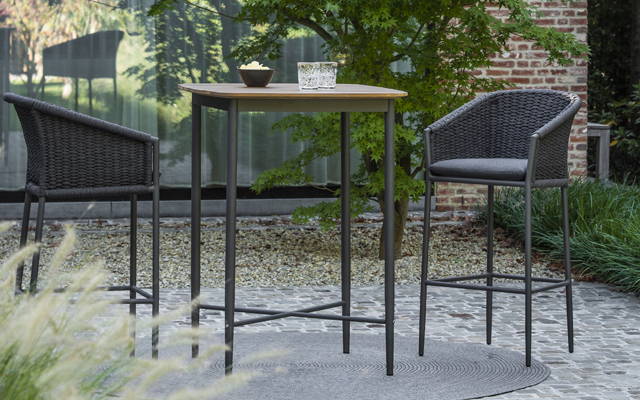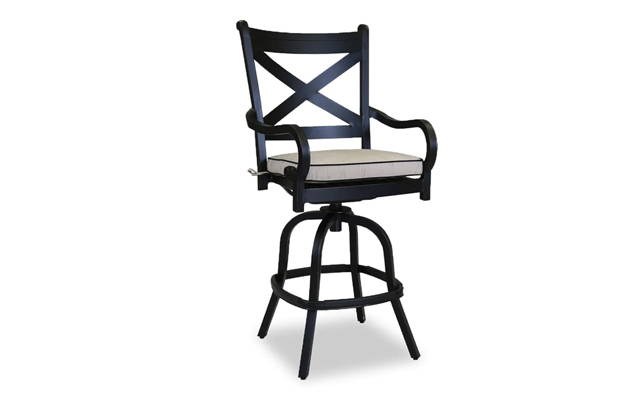 Swivel or No Swivel?
In addition to shape and material, functionality is important in selecting the best outdoor bar stools. A chair with a swivel, like the Woodard Maddox Swivel Bar Stool, is a great option to allow guests to take in the entirety of your backyard or lakeside property. If you are at the grill, swivel chairs will let you to continue the conversation without your friends having to twist themselves around to see you. Additionally, determining whether your stools should have arm rests and back rests is an important consideration. Both types offer greater comfort and promote relaxation, while stools without back and arm rests are often lighter and therefore easier to move around.
Style that Lasts
The last thing to consider when purchasing outdoor bar stools is style. Is your backyard patio more of a 'Mesmerizing Mediterranean' or a 'Hawaiian Heaven'? Either way, you're going to want to match your stools to the theme and style that you have going on already. Wicker and wood combinations, like that of the Kingsley Bate Spencer Bar Chair, go great with more of a tropical, island vibe, while ceramic and vintage look great with furniture that has a more Mediterranean flair. And do not underestimate going with a classic Adirondack style for lounging by the lake or adding a touch of elegance with a Chippendale pattern. No matter the style, there is an option out there that is perfect for your patio.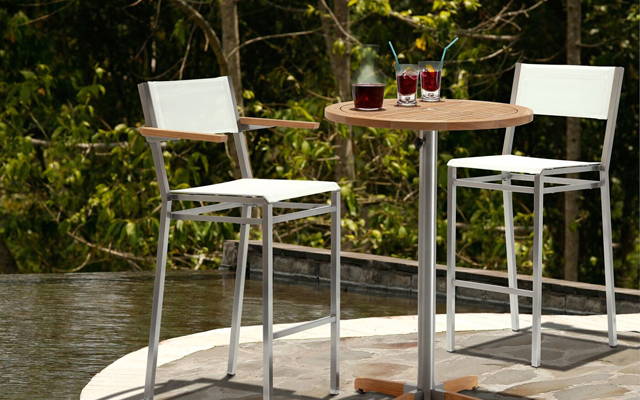 Transform Your Backyard
The right outdoor bar stools can tie an entire patio design together, creating an ambiance of friendship, togetherness, and relaxation right outside your door. With an abundance of options available to choose from, finding a set of outdoor patio bar stools that match the style of your existing patio and deck furniture is easy. Just make sure you measure out your bar height, take and functionality comfort into consideration, and you are on your way!