Following some simple care suggestions will extend the life of your outdoor furniture and provide you years of enjoyment. Because care instructions vary by material, we have put together this guide with instructions for all of the outdoor materials we sell, from natural teak to stainless steel. Download these instructions and visit our Maintenance and Care page to shop for cleaning products to maintain your outdoor furniture.
NATURAL TEAK
New teak furniture often has a slight surface sheen. This sheen is from the oil that naturally occurs in teak wood. This surface oil will be washed away after a short time outdoors. The oils and resins that remain inside give teak its lasting durability. Over time when left outdoors, teak furniture will naturally age to a handsome silver-gray. This gradual process usually takes from five to twelve months depending on local conditions.
The weathering process will eventually leave your furniture with a look of timeless beauty. Water spots or other discoloration may occur early in the weathering process. After the wood has been exposed to moisture the surface grain may raise slightly. Some small cracks may also develop in the wood surface. This is a natural weathering effect and will soon blend into the surrounding surface. The slight separation of the grain has no effect on the strength and longevity of the furniture. Teak will return to its original smooth feel after the initial weathering process. Cleaning with a soft bristle brush or Scotch-Brite pad and soapy water will help return the surface to a smooth finish.
Once the furniture has taken on a weathered surface, it is easily maintained by an annual cleaning with a soft bristled brush and soapy water to remove accumulated dirt. Most dirt and stains can be removed with soapy water and a brush. For tough stains and mildew add one part household bleach to two parts water in the soap solution. Rise well with clean water after washing. Pressure washers are to be avoided as they can scour and roughen the wood surface. Also, the use of steel wool is not recommended as it can leave a residue that can produce rust spots.
TEAK CLEANER
Teak that has not been cleaned can become dark gray or black after some years. For this we recommend Teak Cleaner to clean your furniture. This highly concentrated cleaner removes accumulated dirt and grease from the surface of the furniture and it also contains brightener ingredients which help to bring back the original teak color.
TEAK PROTECTOR
After cleaning with the Teak Cleaner, the golden color of the teak can be extended with the application of Teak Protector. This is a high-quality, multi-purpose wood treatment specifically formulated to enhance and help preserve the natural beauty of teak outdoor furniture. Our Teak Protector is an advanced alternative to teak oil that is water based, contains no harmful VOCs and is biodegradable. It contains UV inhibitors and light pigments to reduce the weathering effects of sunlight and a compound to provide some added protection from spills and stains. This treatment may be applied directly to new teak (best results after the furniture has been outside for a few weeks), but must be preceded by a thorough cleaning with the Teak Cleaner on weathered teak. Teak Protector should be reapplied once or twice a year to provide continuous protection.
We do not recommend the use of teak oil. Oil can leave a greasy or sticky residue and provides ideal living conditions for mildew, thus creating black spots on your beautiful teak furniture. We also advise against the use of paint, varnish or other similar finishes. These finishes tend to crack and flake from the surface and are not suited to this application.
Our teak care products may stain clothing and patio surfaces and can damage lawns and plants with improper use. Always read the warnings, and carefully follow the instructions on the product labels.
Always remember, protect your teak furniture, and it will last a lifetime.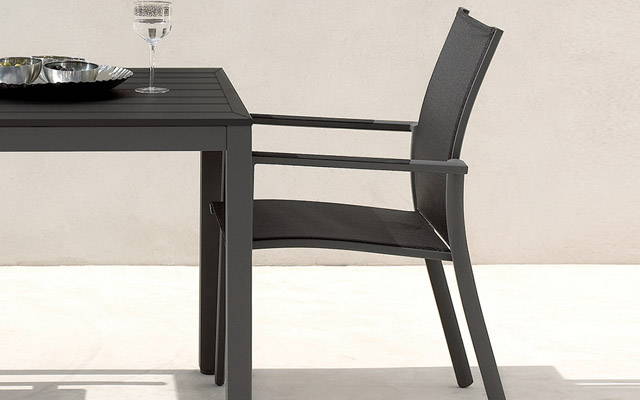 ALUMINUM FRAMES/FINISHES
Periodic cleaning of frames is recommended. Simply wash with mild soap and rinse thoroughly. DO NOT use any kind of wax, abrasive materials or strong detergents on textured finishes.
Frame Touch Up Instructions
Should your frames require minor finish touch ups, follow these easy instructions:
Place the frame in an open area with plenty of light ventilation - preferably outdoors.
Use a very fine grit sand paper (120 grit or more) and lightly sand the damaged area until smooth with the rest of the surface.
Using a clean rag lightly dipped in rubbing alcohol or mineral spirits; wipe the sanded area clean of dirt and oil. This primes the affected area and provides the maximum bonding surface for the paint to adhere. Shake spray can for at least one minute after mixing balls rattle. Spray the damaged area lightly in an even left to right motion. This action helps to prevent paint runs. For best results, make two to three light coats allowing paint to dry in between coats. Read the information affixed to the spray can for additional information.
Touch up applications should be limited to as small an area as necessary to repair the damage. Be sure to use a left to right motion when touching up to feather the touch up into the established finish area. Wait until paint is very dry before determining if an additional coat is needed.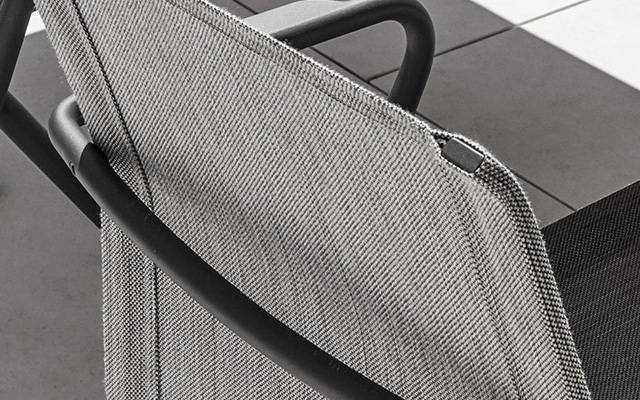 Sling products are created from select fabrics, which are stretched on to the furniture frame providing a firm, yet very comfortable seating experience. The sling furniture product line is a very popular choice and has several unique advantages, primarily associated with its care and maintenance.
Sling fabrics allow water and air to flow through for quick drying.
Sling fabrics remain quite cool due to the flow-through nature of the fabric weave.
Sling fabrics are easy to clean - simply wash and rinse with your garden hose.
For more difficult stains, mix three gallons of warm water with one cup of household bleach and one cup of mild detergent. Apply with brush and rinse thoroughly. Do not use solvent type materials which will cause the yarn to become brittle.
Download the Sling Care PDF file for sling cleaning and care instructions. You're always welcome to email or call us for additional information. Should your outdoor furniture fabric ever need replacing, please contact us at 404-525-1995 as most of our manufacturers offer replacement all-weather fabric options for most of their collections.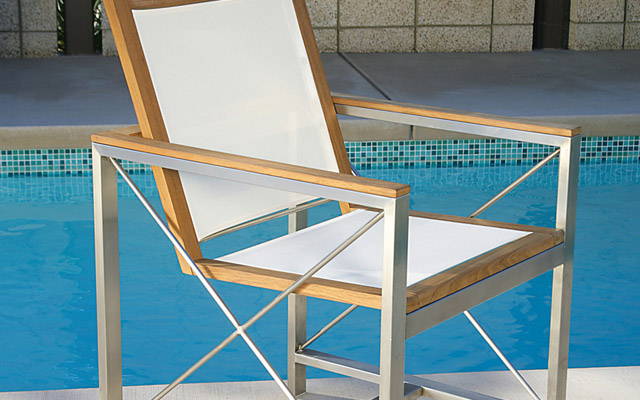 Our manufacturers produce contemporary outdoor furniture using both 304 and 316 grade stainless steel. 316 grade stainless steel is often referred to as "marine grade" stainless steel and is much harder also more resistant to corrosion than 304 grade. Both grades; however, still requires some maintenance to preserve its finish. The more extreme the environment, the more frequent should be the maintenance.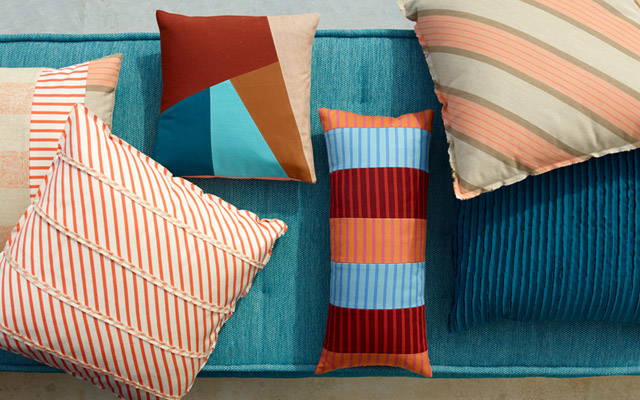 All high-quality outdoor Sunbrella fabrics features a soil- and stain-resistant finish that makes cleaning a breeze. Spot wash by sponging briskly with a soapy solution of mild soap in lukewarm water. Rinse thoroughly with clean water to remove soap and air dry. You can also clean the cover in your washing machine, however do not use your dryer. After the wash cycle, simply put the damp cover back on the frame on the umbrella and let air dry. Solution-dyed acrylic does not promote mildew growth. However, mildew may grow on dirt and other foreign substances that are not removed from the fabric. Simply wash your cover to remove mildew.
Please review Sunbrella Care for more information. You're always welcome to email or call us for additional information. Should your outdoor furniture fabric ever need replacing, please contact us at 404-525-1995 as most of our manufacturers offer replacement all-weather fabric options for most of their collections.