OUTDOOR FURNITURE CARE 101
Looking to extend the life (and look) of your outdoor furniture? These outdoor furniture care tips will help maintain the quality and style of your outdoor pieces for seasons to come.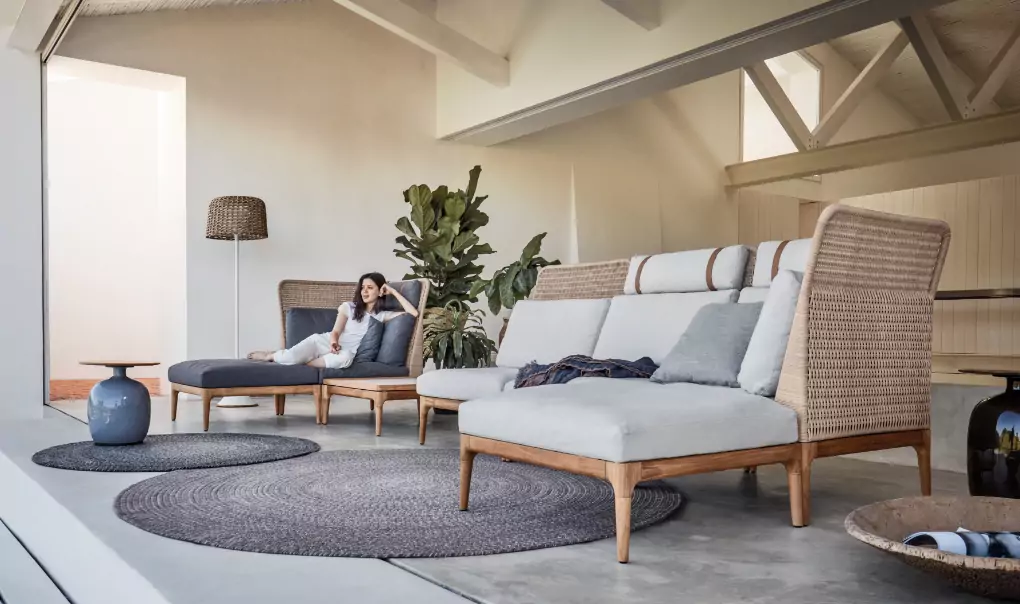 TEAK CARE
ABOUT NATURAL TEAK
• New teak furniture often has a slight surface sheen from the oil that naturally occurs in teak wood. This surface oil will be washed away after a short time outdoors, but the oils and resins that remain inside give teak its lasting durability.
• Over time when left outdoors, teak will naturally age to a handsome silver-gray. This gradual process usually takes 5-12 months depending on local conditions.
• Teak will return to its original smooth feel after the initial weathering process.
CLEANING TEAK
• Clean with a soft-bristle brush and soapy water to remove accumulated dirt.
• For tough stains and mildew add one part household bleach to two parts water in the soap solution. Rinse well with clean water after washing.
• Avoid pressure washers and steel wool.
• Teak that has not been cleaned can become dark gray or black after some years. For this we recommend purchasing a good Teak Cleaner. This highly concentrated cleaner removes accumulated dirt and grease from the surface of the furniture and also contains brightener ingredients that help to bring back the original teak color.
PROTECTING TEAK
While many people love to keep their teak's gray patina, if you'd like to preserve your teak's golden color, apply a good-quality teak protector that protects against stains and contains UV inhibitors and light pigments to reduce the weathering effects of sunlight.
Apply your teak protector directly to new teak or—for best results—after the furniture has been outside for a few weeks and been cleaned with teak cleaner. Teak protector should be reapplied once or twice a year to provide continuous protection.
SLINGS
ABOUT SLING FABRIC
• Sling products are created from select fabrics that are stretched onto the furniture frame providing a firm, yet very comfortable seating experience.
• Sling fabrics allow water and air to flow through for quick drying and remain cool due to the open nature of the fabric weave.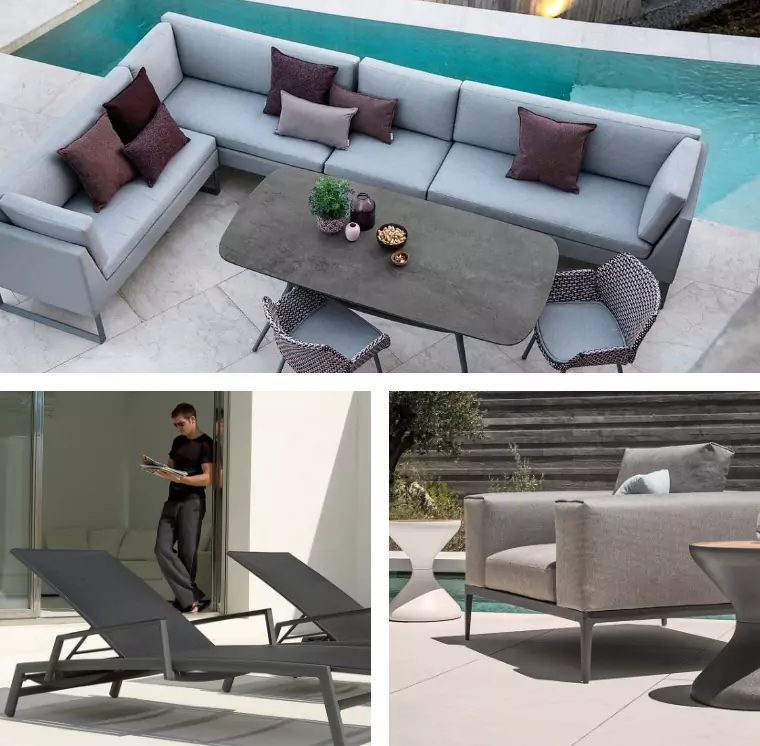 CLEANING SLING FABRIC
• For period cleaning and maintenance, simply wash and rinse with your garden hose, or mix three gallons of warm water with one cup of household bleach and one cup of mild detergent. Apply with brush and rinse thoroughly.
• Do not use solvent-type materials which will cause the yarn to become brittle.
• For tougher stains, use a sling or fabric cleaner. Make sure to use protective gloves and eye protection. Shake the cleaner before use and apply with a soft cloth or sponge. Allow to soak for one minute. Brush the furniture clean with a soft scrubbing pad and water. Rinse furniture well with clean water. (Severe stains may require a second treatment.)
STAINLESS STEEL
ABOUT STAINLESS STEEL
• Stainless steel is an incredibly durable material. Contemporary outdoor furniture is available in both 304 and 316-grade stainless steel.
• 316-grade stainless steel is often referred to as "marine grade" stainless steel and is remarkably hard also resistant to corrosion.
• Both grades require some maintenance to preserve their finish. The more extreme the environment, the more frequent should be the maintenance.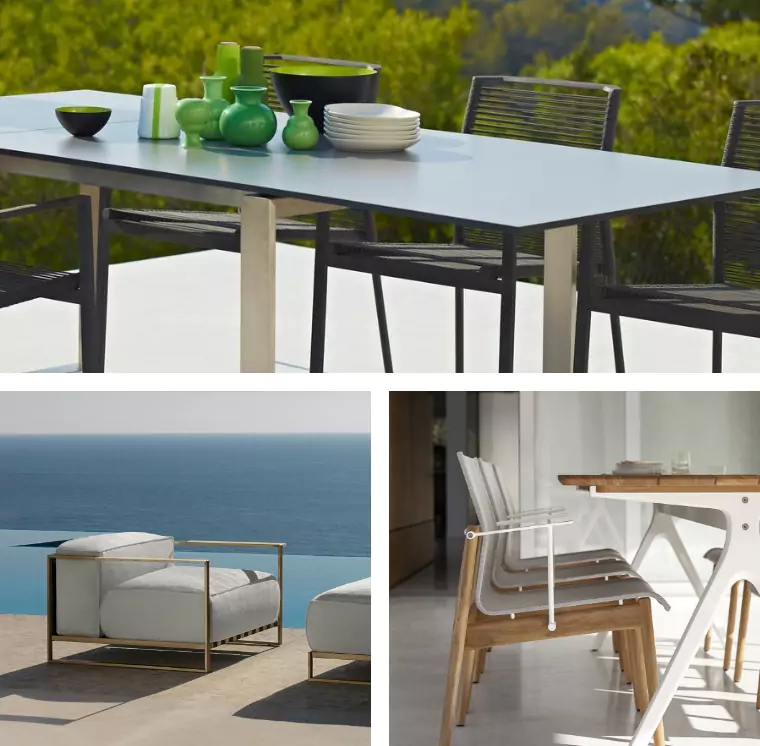 CLEANING & MAINTAINING STAINLESS STEEL
• When it comes to outdoor furniture care, a stainless steel cleaner & polisher can clean and restore the look of stainless steel and help it continue to repel dirt and water to prevent future stains
ALUMINUM
ABOUT ALUMINUM FURNITURE
• Often used in furniture frames, outdoor aluminum is often powder-coated for a beautiful and durable finish.
• Aluminum furniture is llightweight, corrosion-resistant and visually appealing.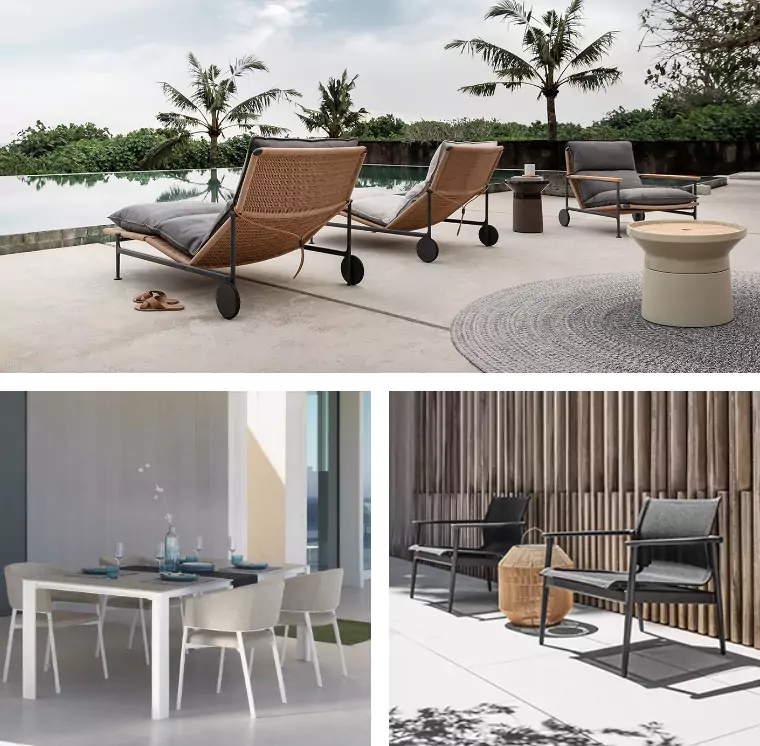 CLEANING ALUMINUM
• For the best outdoor furniture care, periodic cleaning of aluminum frames is recommended.
• Wash with mild soap and rinse thoroughly. Do not use any kind of wax, abrasive materials, or strong detergents on textured finishes.
• To touch up any nicks or scratches, use a very fine-grit sandpaper (120 grit or more) and lightly sand the damaged area until smooth with the rest of the surface. Using a clean rag lightly dipped in rubbing alcohol or mineral spirits; wipe the sanded area clean of dirt and oil. Spray with paint if needed.
---
OUTDOOR FURNITURE CARE
The right outdoor furniture care can extend the life (and preserve the look of) outdoor furniture for years to come. Follow these tips for patio furniture care periodically for the best results. Should your outdoor furniture fabric ever need replacing, please contact us at 404.525.1995, as most manufacturers offer replacement all-weather fabric options. Take note: patio furniture care may vary by material and brand; always consult the manufacturer's instructions when cleaning and protecting furniture.