LOUNGING
Is your outdoor space ready for summer? Shop smarter and snag your favorites now. Meet your outdoor lounge furniture staples: All the comfort of indoor seating, with the minimal maintenance and durability of an outdoor piece. Luxurious comfort, designed to last throughout the seasons.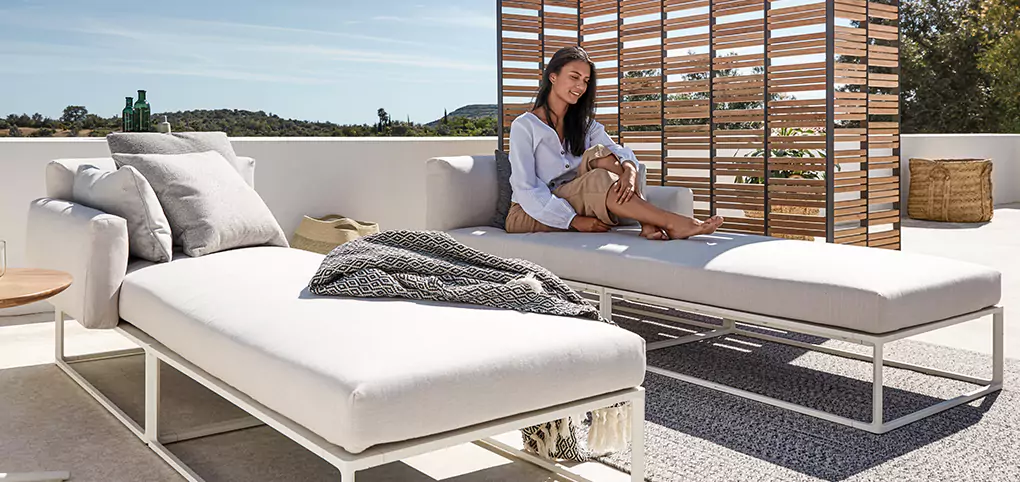 DEEP SEATING SETS
Maximum comfort meets maximum durability with deep seating sets designed to withstand the elements.
Shop all deep seating sets
MODULAR SECTIONALS
Meet outdoor lounge furniture that's meant to be mixed and matched to suit any size space or crowd.
Shop all modular sectionals
LOUNGE CHAIRS
Add additional seating with high-quality outdoor lounge chars that bring the resort home.
Shop all lounge chairs
CHAISE LOUNGES & STEAMERS
The best way to bring the vacation vibes home? Lay back in luxury chaise lounges that don't sacrifice quality for style.
Shop all chaise lounges & steamers
BENCHES & GLIDERS
Outdoor lounge furniture that's as classic as it is comfortable. Sit and relax for more than just a spell.
Shop all benches & gliders
ACCENT TABLES
That final touch that's as decorative as it is practical—the perfect perch for drinks or lighting, all while looking chic.
Shop all accent tables
WHAT'S TRENDING?
This just in: The latest outdoor lounge furniture you won't want to miss. Meet our most popular lounging furniture.
Shop all lounging
---
RELAX INTO STYLISH OUTDOOR LOUNGE FURNITURE
From the front porch to the pool deck, soak up the sun in style with patio lounge furniture that's both weather-resistant and stylish. Shop a curated selection of patio lounge furniture that fits every occasion and every style, from deep-seating sets and modular sectionals to cozy shop loveseats and teak lounge chairs.
Built to last, our patio lounge furniture is comfortable, classic, and oh-so-chic. Anchor your outdoor oasis with expert-approved styles that do more than just look good.