OUTDOOR UMBRELLAS
Sometimes you just need a day in the shade. Stay out of the sun in style with high-end patio umbrellas designed for luxurious lounging. Whether you want to keep cool by the pool or sip punch in the patio shade, there's an umbrella for every lifestyle and every space.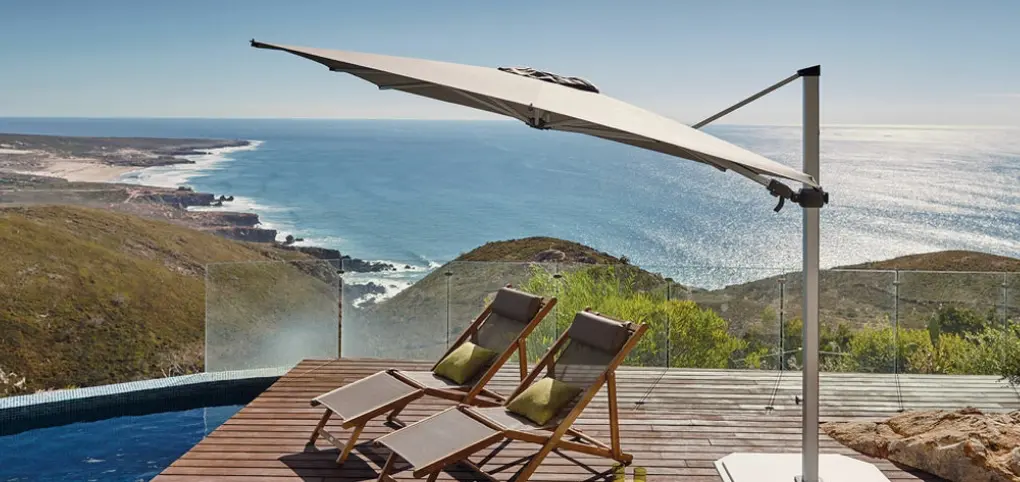 MARKET UMBRELLAS
The most common type of umbrella, market umbrellas are ideal for dining tables with holes, but can also be placed next to patio furniture.
Shop all market umbrellas
CANTILEVER UMBRELLAS
An arched or jointed pole positioned off to the side allows the canopies of outdoor cantilever umbrellas to hang freely without obstructing views.
Shop all cantilever umbrellas
TILTING UMBRELLAS
Ideal for areas where shade needs to change often, tilting umbrellas can be adjusted by pushing a button, turning a crank, or adjusting a collar.
Shop all tilting umbrellas
WHAT'S NEW?
This just in: The latest high-end patio umbrella styles and trends. Shop what's new and noteworthy.
Shop all new umbrellas
---
REFRESH AND RELAX WITH VIBRANT OUTDOOR UMBRELLAS
Ready for a day in the shade? Relax under the cover of high-end patio umbrellas for outdoor spaces of every size and style—from adjustable outdoor cantilever umbrellas to classic market umbrellas. Choose from durable outdoor umbrella canopy fabrics in a spectrum of shades to fit the right mood and style. Bring the resort home with a luxury outdoor cantilever umbrella, a freestanding market umbrella, or an adjustable tilting umbrella for the perfect shade.