UMBRELLAS
SHOP BY SHAPE
What's your shape? When deciding on the perfect umbrella shape, consider the size of your outdoor space, your ideal amount of shade coverage, and your personal style preference. Shop a curated selection of umbrella shapes for every style, every space.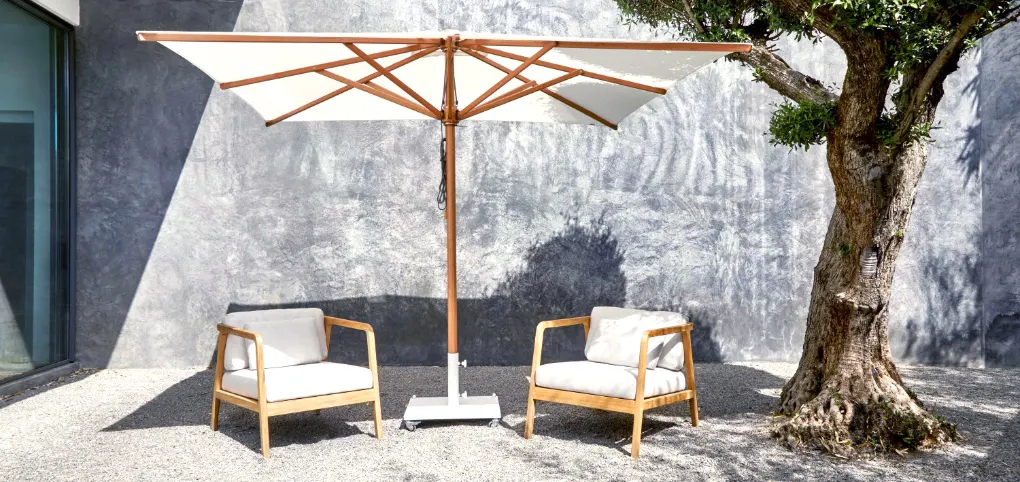 RECTANGULAR UMBRELLAS
Rectangular umbrella shapes are best paired with a rectangular or oval dining table—or a rectangular seating arrangement.
Shop all rectangular umbrellas
SQUARE UMBRELLAS
Square umbrella shapes are ideally paired with a square dining arrangement for the perfect amount of shade. 
Shop all square umbrellas
WHAT'S NEW?
This just in: The latest patio umbrella shapes, styles, and trends you won't want to miss. Shop fresh arrivals now. 
Shop all new accessories
---
Get creative with unique patio umbrella shapes
Achieve the perfect amount of shade—and just the right look—with patio umbrella shapes for every space, style, and arrangement. From spacious patios to petite porches, the right patio umbrella shape can make your space feel comfortable and collected. Choose from square, round or octagon umbrella shapes each with unique benefits. Cool off an intimate dining area with a square table umbrella, or cover a sprawling set up with a model in a rectangular umbrella shape. Choose from endless colors from brands known across the industry.