SHOP THE BRAND
TREASURE GARDEN
Known for their high quality since 1984, Treasure Garden umbrellas combine advanced technology with style-forward colors and fabrics. By manufacturing more than 90% of the components used in their products in-house, Treasure Garden maintains an unparalleled level of consistency and quality.
Sustainable

Warranty

Lasting Quality
STYLISH SHADE INNOVATIVE DESIGN
By consistently designing, testing, and bringing new innovations to the shade industry, Treasure Garden umbrellas are as durable as they are fashionable, standing up to the outdoor elements without sacrificing style.
IN-HOUSE QUALITY
Treasure Garden manufactures and produces over 90% of the components used in its products. This allows Treasure Garden to monitor every stage of the manufacturing process, maintaining consistency and quality.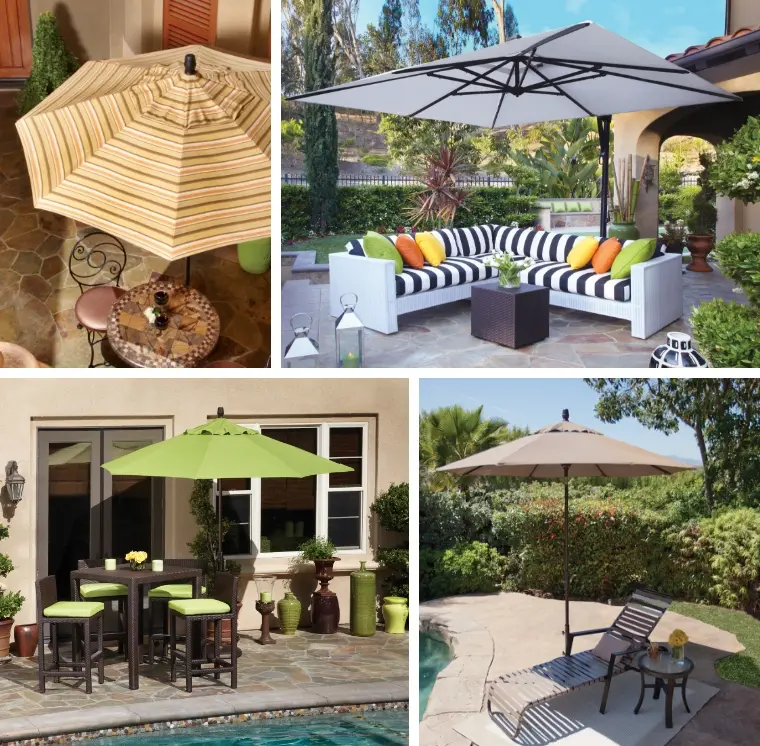 TREASURE GARDEN
SHOP BY MATERIAL

---
TREASURE GARDEN UMBRELLAS
OFFER STYLISH SHADE
For the ultimate shade to enhance your outdoor space, look no further than our wide selection of the industry-leading brand Treasure Garden patio umbrellas. The large patio umbrellas are made with top-quality materials and are custom-made to suit your needs. The advanced technology behind the shades provides protection from harmful effects of the sun while adding style to your outdoor space.
Treasure Garden umbrellas are typically made using weather-resistant Sunbrella fabric. They come in a variety of colors, styles, and shapes so that you're sure to find the perfect fit for your patio. Decorate your outdoor space while creating functional shade and providing a more comfortable atmosphere. Treasure Garden patio umbrellas are suited for residential or commercial use. We also carry replacement canopies for all Treasure Garden umbrellas.
You'll find our patio umbrellas available in several styles and shapes including traditional pole varieties and contemporary cantilever designs in rectangular, octagonal, square, and round variations. We also carry protective patio umbrella covers and umbrella bases to help protect.