Tips for Getting Your Patio Spring Ready
Katie McKenna O'Leary

For many folks, March 1 marks the start of the unofficial countdown to spring patio season! Whether it's outfitting your porch with spring planters or enhancing your space with some outdoor entertainment features, there are lots of ways you can get a head start on sprucing up your outdoor space for spring. Here are some of our favorites.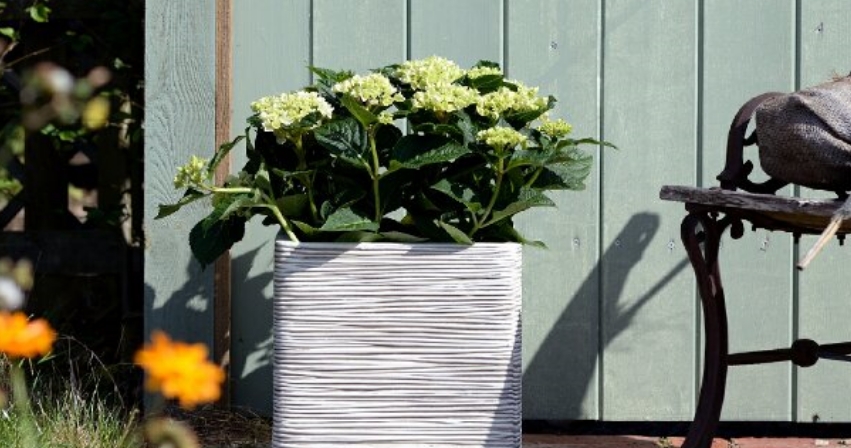 Add Some Greenery with Spring Planters
Eyeing an attractive spring planter at your favorite restaurant or on your daily stroll is usually enough to plant a green itch for one of your own. If you find yourself wondering where to start, how many plants you need to nicely fill out your planter and the best way to style it, you're not alone. 
To get started, choose a color palette along with the shapes and textures you want work with. When selecting the flowers for your planter, you should take the following factors into consideration: 
•Sunlight. It's important to consider the location you intend on placing your planters and how much sunlight that spot receives. Sunlight exposure will have a significant influence on the types of plants you can choose. 
•Water. Be sure to choose plants that have a suitable drought tolerance for your climate. Before designing your spring planters, consider if your plants are likely to receive ample rainwater or if they'll need to be regularly watered.
•Size. The size of your spring planters will play a factor in design and materials. Larger planters will require more plants and filler materials than a couple of small spring flowerpots on your steps. 
•Climate. Spring doesn't come into full bloom just because the calendar says so. It's important to consider your climate and start your planters when nighttime temperatures are consistently above freezing.
Decorating your outdoor space with spring planters is a fun way to add some seasonal charm to your patio. Not only can you get creative with the flower arrangements, but there are also countless planter styles available to perfectly complement your patio aesthetic.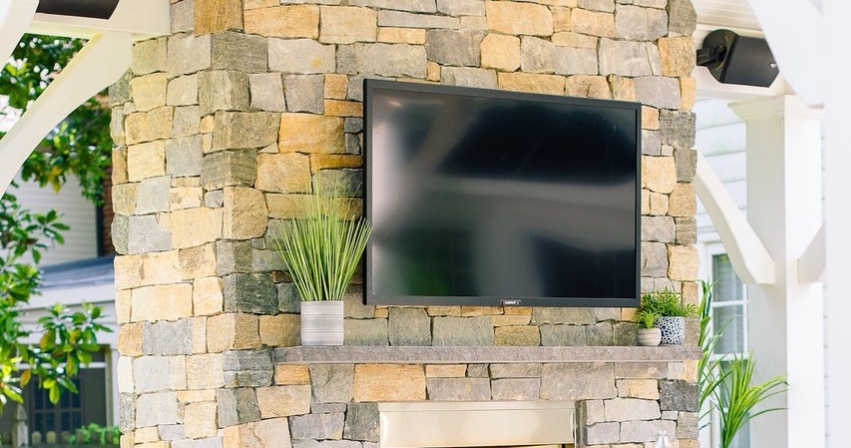 Make Your Patio Inviting with Outdoor Entertainment Features
There's no better way to put the finishing spring touches on your patio than adding outdoor entertainment features that will draw people into your outdoor space.
Outdoor TVs make a great patio addition because they allow you to enjoy some of your favorite activities while being outside.
The biggest thing to consider when buying an outdoor TV is to make sure it is rated for outdoor use. Unlike standard indoor TVs, outdoor TVs are made with weather-resistant features along with specific panels that reduce glare and are optimized to perform in natural lighting conditions.
There are endless outdoor TV models to choose from, each offering unique features that are suitable for varying climates and spaces. If you're struggling to pick the best outdoor TV for your patio, check out our comprehensive outdoor TV buying guide.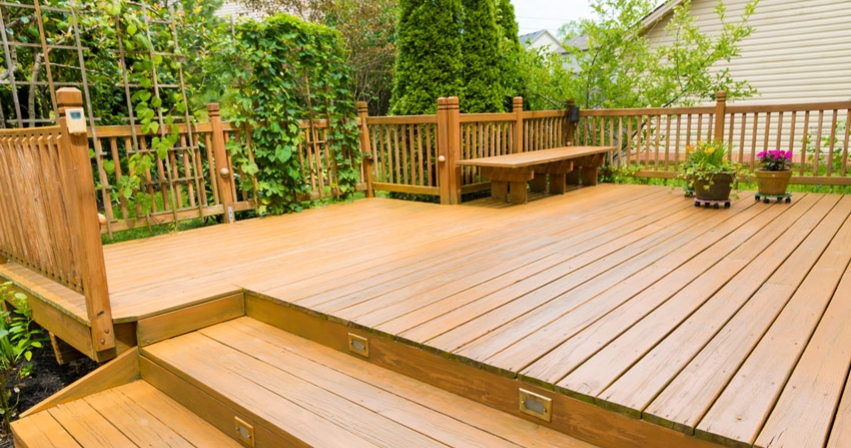 Give Your Deck a Spring Cleaning
If you have a deck, giving it a spring cleaning will be essential for getting your patio spring ready. Over the winter, lots of debris and potentially, mold and mildew can accumulate, setting the stage for unsightly stains and even rot. A little elbow grease can get your deck looking good as new for the BBQ season.
1. Cover any flowers or spring planters on your deck to protect them from the cleaning process. Using plastic sheeting is an easy way to make sure they are protected. 
2. Remove any debris that has accumulated between your deck boards. Be sure to give special attention to spots where your boards intersect with joists, as these areas are especially prone to debris.
3. Give your deck a thorough sweep before washing. Common deck materials such as wood, composite and vinyl will require different cleaners, so be sure to choose one that is appropriate for your deck. Use a bristled brush on an extension pole to scrub, then rinse with a hose or pressure washer.
4. After washing, wait a couple of days—allowing your deck to fully dry—before sealing.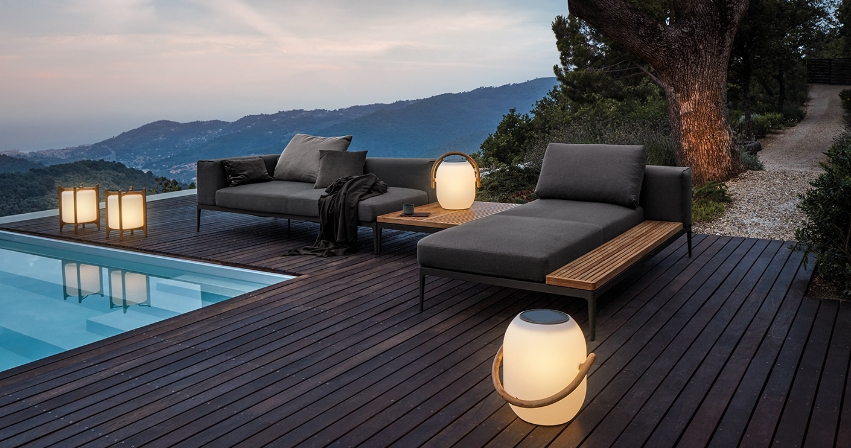 Give Your Patio a Warm Ambiance with Lights 
Adding lighting to a patio greatly enhances its ambiance and creates the perfect atmosphere for entertaining in the evenings. You can brighten your yard by adding string lights to your pergola or veranda. Strategically placing outdoor lighting will not only increase the livability of your outdoor space, but it will also highlight your home's unique landscaping and architecture. You can use lights to highlight your spring planters or to add dimension to your home's shape—the options are endless.
A patio is at its best when it serves as an extension of your home. Using some of our favorite spring patio tips to enhance your outdoor space for the season will ensure you get the most out of your patio.
For more tips on how to enhance your outdoor living space, subscribe to our email list or follow us on Instagram.