How to Buy a Patio Heater for Your Space
Jordan Parrish

If your home has a fabulous outdoor space, you probably hate going inside. After all, few things are better than lounging on a patio and reading a book on a warm summer evening. Whether you use your outdoor space as your personal sanctuary or to entertain family and friends, you likely keep your eye on the calendar. As summer turns to fall, you move inside to anxiously wait for spring to arrive. You can, however, extend the usability of your patio into the autumn and even winter months. Outdoor patio heaters are perfect investments for homeowners who love to live outdoors.
Patio Heaters Come in a Variety of Styles
There are many different types of patio heaters, including: Freestanding Portable Heaters, Tabletop Heaters, Hanging Heaters and Built-In/ Ceiling-Mounted Heaters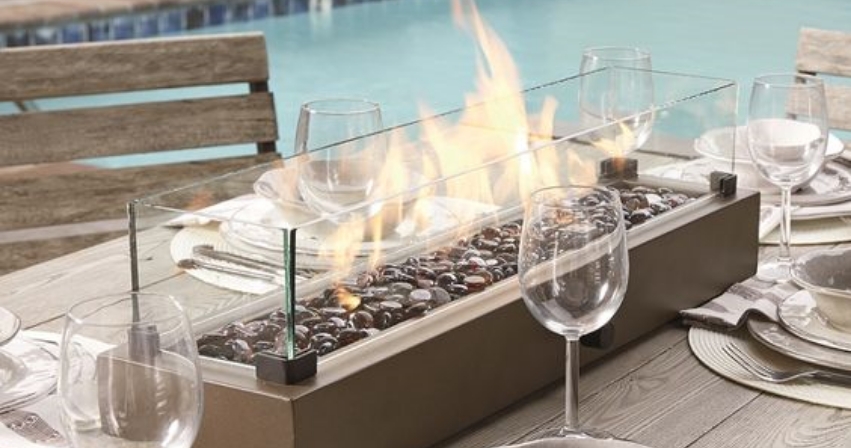 Tabletop Patio Heaters
The little brother of freestanding heaters, tabletop patio heaters sit on a table, bench or shelf. Since these heaters generally operate at up to 30,000 BTUs, they are appropriate for heating intimate spaces. These heaters come in a variety of styles and finishes, making them optimal for anyone who wants to match or complement existing outdoor décor. While some tabletop heaters run on propane, many are electric. Therefore, you may need to consider placing your tabletop heater near an electrical outlet.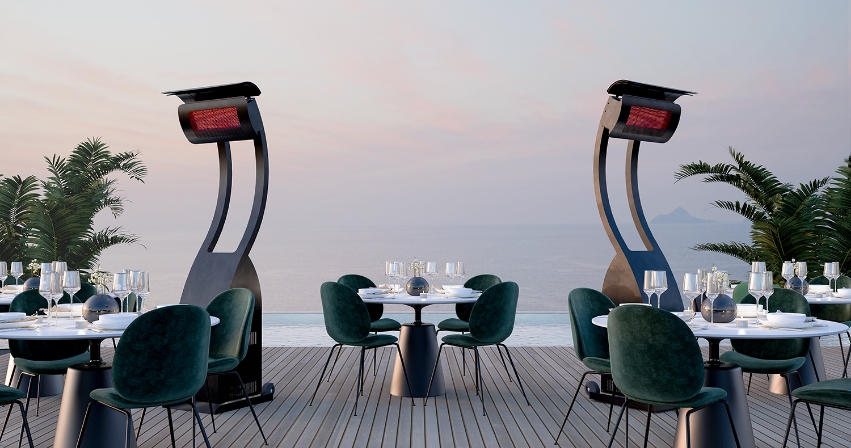 Freestanding Patio Heaters
Freestanding patio heaters are the largest type of outdoor heater. These heaters usually stand on the ground, frequently reaching heights of over six feet. While large, many standing heaters have wheels that allow you to easily move them to different parts of your patio. These heaters are ideal for homeowners who want to heat a large patio, as most are capable of delivering 40,000 BTUs. They are also excellent for keeping large groups warm.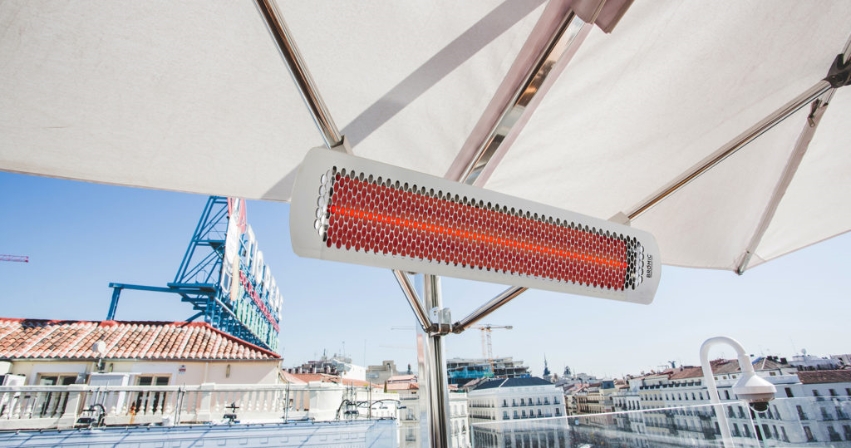 Hanging Patio Heaters
You may not want to take up valuable floor space with a freestanding patio heater. You may also not want to crowd your eating area with a tabletop heater. If either of these scenarios is true, when shopping for outdoor patio heaters, you may want to invest in a hanging heater. Resembling chandeliers, these heaters hang from the ceiling. As such, they are neatly tucked out of the way. Typically compact, hanging patio heaters have a wide range of heat output. Smaller heaters produce fewer than 10,000 BTUs, while larger ones can deliver more than 30,000.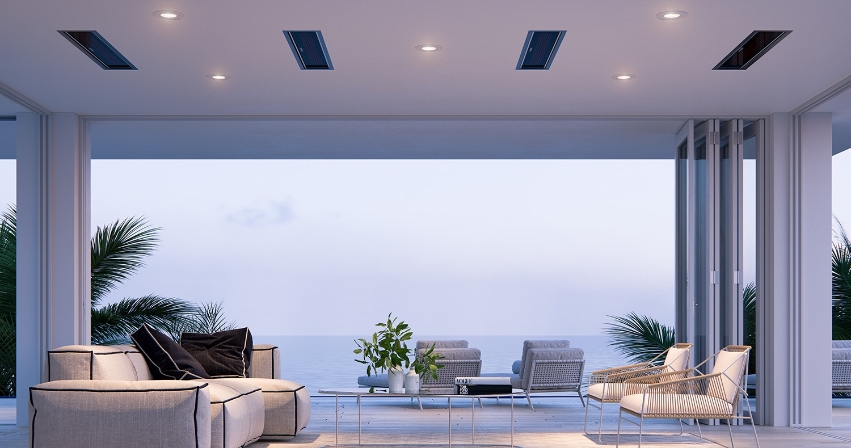 Built-In/Ceiling-Mounted Patio Heaters
Finally, as their name suggests, built-in/ceiling-mounted patio heaters attach to the wall or ceiling. Accordingly, these heaters are not portable. Simply put, you never have to worry about finding a new space for mounted patio heaters. Usually electric, mounted patio heaters often deliver between 10,000 and 40,000 BTUs of heat. If you have a small patio, sunroom or deck, one of these heaters may be the perfect solution for your heating needs. Be sure to reference the manufacturer's suggested clearance to ensure maximum security when installing your built-in patio heater.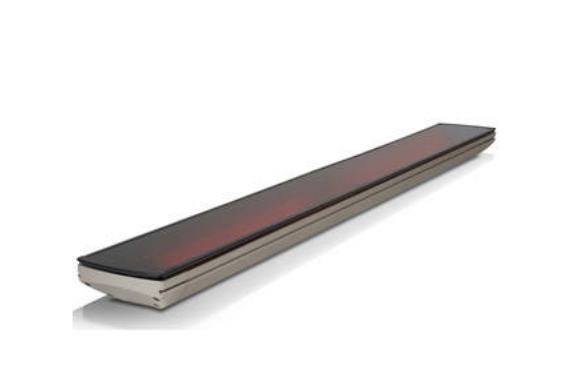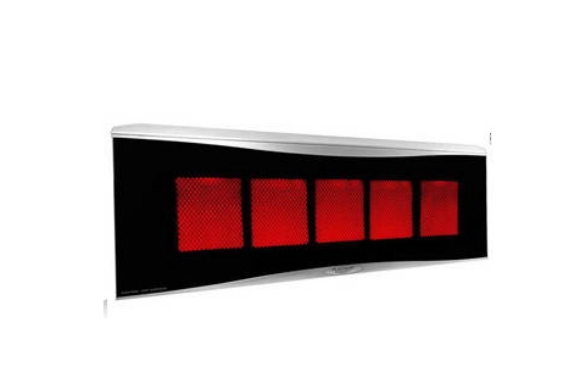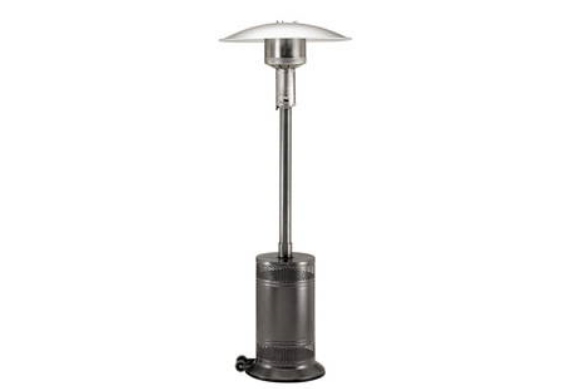 Patio Heaters Have Three Distinct Power Sources
Since they are mechanical devices, outdoor patio heaters need a power source. Regardless of the style of heater you choose, it will likely run on: Electricity, Natural gas and Propane.
Electric Patio Heaters
Electric patio heaters are friends of the environment, producing no emissions. These heaters warm up patios effectively and cost a moderate amount to operate. Depending on the style of the electric patio heater you choose, you may need to contract for professional installation.
Natural Gas Heaters
Natural gas heaters require a supply line. Therefore, you likely can't install your natural-gas heater without professional assistance. Nonetheless, these heaters are eco-friendly and comparatively cheap to operate.
Propane Heaters
Propane heaters are the most common fuel type of patio heater. These heaters are usually portable, but they create more emissions than either natural gas heaters or electric heaters. They are also the most expensive to operate.
All Patio Heaters Extend Your Outdoor Living Season
If you are looking to extend the usability of your outdoor space into the fall or winter, outdoor patio heaters are a good option. When shopping for your new appliance, think about the style and power source you want. Since all outdoor heaters have advantages and drawbacks, your patio and lifestyle will likely influence your choice. Whether you prefer to relax alone or entertain guests, the right patio heater will provide you with hours of cozy warmth.