Outdoor Inspiration: Upscale Roof Deck in Downtown Atlanta
Katie O'Leary

We were contacted by Urban Realty Partners to work on their newest property, The George. This boutique apartment community in close proximity to Downtown Atlanta needed a roof deck design to complement the amazing amenities this building provides residents. Located in the walk-able Grant Park neighborhood, The George apartments offer a high-end restaurant and retail options, proximity to downtown, and a responsive management team. But best of all in our book, this property boasts a spectacular roof deck with high-end outdoor amenities including a saltwater pool, outdoor kitchen and spectacular views of the Atlanta skyline.

Working with a site plan created by Ironwood Design Group, our designer Kelly Burgess selected products from Gloster, Tuuci, Vondom, and Dekko to complete this space. Resident's at The George are professionals in their 30-40s, so creating a sophisticated space with an upscale hip vibe was key. With Kelly's help, they created an area resident can enjoy year-round with an edgy, playful feel that complemented the blue and grey color scheme found throughout the property.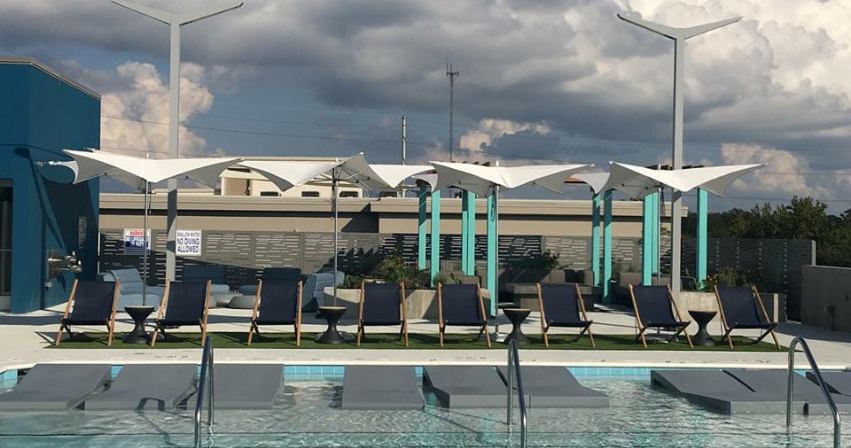 They don't call it Hot-Lanta for no reason! When the weather heats up, the pool is the only place to be. We made it as relaxing space as possible with the ultra-modern Jut sun lounger by Vondom which sits in the pool for a cooling effect. Filling these loungers with water ensures they don't float away, and our team personally got into the pool to complete this task. We love those hands-on installations! We're pretty sure these in-pool chaises will be the most coveted seats on the roof once summer the weather warms up again.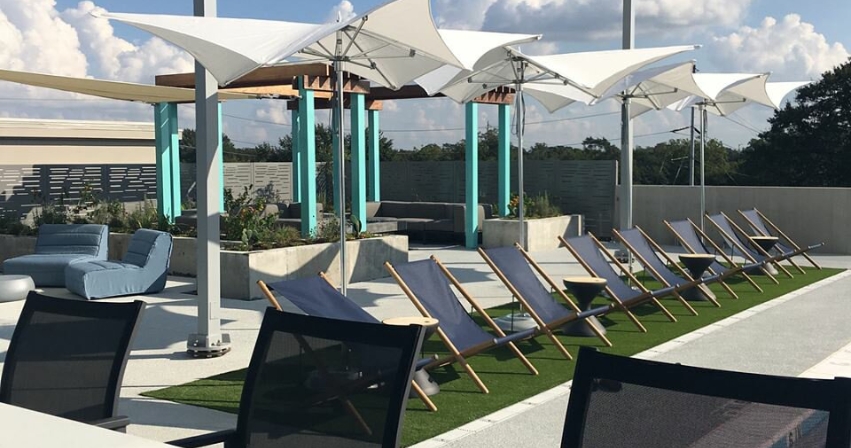 On the pool deck, a combination of Voyager deck chairs and Azore lounge chairs by Gloster provide ample seating opportunities. In between the deck chairs, we placed Gloster Bells' side tables. The ingenious design of these side tables conceals an ice bucket insert to keep drinks chilled while soaking up the sun.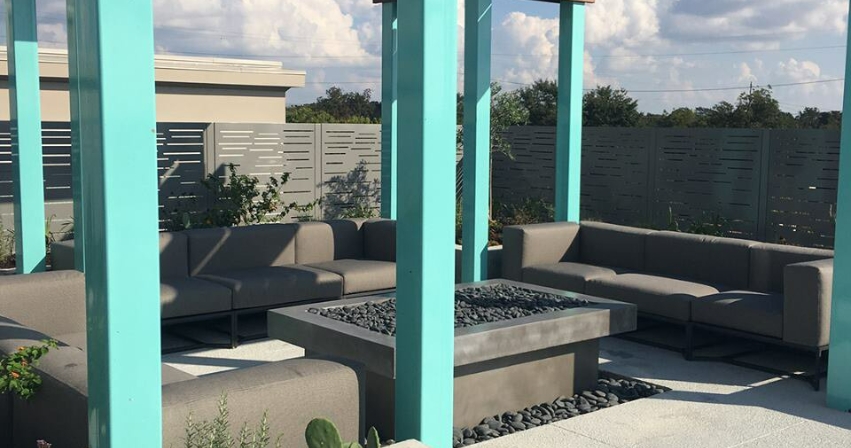 The Azore lounge chairs were customized with charcoal slings and Meteor frames for low maintenance, modern look. The added wheels make it easy to create different seating arrangements, and these sleek lounges also stack to save space in winter storage.

Beyond the chaise lounges, several Azores teak-topped pedestal dining tables with Tuuci Manta umbrellas provide a comfortable spot to get out of the sun and enjoy a meal or a game of cards. The unique profile of the Manta umbrellas adds some visual interest to space and frame the skyline views visible in the distance.

Two distinct lounge areas create unique spaces to gather in the evenings. The first, Bloc - a deep seating sectional by Gloster - is configured to surround a custom fire pit by Dekko. This gas-powered fire pit operates at the touch of a button, making an impromptu evening gathering a breeze. The Gloster Blog deep seating collection is a favorite for large spaces as the many modular pieces can be arranged into any configuration. With two frame finishes and numerous Sunbrella fabric choices, the possibilities are nearly endless.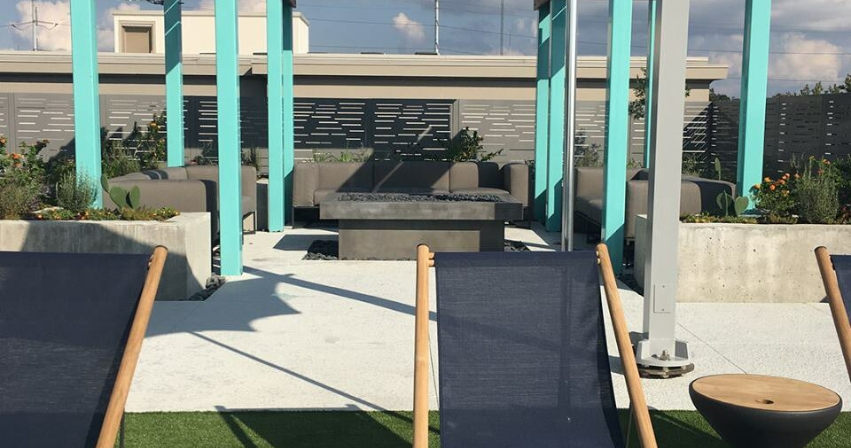 Further along, an eclectic arrangement of Nomad lounge chairs by Gloster and Stones coffee tables by Vondom provide a low-slung casual seating arrangement perfect for relaxation and socializing with friends and neighbors on the roof.

An outdoor kitchen complete with built-in Saber grills for resident's use, and ample seating including Gloster Azore bar chairs and dining set ensure that this roof deck will be a favorite spot for residents to enjoy a meal, soak up the sun, or simply socialize with new neighbors and friends year-round.

Are you looking to source outdoor furniture and accessories for your next hospitality project? Visit our Contract Projects page to see more of our recent work, the brands we source, and to get in touch.