The right patio heater is essential when it comes to enjoying the outdoors (comfortably) throughout the seasons. From cozy courtyards to larger commercial spaces, patio heaters have the power to transform an outdoor area into a year-round oasis. Before you make a purchase, consult our patio heater buying guide, which goes through our most frequently asked questions and need-to-know details.
Should I choose electric or gas?
When it comes time to buy a patio heater, the fuel type you choose will depend on your environment, budget, and proximity to utility hookups. Download our chart of what you need to know about electric vs. gas:
electric patio heaters
Electric patio heaters use infrared heat, an energy-efficient heating method that emits warmth through a safe, clean wavelength of heat. This heat is only absorbed
by solid objects, transferring heat directly to a person, piece of furniture, or the floor.
Proximity to the heater dictates the amount of warmth felt.
Infrared heat doesn't "blow away," making it ideal for areas with windy conditions or spaces that cannot contain heat.
Unlike some gas heaters, electric heaters have no refillable tanks and are virtually maintenance-free.
Heat power output differs by model, but electric heaters are generally an efficient, environmentally friendly option. For information on selecting wattage, see our
section on How many heaters does my space need?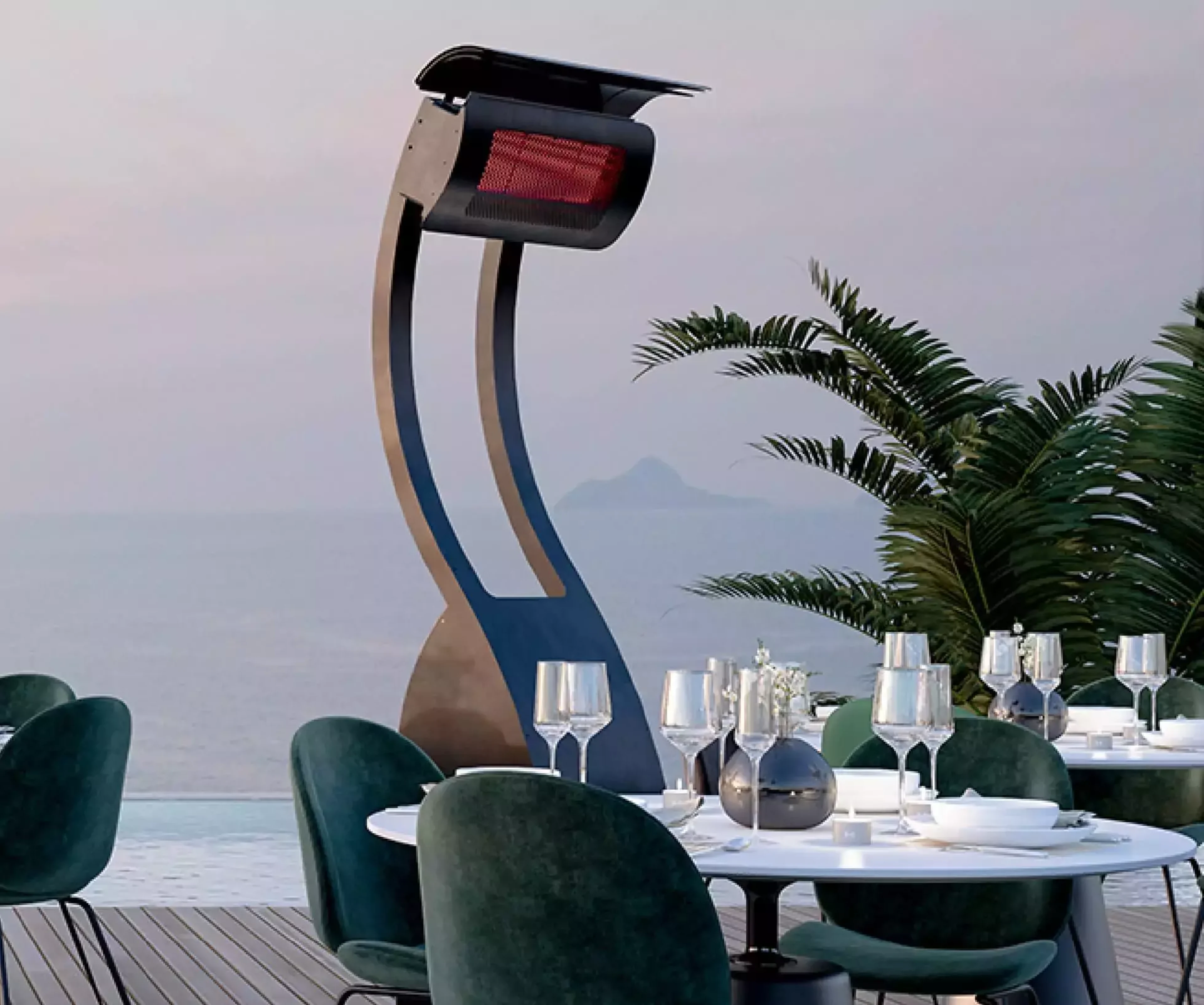 LIQUID PROPANE HEATERS
Liquid propane is a clean-burning fuel source that typically does not depend on a fixed fuel line.
Most liquid propane heaters are portable and are often used to heat both commercial and residential outdoor spaces.
Most propane heaters warm the air around them—although some brands heat people and objects—making them ideal for large, uncovered areas
that need broad coverage.
These heaters cover approximately up to a 15-foot diameter, raising people's comfort level 5-10 degrees. Spacing is recommended from 8 to 12
feet, depending upon weather conditions.
Liquid propane tanks are tucked away within the heater, and tank refills are readily available at gas stations, convenience stores, supermarkets, and
hardware stores.
Unlike electric heaters, liquid propane heaters don't need to be near an electrical outlet and rarely require professional installation.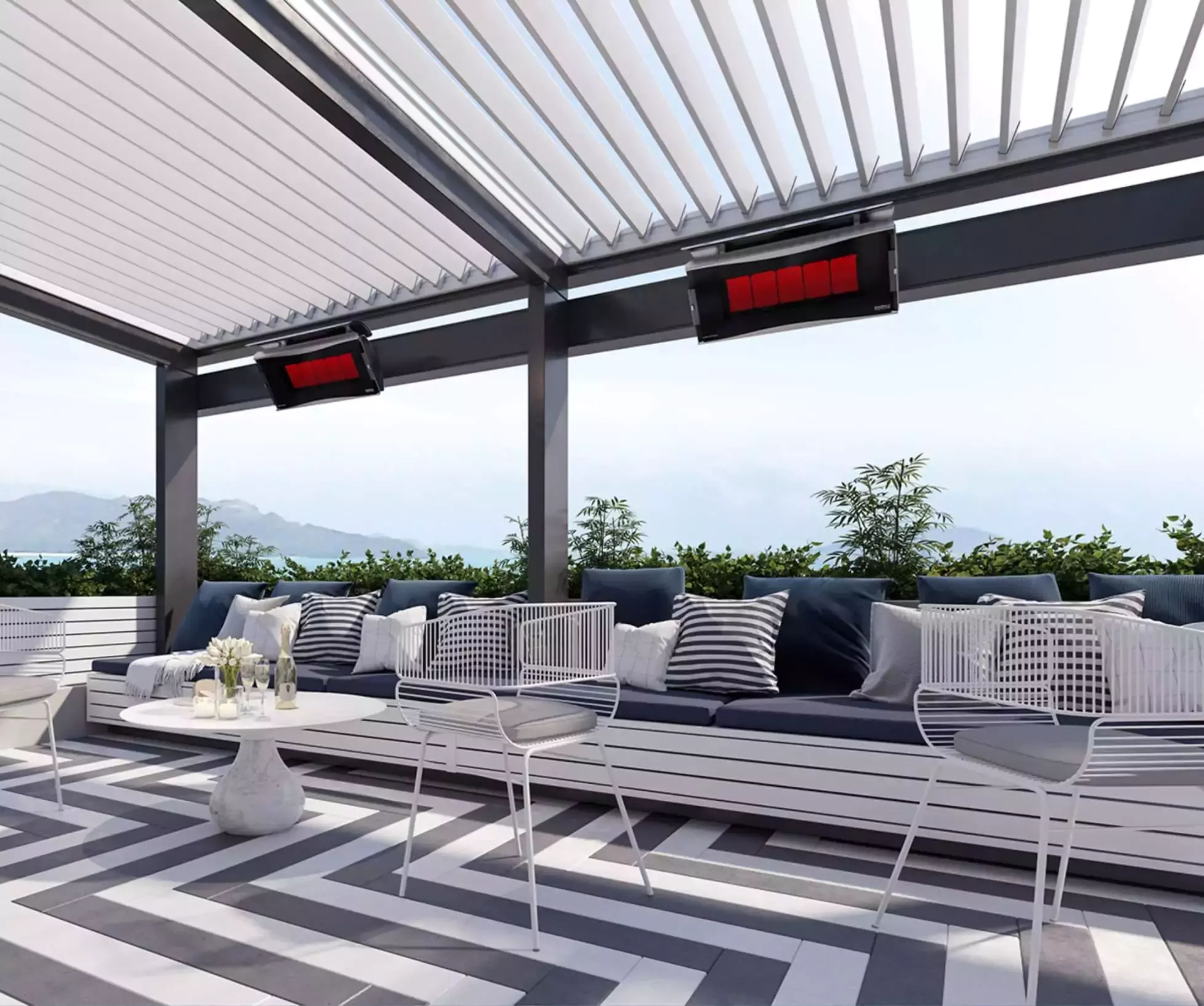 NATURAL GAS HEATERS
Natural gas heaters provide quick heating for well-ventilated outdoor living areas.
Natural gas heaters use infrared heat, which radiates directional warmth and increased comfort to outdoor living spaces.
Natural gas heaters are energy efficient and have low operating costs.
Whether freestanding or mounted to a wall or ceiling, natural gas heaters are fixed to a permanent gas line and require professional installation.
Because natural gas heaters require a permanent connection, they are often used in commercial spaces, offering consistent, dependable heat without the need for
tank refueling.
The ability to run a natural gas line can help dictate the placement of heaters on your property.
WHAT WATTAGE PATIO HEATER SHOULD I BUY AND HOW MANY PATIO HEATERS DOES MY SPACE NEED?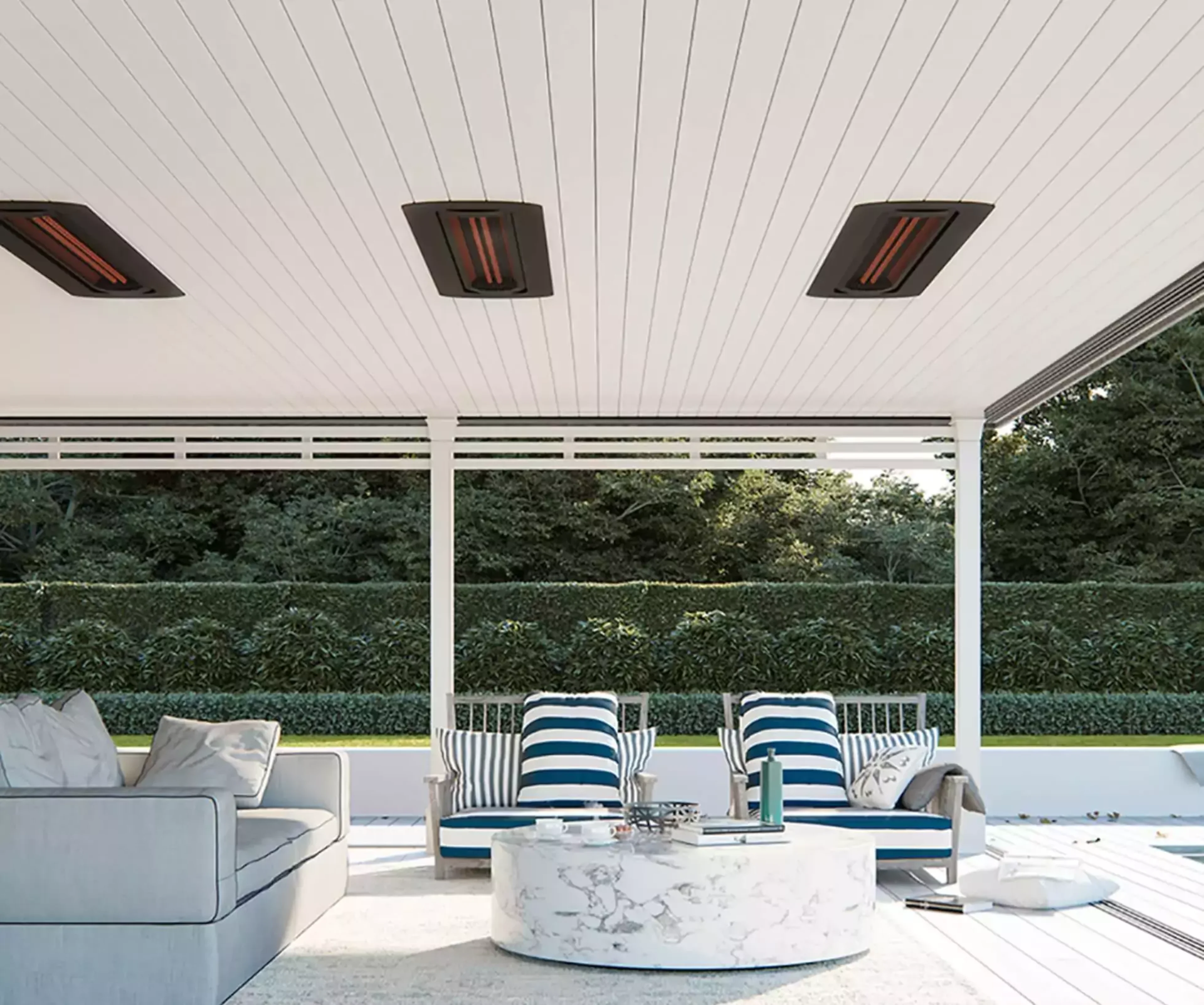 When you buy a patio heater, it's essential to abide by manufacturer recommendations and talk to your electrician and, if your heater is gas, a plumber to ensure your space is appropriately equipped—before professionally installing anything.
Next, define your space; measure the dimensions and mounting heights of the area you want to heat. Outdoor areas are defined as at least 30% open (front, back, or side walls). If a patio is partially covered, it can trap heat and create a convectional heating effect.
You'll also want to consider seasonal changes in your geography, proximity to wind and airflow, building codes, and whether the space in question is a new or existing construction.
As a rule of thumb, the higher the wattage, the more warmth (and less "glow") you'll get. Generally, the wattage and number of heaters needed will depend on your space's height and square footage. You can use this simple equation to determine how many Watts you need to heat your space: Cubic feet of area x desired temperature rise = Watts needed.
HOW DO I INSTALL MY PATIO HEATER(S)?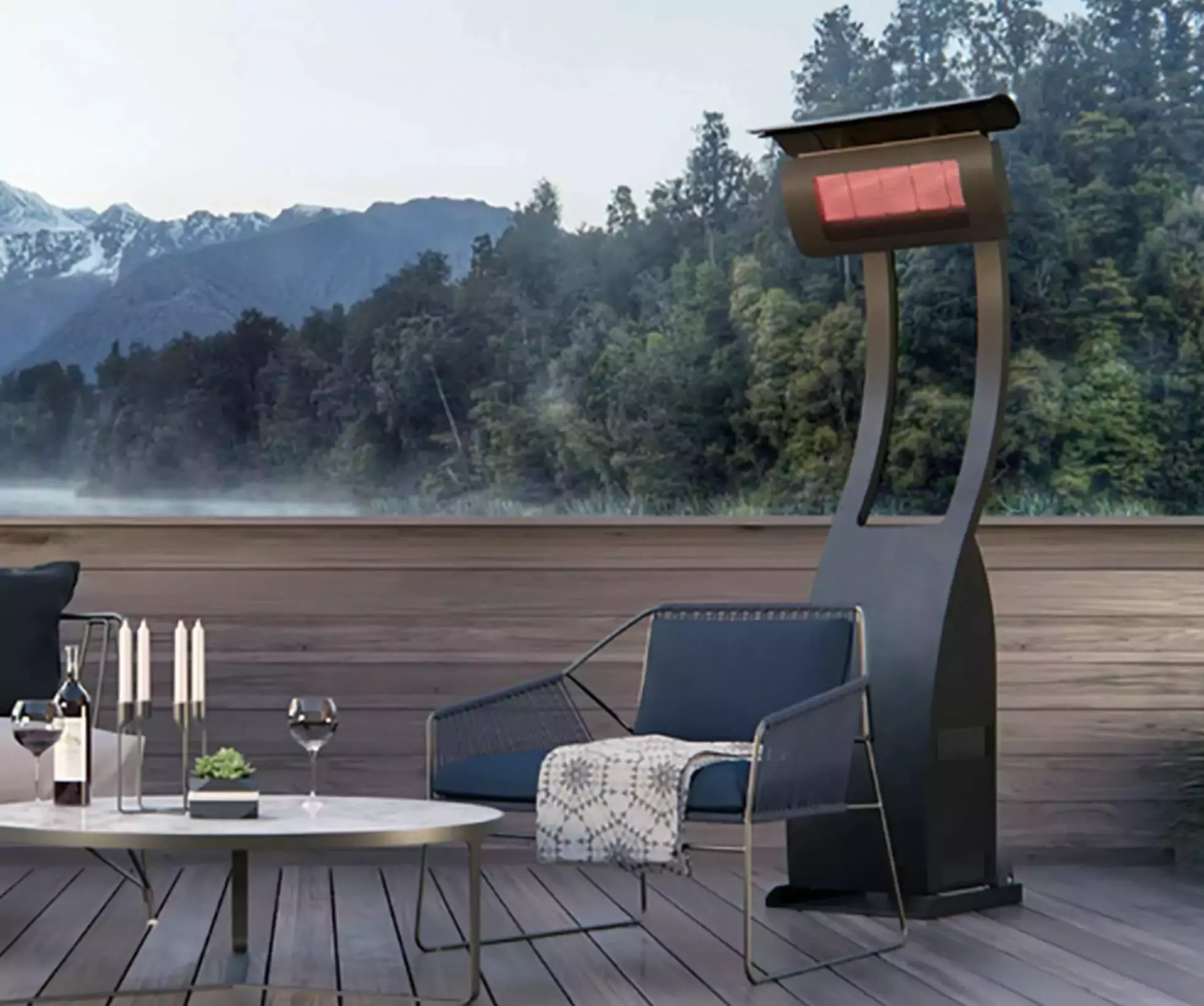 FREESTANDING HEATERS
Freestanding heaters are generally portable and rarely ever require professional installation. Most freestanding heaters are available with wheels, allowing for easy portability.
Note: freestanding heaters hooked to a natural gas line are limited in mobility.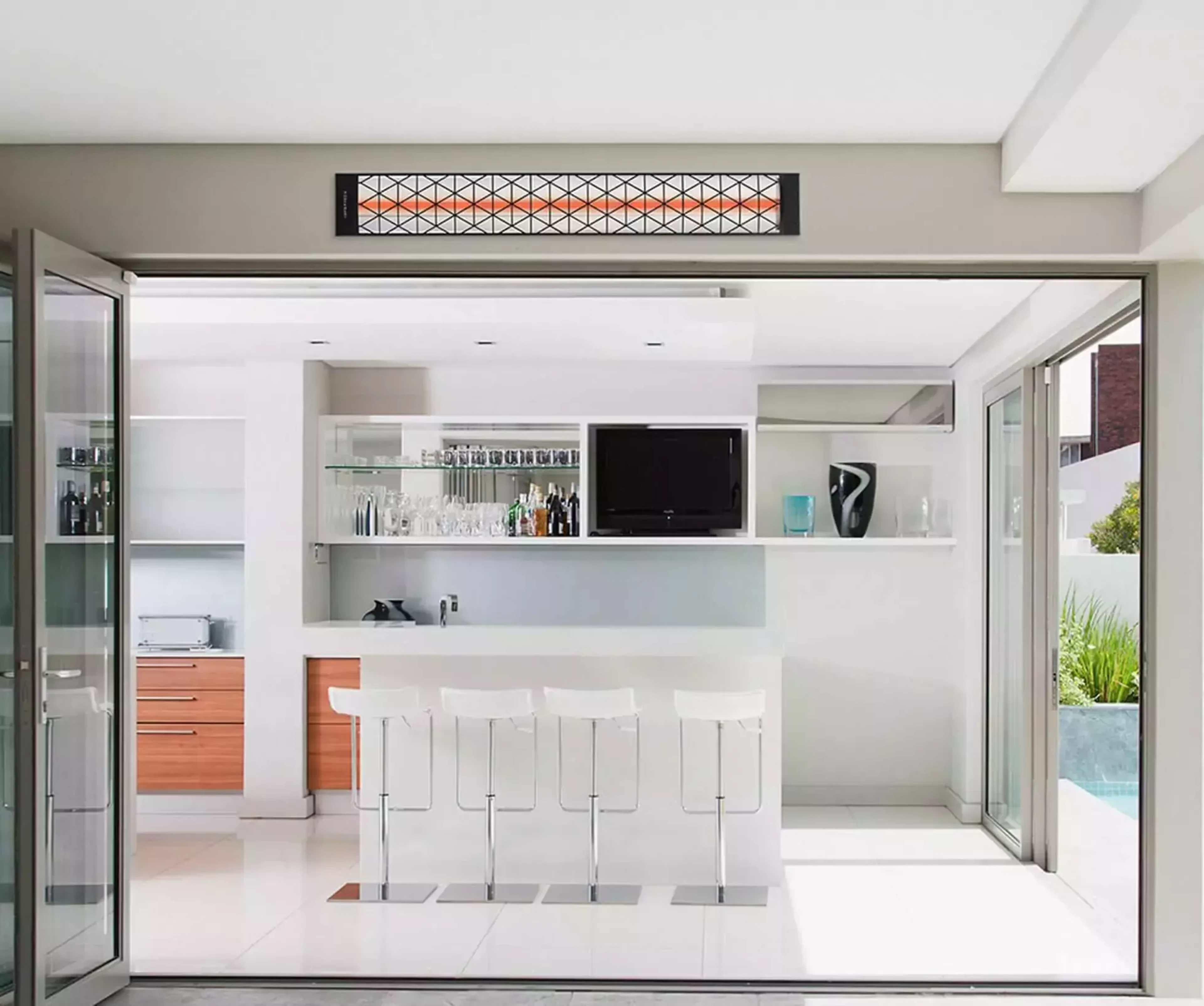 MOUNTED HEATERS
Mounted patio heaters require professional installation to ensure maximum heat output and safety. It's essential to abide by manufacturer recommendations and talk to your electrician and (if you're installing a gas heater) a plumber before beginning the installation process to make sure your breaker box can handle the wattage and amperage and electric pull of your patio heaters. For more information on choosing the correct wattage, see our What wattage should I choose?
Most heaters can be wall, ceiling, or pole mounted and generally all heaters can be exposed to the elements, although you should always consult manufacturer and model specifications to be sure.

WHERE SHOULD I MOUNT MY PATIO HEATER?
This depends on the size and shape of your area and how covered or uncovered your space is. Generally, it's best to mount patio heaters in locations that will be occupied or where people gather, and place them on the outside facing in. Ideally, you'd install your heater from the direction of the cold airflow; this isn't always possible but is optimal, so the heaters don't have to work against the cold air.
You can also mount most heaters flush into the ceiling, creating a clean look. You'll always want to make sure they're at the proper distance from the floor and from each other based on their wattage and coverage area. For more information on this, see What wattage patio heater should I buy—and how many patio heaters does my space need?
WHAT TYPE OF SWITCHES OR CONTROL SYSTEMS SHOULD I GET?
A licensed electrician can help guide you to the best solution for your home's system. There are several types of switches and control panels to choose from.
A simple switch is a low-cost option over single-element electric heaters. A wide range of configuration options includes in-wall (for indoor, protected outdoor, or exposed outdoor areas) and surface mount for exposed outdoor areas. Weatherproof covers and boxes are available.
A simple stack switch is a low-cost control option for double-element heaters that offers seamless control, allowing you to enjoy your heater at full or half-power. Configuration options include in-wall (for indoor, protected outdoor, or exposed outdoor areas) and surface mount with a weatherproof box for exposed outdoor areas.
An input regulator offers more precise control over your single-element heater. When operating below full power, the regulator quietly cycles the heater on and off according to evenly timed intervals, allowing you to conserve energy while also maintaining optimal warmth. Each heater must have its own regulator, which includes in-wall (for indoor, protected outdoor, or exposed outdoor areas) and weatherproof surface mount configuration options.
For second homes or commercial spaces, custom panels—like a solid-state control panel, home management system, or a universal control package—are a great option. These allow you to create multiple heating zones and have timer functions that help maximize energy.
WHAT ARE THE SAFETY INSTRUCTIONS I SHOULD KEEP IN MIND?
Always reference the manufacturer's installation recommendations and suggested clearance, as well as the safety features of your patio heater. These can include heat shields, smart ignitions, safety switches, and timer turn-offs. Safety instructions and features vary by heater type and size, but you can always find them in the owner's manual or website product page.
What are the best patio heater brands?
WHAT'S THE LEAD TIME ON PATIO HEATERS?
Shipping and lead times vary by product. Detailed and up-to-date shipping information is always available on each individual product page.
---
READY TO GET COZY?
Life's too short not to enjoy the outdoors throughout the seasons. With the right patio heater, your outdoor space can serve you (and your guests) all year long.
When it comes time to buy a patio heater, consult this patio heater buying guide to point you in the right direction.
If you have additional questions, our team of experts is available to assist. Send us an email at customercare@authenteak.com, chat with our team online or reach out by phone (866) 360-8325.