Recipes
EASY (AND DELICIOUS) GAME DAY RECIPES ON THE GRILL
The Drift
Planning to host an at-home tailgate or two this football season? Look no further than these three easy game-day recipes. Grill up crowd-pleasing food that isn't hotdogs and hamburgers with these three easy grill recipes.
LOADED GRILLED NACHOS
yield: 1 pan of nachos
Heat up a batch of these loaded grilled nachos right on the grill and top with your favorite additions for a festive, shareable snack.
INGREDIENTS
tortilla chips
8-10 ounces shredded cheese (cheddar, pepper jack or Monterey jack)
1 16 ounce can refried beans
hot sauce
a few spoonfuls salsa
guacamole 
pickled jalapenos
1 tbsp chopped cilantro
1 spoonful sour cream
INSTRUCTIONS
In a grill-proof pan or cast iron skillet, lay out the tortilla chips in an even layer.
Sprinkle chips with shredded cheese.
Top cheese with refried beans and a meat of your choice.
Repeat steps 1 through 3 again, with a layer of chips, cheese, and beans.
Cover pan with aluminum foil.
Grill on medium heat for 5-10 minutes until cheese is melted.
Top nachos with pico de gallo, salsa, guacamole, jalapenos, sour cream and any other toppings you desire.
GRILLED VEGGIE SKEWERS
yield: 4 servings
Getting in your veggies is easy and delicious with this grilled veggie skewer recipe. Adjust the ingredients to include any veggies you'd like. Plus, cooking these skewers on the grill makes for simple and easy cleanup.
INGREDIENTS
2 medium zucchinis, cut into 1-inch slices
2 medium yellow squash, cut into 1-inch slices
½ pound whole fresh mushrooms
1 medium red onion, cut into chunks 
12 cherry tomatoes
1 medium red bell pepper, cut into chunks
8 bamboo skewers, soaked in water for 20 minutes
⅓ cup olive oil
1 ½ teaspoons dried basil
¾ teaspoon dried oregano
½ teaspoon salt
⅛ teaspoon ground black pepper
INSTRUCTIONS
Preheat grill for medium heat and lightly oil the grate. Alternately thread zucchini slices, yellow squash slices, mushrooms, onion chunks, tomatoes, and bell pepper chunks onto skewers.
Whisk olive oil, basil, oregano, salt, and black pepper in a bowl; brush some of the mixture over vegetables.
Cook skewers on the preheated grill until vegetables are tender, turning and basting vegetables with remaining olive oil mixture occasionally, 10 to 15 minutes.
GRILLED PIZZA
yield: 1 large or 2 medium pizzas
Having an outdoor pizza oven makes it easy to whip up gourmet pizzas any time, but did you know you can also make pizza on the grill? Use this recipe to add a bold flavor to your pizzas. If you have a pizza oven, adjust cooking times according to your oven.
INGREDIENTS
Whole Wheat Pizza Dough
1 cup tomato basil marinara sauce
6 oz. fresh mozzarella thinly sliced
1 large beef steak tomato, sliced
8–10 fresh basil leaves
INSTRUCTIONS
Roll out dough on floured surface to desired size.
Prepare all pizza toppings and set aside.
Preheat grill to 350°-400°F. Be sure grill grates are cleaned and oiled.
Carefully transfer rolled-out pizza dough onto a pizza stone or directly onto grill grates and close the lid. Grill for 2-3 minutes or until the dough starts to bubble and the bottom is slightly browned but not charred. 
Remove from grill, flip and place on a cookie sheet or pizza stone grilled side up.
Top you pizza with desired topping on the grilled side of your pizza, evenly spreading ingredients.
Using a pizza spatula for ease, transfer topped pizza back onto the grill and close lid. Grill for another 5-7 minutes, checking for doneness of crust, melted cheese and crispy toppings.
Remove from grill and let cool for a few minutes  before serving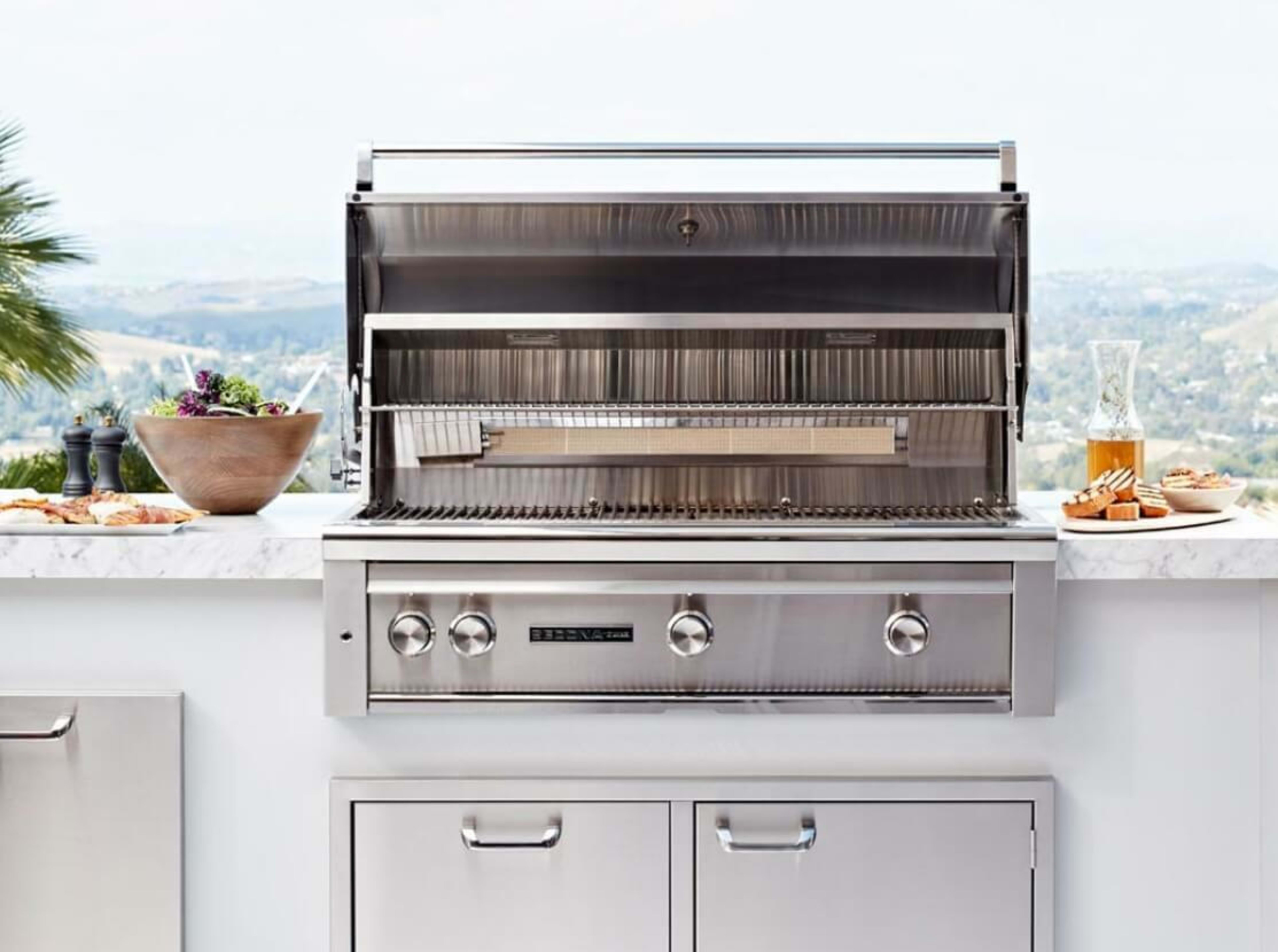 Looking for more easy grill recipes?