Umbrella Buying Guide: Tips for Buying a Perfect Patio Umbrella
Jordan Parrish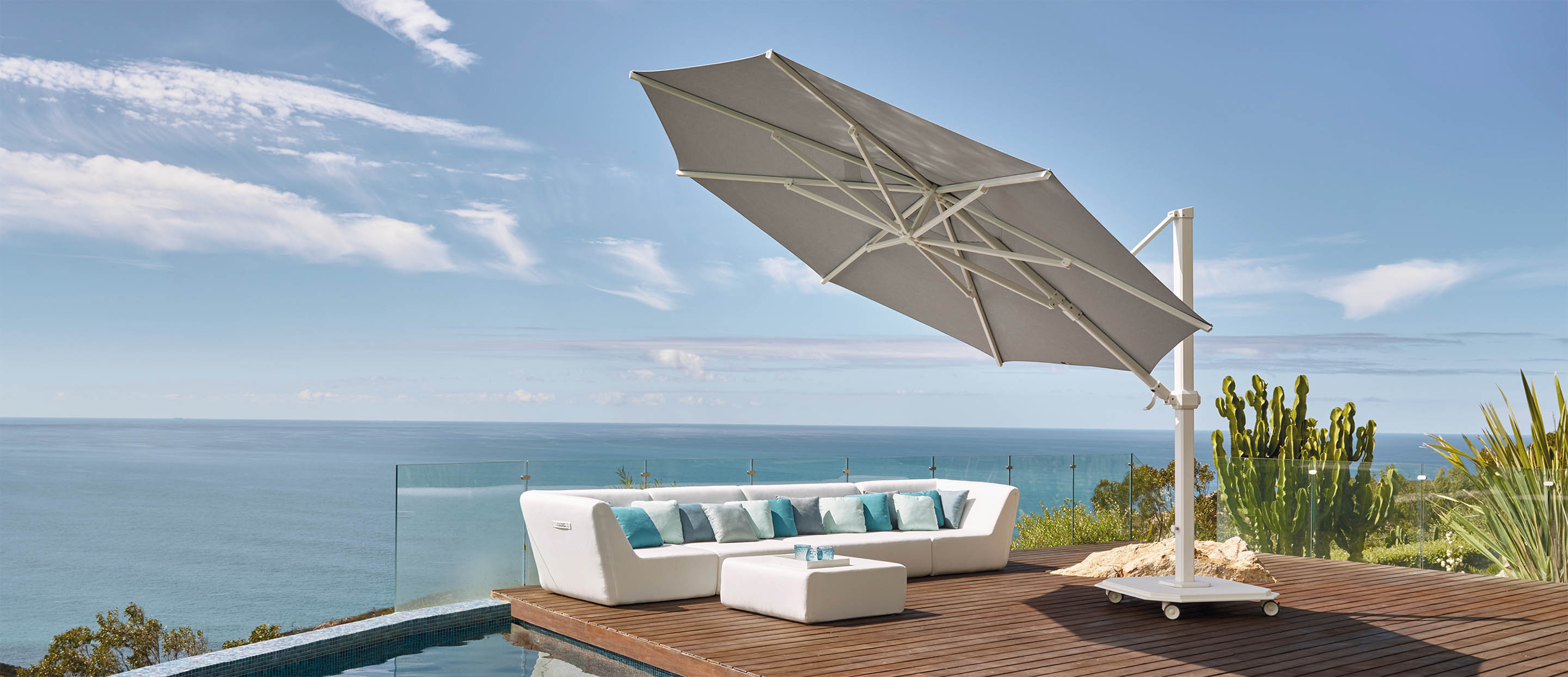 AuthenTEAK offers a generous selection of durable and functional umbrellas, made of premium weather-resistant materials, that will add style to your outdoor space and increase your ability to extend the amount of time you spend outside. The right umbrella or parasol will help keep you comfortably cool and protected from direct UV rays and falling rain. To buy a patio umbrella that is best suited for your dining or pool area, you should ensure you select the appropriate size, shape, style, and color to enhance your outdoor space.
There are many factors to consider before making your decision on which umbrella is right for your environment and with so many sizes, styles, materials, and features available, the process can be overwhelming. To assist in the decision-making process, AuthenTEAK created this comprehensive guide that covers everything you need to know about premium outdoor patio umbrellas, guaranteeing that you'll make the best purchase to enjoy season after season.

While learning how to select the right umbrella, please remember to always keep the following in mind. The absolute best way to ensure your umbrella lasts a long time, regardless of size, shape or material, is to close your umbrella when not in use. Leaving an umbrella open and unattended allows your umbrella to be susceptible to the unpredictable forces of Mother Nature.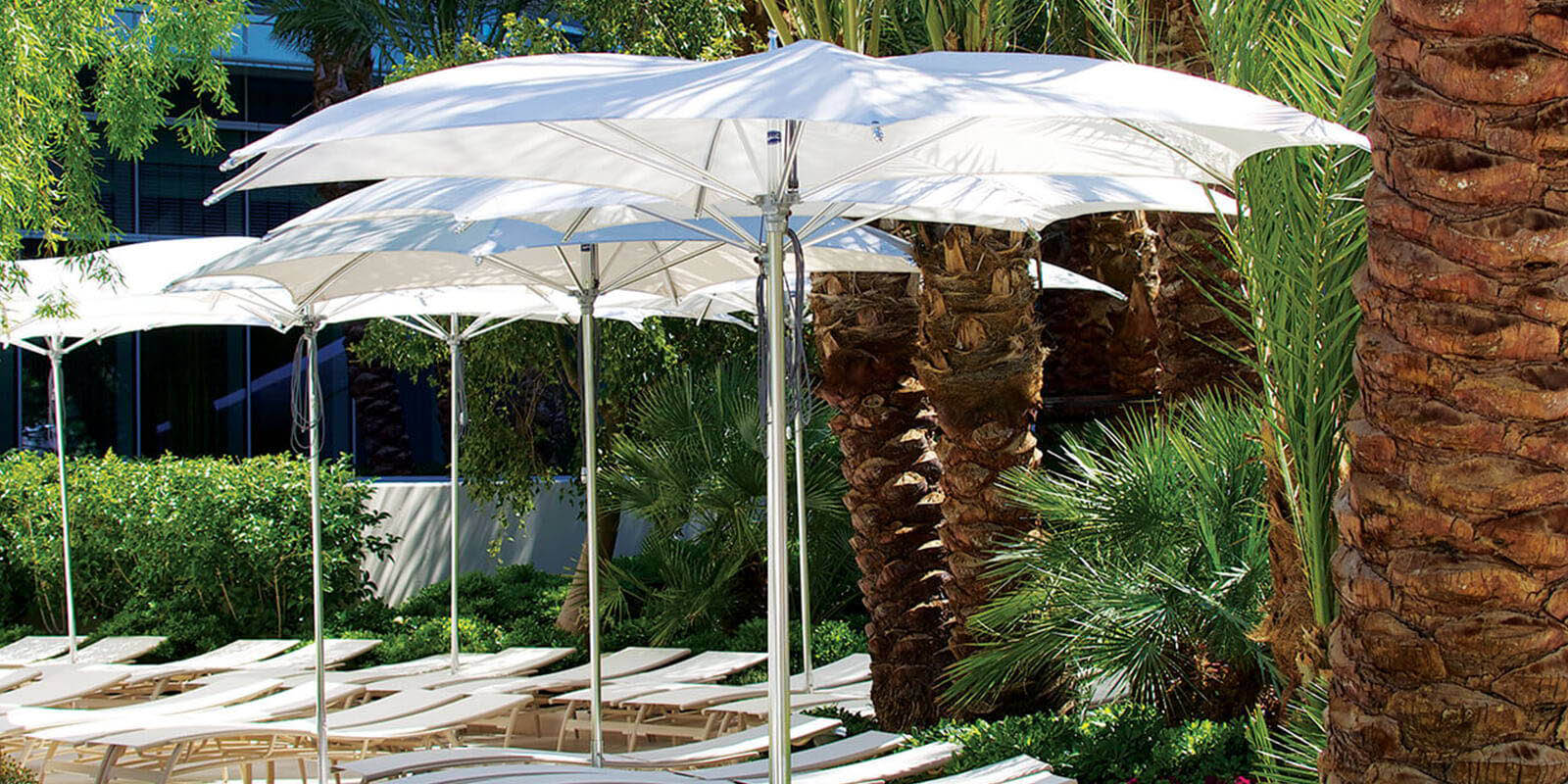 Structure of A Patio Umbrella
While learning how to buy a patio umbrella, please remember to always keep the following in mind. The absolute best way to ensure your umbrella lasts a long time, regardless of size, shape or material, is to close your umbrella when not in use. Leaving an umbrella open and unattended allows your umbrella to be susceptible to the unpredictable forces of Mother Nature.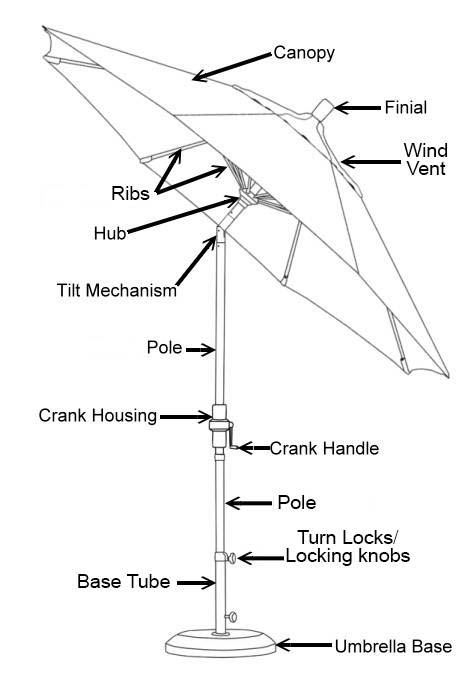 Parts
Description
Canopy
The fabric part of an umbrella that provides shade and defines the shape (generally either round, octagonal, square or rectangular)
Finial
A decorative piece at the outer top of the umbrella that helps secure the canopy to the frame
Wind Vent
A layer of fabric atop the canopy that allows air to flow through. There are both single-wind vents (SWV) and double-wind vents (DWV). The most common type is an SWV while the DWV is typically for use in high-wind environments (think rooftops or the beach) or on large umbrellas where the extra vent will help keep the canopy stable. In extremely hot environments, a DWV allows hot air beneath the umbrella to escape, creating a lower air temperature below the canopy
Ribs
The slender, pliable pieces that support the fabric canopy. Generally, the more ribs, the stronger the umbrella. There are two types of ribs and they're typically made of metal, wood, or flexible fiberglass.

Main Ribs: Attach to the top of the umbrella frame and extend to the edges of the canopy
Support Ribs: Connect to the underside of the main ribs and help with the opening and closing of the canopy

Hub
A ringed apparatus that works together with the ribs, connecting them at a center point
Tilt Mechanism
An apparatus on some umbrellas that allow you to angle the canopy to maintain directional shade throughout the day
Pole
The main support for your canopy, the pole is the upright central piece of your umbrella frame. The pole extends vertically and determines the height of the umbrella while also giving the structure support and strength. Poles consist either of two pieces joined together or a single long pole that is preferred for commercial applications. Diameters typically range from 1.5 - 2.5 inches
Crank Housing
The Crank Housing operates the main cord used to open and close the umbrella and typically located 32 – 36 inches from the bottom on a market umbrella
Crank Handle
Usually metal and allows for easy opening and closing of the canopy
Base Tube
Also known as a Base Stem, this piece is a hollow tube affixed to a weighted umbrella base that helps secure the umbrella frame to the base
Turn Locks/Locking Knobs
Small knob on the base stem that secures the pole to the umbrella base
Umbrella Base
A heavy weight, with or without wheels, in a variety of shapes and usually made of aluminum, steel, concrete, granite or sand-filled plastic that weight the umbrella and prevent it from moving or falling over
What style umbrella is best for your space?
Outdoor Umbrella Styles
Outdoor patio umbrellas can be divided into three distinct styles: market, cantilever and specialty. To buy a patio umbrella that will be best for your outdoor space,
you should consider which style will provide what you're looking for.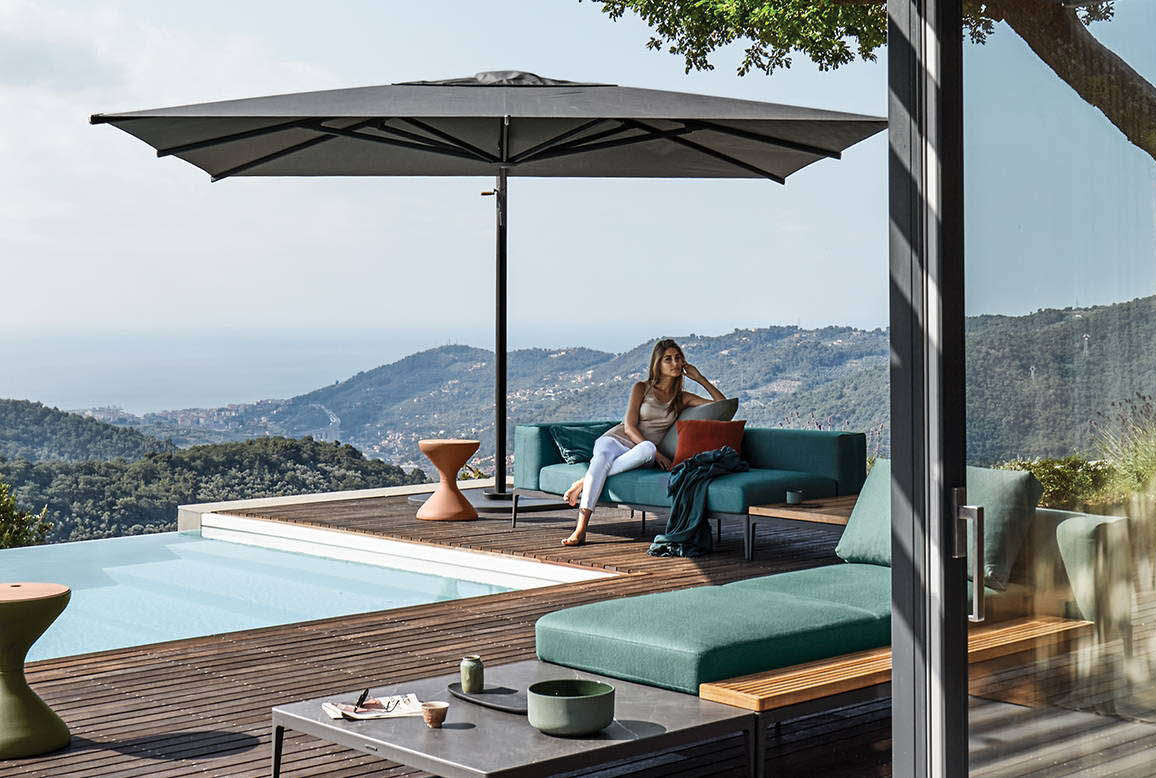 Market Umbrellas: Also known as a Center Pole Umbrella, this type is the most common style of umbrella and is often seen lining sidewalks at scenic cafés and in backyards and pools around the globe. This popular version traditionally comes from Europe and is defined by its round or octagonal canopy shape. Commonly paired with a wooden or aluminum center pole, this umbrella keeps your guests shaded and comfortable while dining or entertaining outside. If you are looking to buy a patio umbrella that is affordable and versatile, market umbrellas are a great option.
---
Cantilever/Offset Umbrellas: These versatile outdoor umbrellas feature an arched or jointed pole positioned off to the side. The canopy is supported from the side and above, allowing it to hang freely over a larger dining table or a deep-seating lounge area. Cantilever umbrellas don't obstruct the view of your guests like a center-pole or market umbrella might. Many cantilever umbrellas can tilt from side-to-side or front to back (or both) and most versions rotate 360-degrees. While typically more expensive, in part due to their larger size, cantilever and offset umbrellas elevate any outdoor space and create a unique focal point to enjoy. Cantilever umbrellas are made of aluminum, bamboo, eucalyptus/teak or a mix of the metal and wood.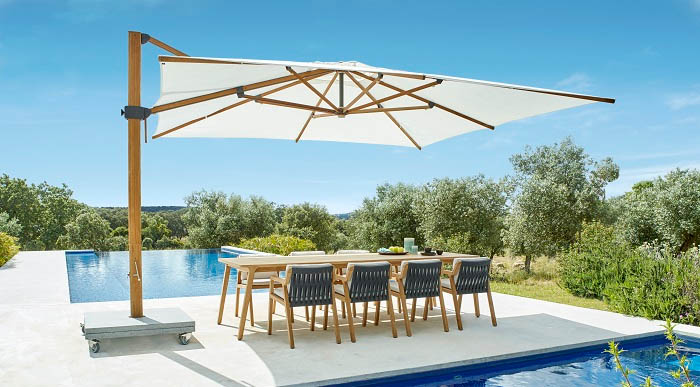 ---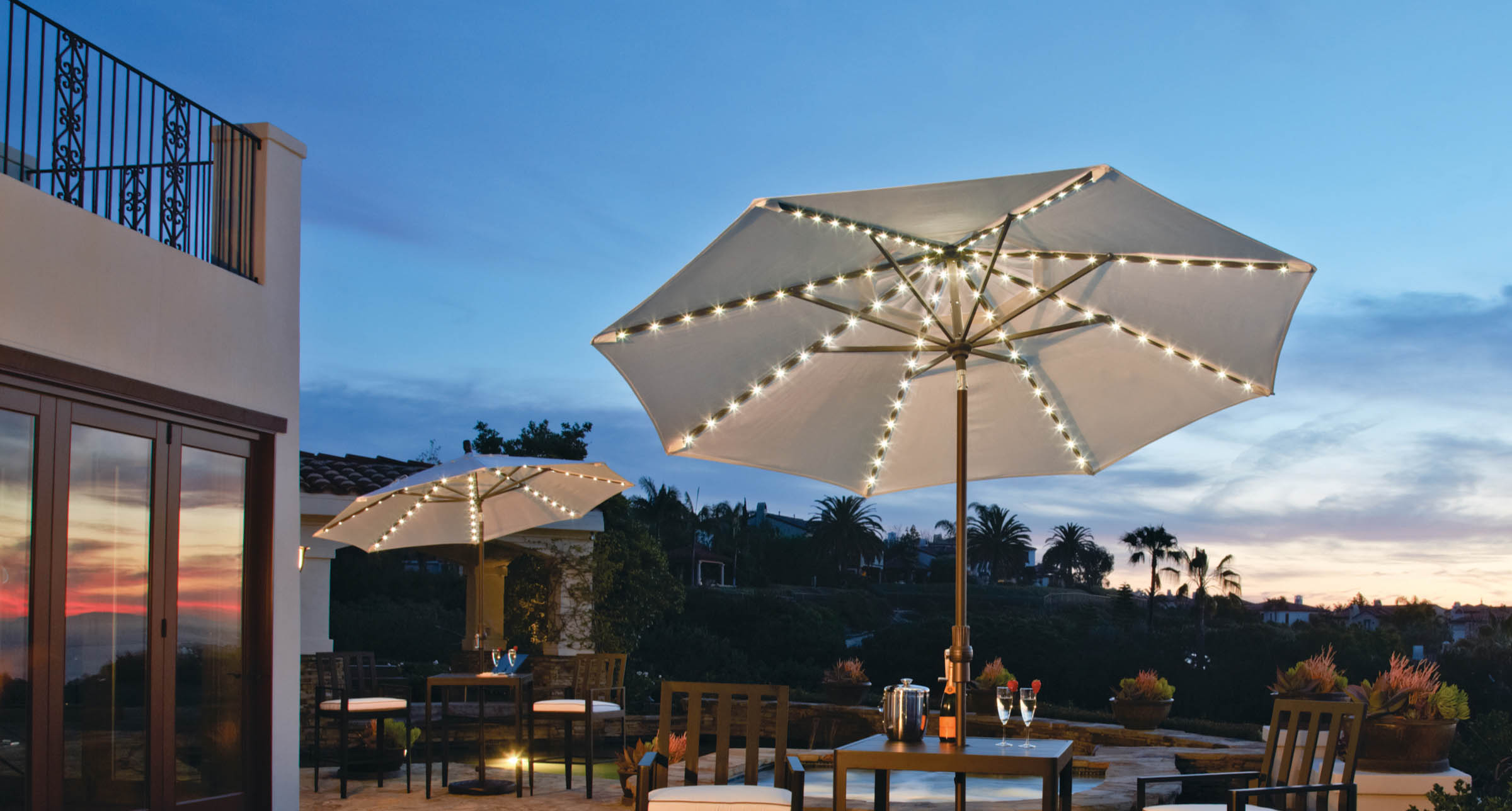 Specialty Umbrellas: These umbrellas are distinguished by their distinctive and unique shapes that are different from the traditional round, octagonal, square or rectangular canopies. They stand out for their singularity and can include LED lighting affixed to the ribs or infrared patio heaters to keep your guests cozy during cooler months. If you are looking to buy a patio umbrella for a narrow space or balcony, specialty umbrellas are a great choice, as they are often smaller in size and shape. The Galtech Half-wall Umbrella is a perfect example. Other specialty umbrellas include unique features such as a thatch canopy.
---
Valance: An additional flap of fabric approximately 7-inches in height that hangs around the perimeter of the canopy. A valance is often seen on the beach or café-style umbrellas and on large cantilever umbrellas. While generally thought of as only providing a decorative touch, a valance also provides the benefit of keeping direct UV rays shielded while the sun approaches from a sharp angle.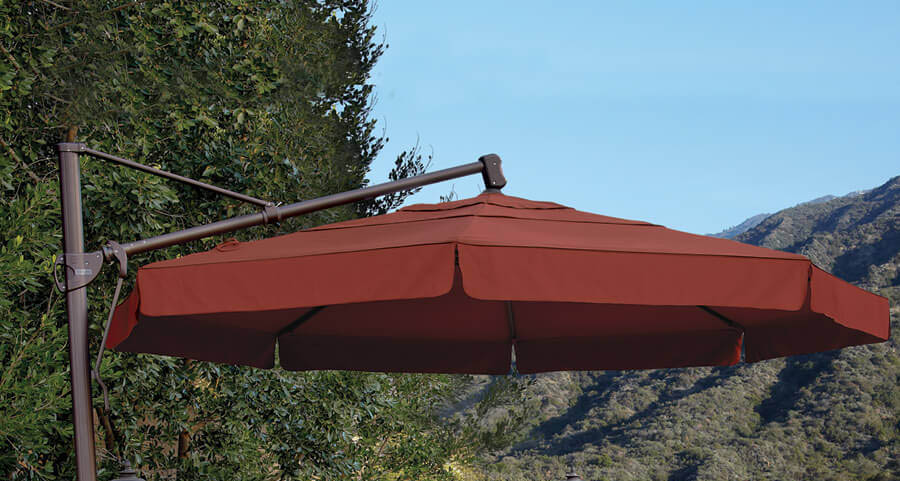 Measuring for your Outdoor Umbrella
Before you determine the style, fabric, and shape, you'll need to select what size is most suitable for your outdoor space. Our patio umbrella sizes refer to the diameter of the canopy itself. Make sure to buy a patio umbrella that provides enough shade to protect against direct sun and moisture, but that doesn't overwhelm the space. When selecting an umbrella, a good guideline is to extend your umbrella 2 feet past the table's edge or the area you wish to cover. This following chart is an easy way to estimate size so that you are adequately shaded and can comfortably situate your seating.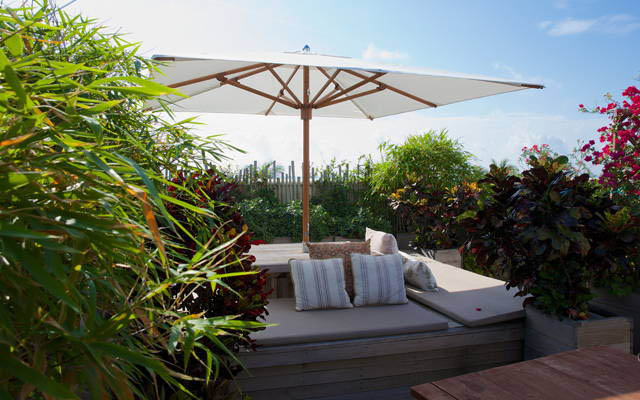 | Shade Area Diameter | Umbrella Canopy Diameter | Furniture Pairing |
| --- | --- | --- |
| Up to 36 inches | 7-8 feet | Bistro set, single chair |
| Up to 48 inches | 8-9 feet | 4-person patio dining set of single chaise lounge |
| Up to 60 inches | 9-10 feet | 4-6 person patio dining set, small outdoor sectional or loveseat |
| Up to 72 inches | 9-10 feet | 6-person patio dining set, patio conversation set, pair of chaise lounge chairs |
| Up to 84 inches | 11-12 feet | 6-8-person patio dining set, patio conversation set |
| Up to 96 inches | 12-13 feet | 8-10-person patio dining set, large sectional or sofas |
| Up to 108 inches | 13-14 feet | 10+ patio dining set, oversized outdoor sectional |
Umbrella Canopy Shape
The shape and dimension of your umbrella determine the amount of shade your umbrella will cast. When making your decision, consider the size of your outdoor space,
the shade coverage desired, and your personal style preference.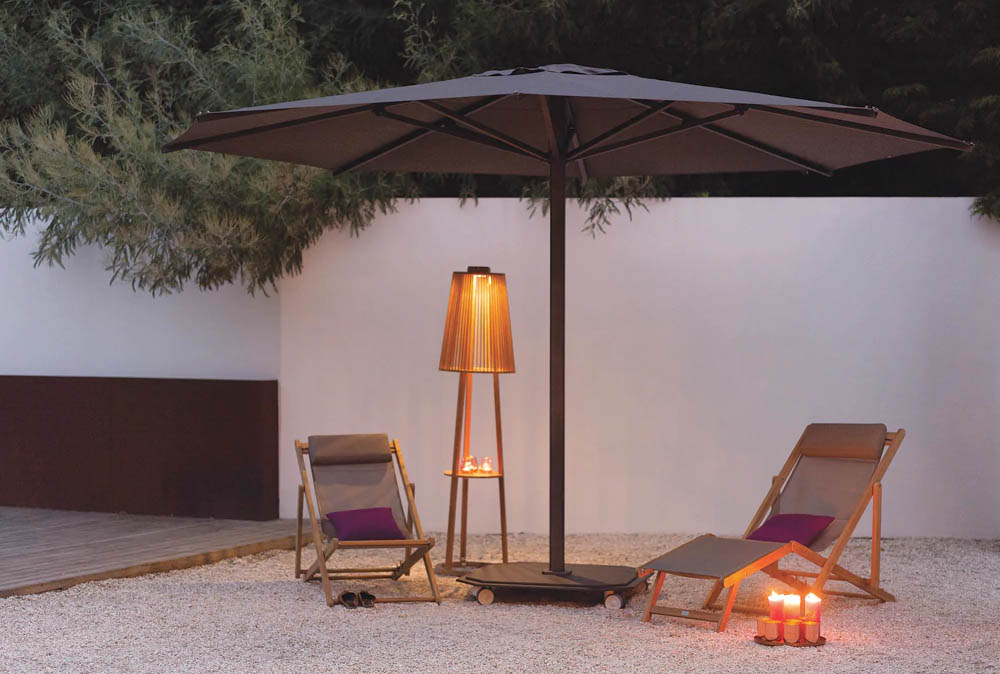 Round/Octagonal/Hexagonal:
A round, octagonal or hexagonal canopy shape is great for covering a round dining table or two matching chaise lounges by a pool. With their organic shape, these canopies are a traditional and popular choice for a variety of outdoor spaces and design styles. These umbrellas typically have 8-ribs, yet are also found in 6-rib versions. Sizes range from 7.5 ft. in diameter on the smaller end and can go as large as 15 feet in diameter with the
Jardinico 201 Umbrella
.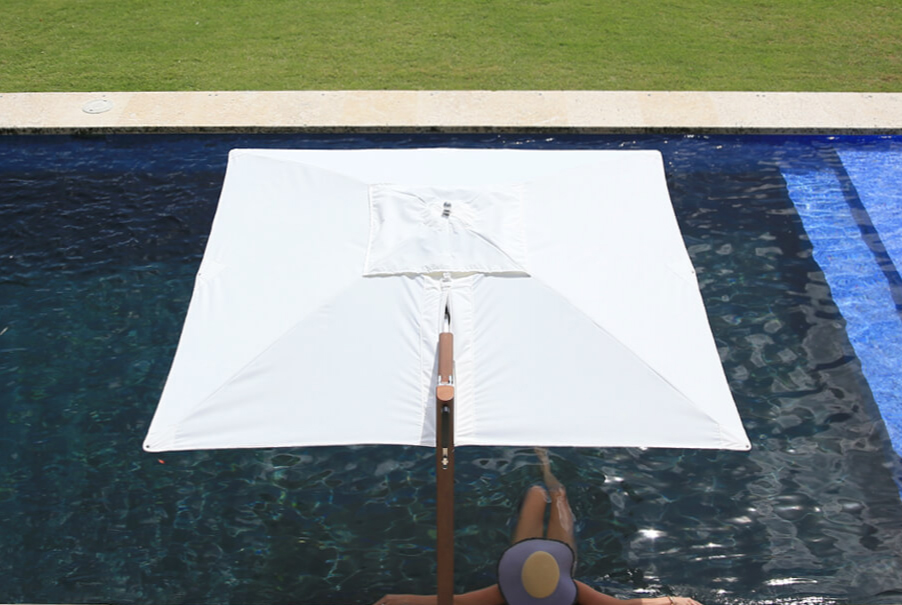 Square:
If you have a square dining table, you should buy a patio umbrella with a square canopy. Square canopies highlight clean, precise lines and provide an attractive visual balance. These canopies provide a large amount of shade and are ideal for entertaining and dining poolside in either residential or commercial spaces. Sizes range from 6 ft. - 13 ft. in diameter, providing an impressive 169 sq. ft. of shade coverage.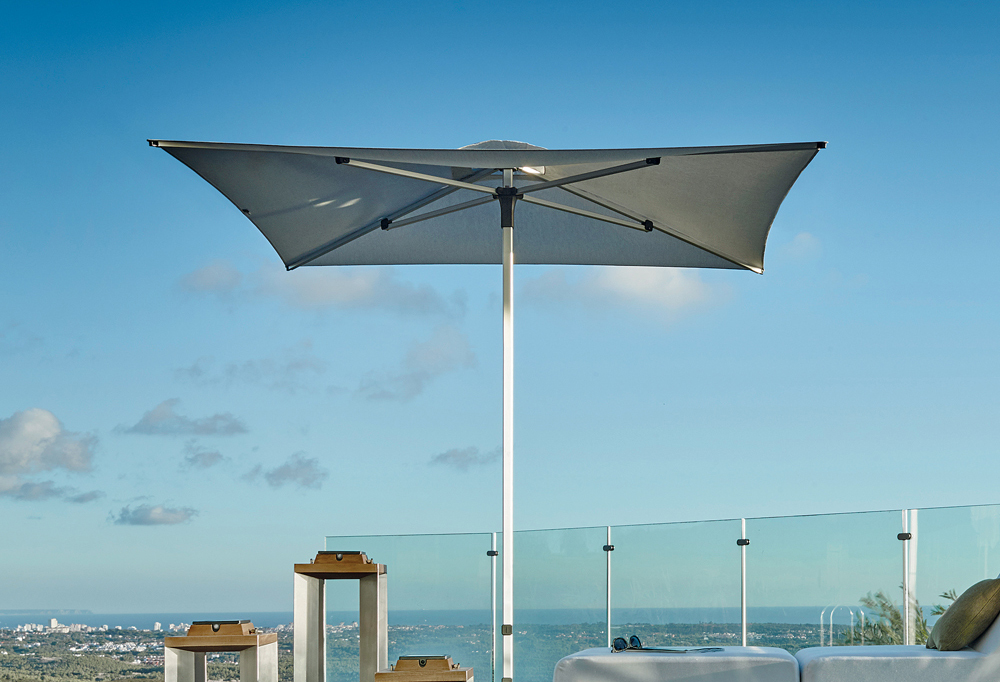 Rectangular:
The preferred use for a rectangular canopy is with either a rectangular or oval outdoor dining table, or any space where your seating arrangement is a bit rectangular in shape. These canopies are perfect for keeping everyone shielded from direct UV rays or falling moisture and help create a linear look when paired with the appropriate seating group. Smaller sizes are around 6.5 ft. x 10 ft. and the larger sizes approach 10 ft. x 14 ft.
Pole and Frame Materials
Your umbrella pole and frame materials will determine the umbrella's strength and weather-resistance while also contributing to the overall aesthetic. Before selecting a material, it's important to consider questions such as: What type of frame is best for your location and weather? What space is your umbrella shading—a dining table, chaise lounges by a pool or small bistro set? Are you using your umbrella with wood furniture or metal furniture? The two main materials used in AuthenTEAK's umbrellas are aluminum and wood/bamboo. AuthenTEAK also has a few hybrid umbrellas where the pole and frame are usually a combination of both wood and aluminum. Each material has its own benefits, and you should buy a patio umbrella with the material that best suits your needs..
Wood:If you are looking to buy a patio umbrella that evoke a classic, traditional and timeless appeal, wooden umbrellas are the best choice. Natural, sophisticated and warm, wood patio umbrellas are chosen for their durability and strength. These umbrellas are best used in conjunction with wood furniture to create harmony between the umbrella and the furniture. AuthenTEAK offers a variety of wood choices, including teak, eucalyptus, generic hardwood and bamboo (Note – bamboo is technically a grass but looks, feels and performs like wood). Wood umbrellas are available in both one-piece and two-piece solid pole construction. Most wood umbrellas use a pully-lift system to raise/open and lower/close the canopy, while only a few wooden umbrellas have a tilt feature. Wood umbrellas are available with pole diameters ranging from the standard 1.5-inch thickness to 2.5-inches. A general rule of thumb for wood umbrellas is that the thicker the diameter of the pole, the more durable the umbrella frame will be. If you are using your umbrella in the center of a table, make sure the hole in the table is large enough to accept the size of the umbrella pole you are wanting to use. All wooden umbrellas from AuthenTEAK resist insects and weather damage, but wooden poles will fade after prolonged direct exposure to the sun and moisture. The fittings and accent pieces on wooden umbrellas are usually made of brass, stainless steel or aluminum. A potential downside to a wooden umbrella is that for the versions with a one-piece pole design, if the frame does snap, the entire frame will need to be replaced.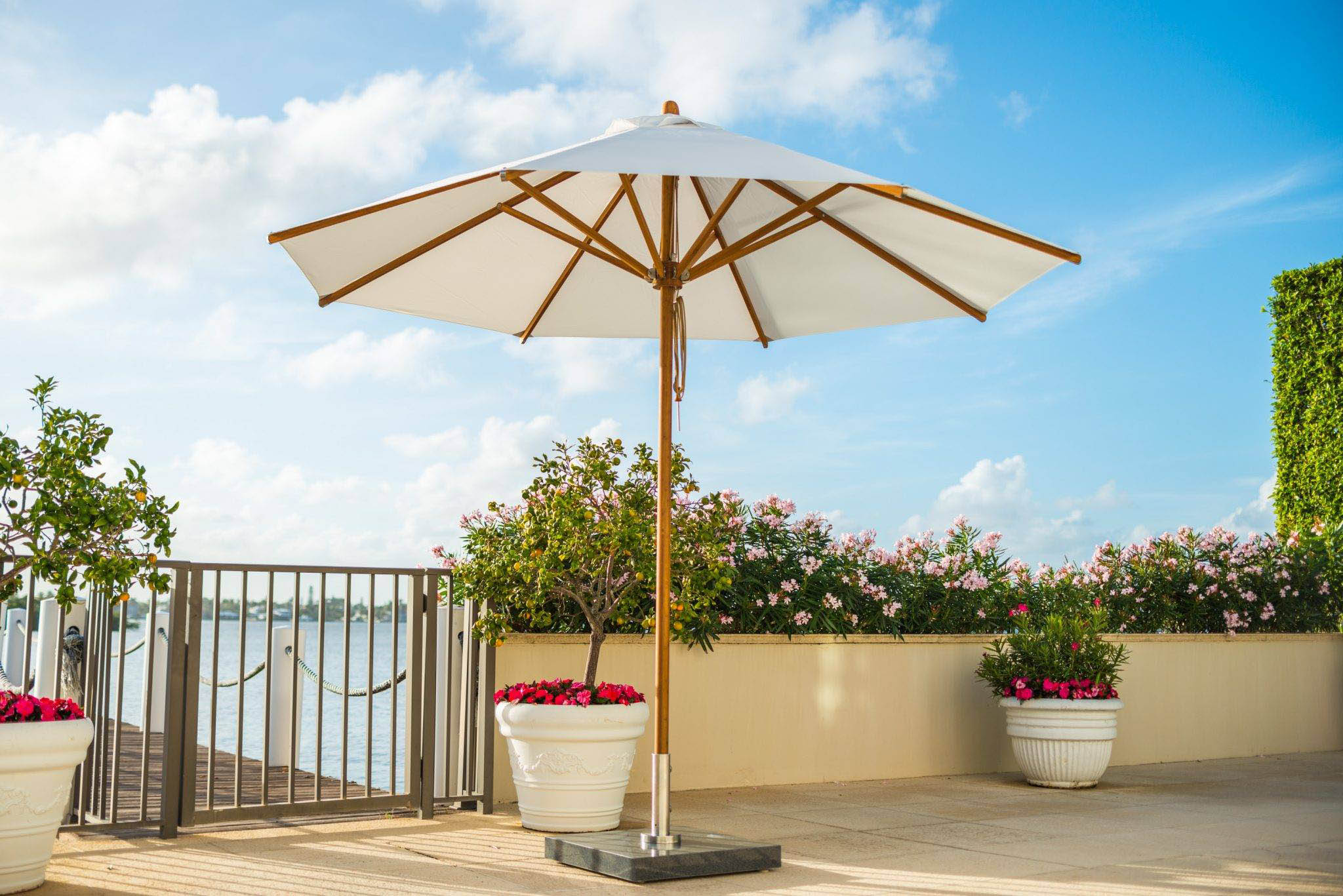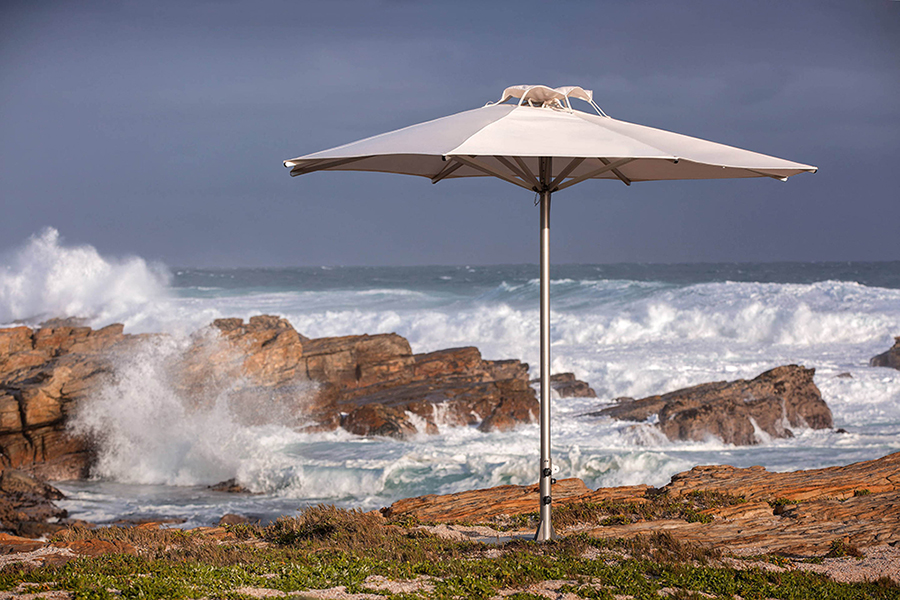 Aluminum: Aluminum umbrella frames are an ideal choice for both commercial and residential outdoor spaces because they are durable and low-maintenance. Aluminum frames are great in all weather conditions and climates, including salt-air. Most aluminum market/center pole umbrellas have a 1.5-inch pole diameter, while a few extremely durable umbrellas like the Woodline Storm or the Bambrella Hurricane have larger pole diameters, which help withstand the rigors of full-time commercial use. Aluminum market style umbrella frames typically operate with either a crank-lift, a pully-lift or a manual push-up lift system to open and close the umbrella. Only versions with a crank lift have the ability to tilt. Aluminum frames are frequently available in bronze, black, white, champagne, anthracite/graphite or driftwood powder coat finishes coordinating with your furniture and décor. Some aluminum frames are polished or have a silver powder coat finish, which works well with stainless steel patio furniture and other modern spaces. A few specialty frames by Tuuci are made of aluminum, yet are finished with a natural-looking wood grain called Aluma-TeakTM. These umbrellas have the strength of aluminum with a realistic exterior finish that mimics wood, highlighting a natural, luxurious finish creating a resort-like ambiance. Have questions on the ultra-premium Tucci umbrellas? Call our design experts at 866-350-8325.
Hybrid: A hybrid umbrella frame, also known as a mixed-material umbrella frame, is generally made of a combination of wood and aluminum. These frames represent the best of both worlds as they offer both high-design and durability. Wood frames generally have aluminum or even hard plastic resin fittings to ensure that the strongest materials are used where the most stress is put on an umbrella frame. Aluminum frame umbrellas usually have wood accents that create an added touch of style and elegance to your umbrella. A few other hybrid umbrella frames are available where the mainframe is made of aluminum and the ribs are made of flexible fiberglass. Umbrellas with fiberglass ribs are great for high-wind locations.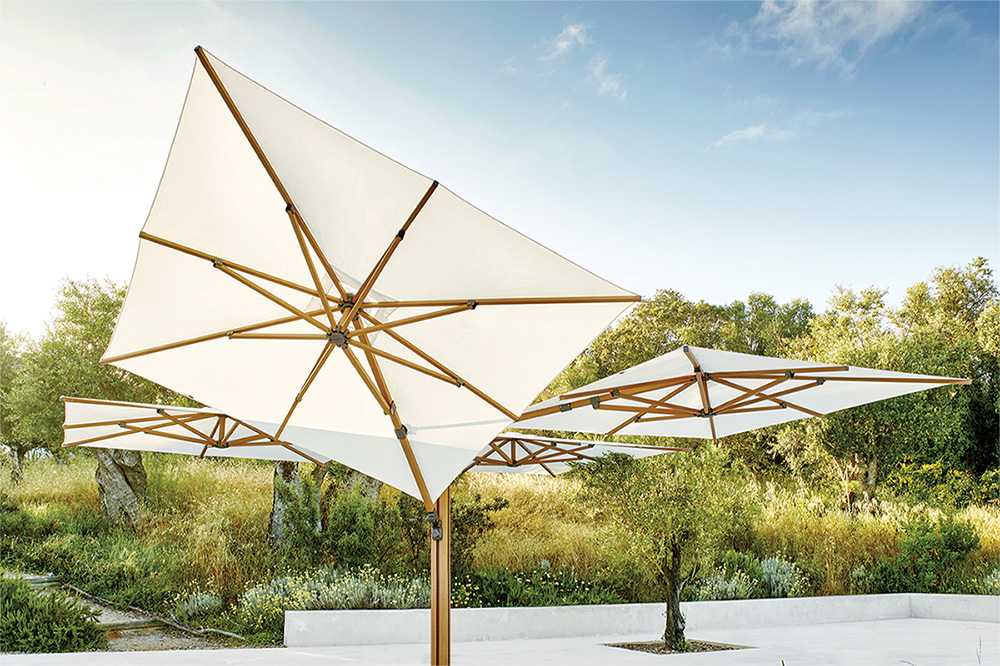 Umbrella Operating Mechanisms
When buying a patio umbrella, it is important to consider what operating mechanism will best suit your needs. Some of the common operating mechanisms include: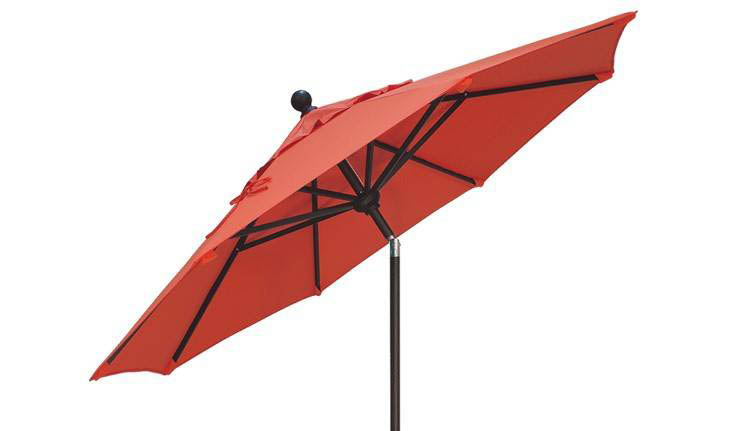 Push-Button Tilt:
Common with aluminum umbrellas, a button is pushed to manually tilt the canopy. This option is great for the occasional tilting of your umbrella canopy. Push-buttons, like this model from
Treasure Garden
, typically only have two positions, fully upright or fully-tilted. These tilt mechanisms usually tilt in two directions, which means you can tilt the canopy east in the morning and west in the afternoon.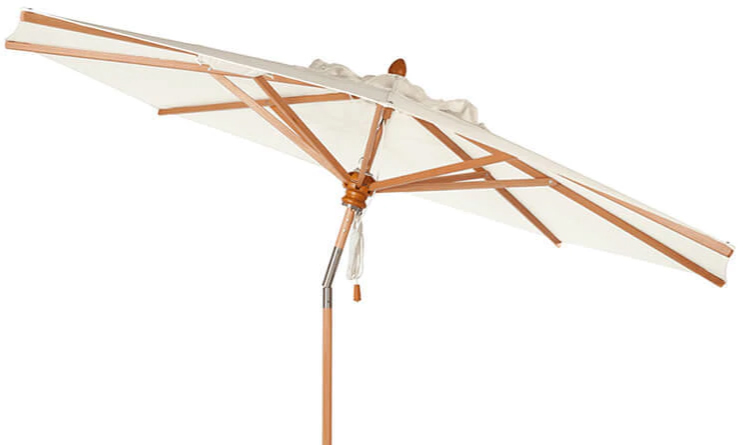 Rotational Tilt:
A rotational tilt umbrella is usually found on high-end teak umbrellas such as the
Barlow Tyrie 9 ft. Napoli
. This mechanism works by spinning one of the ribs clockwise to tilt the canopy as little or as drastically as you'd like.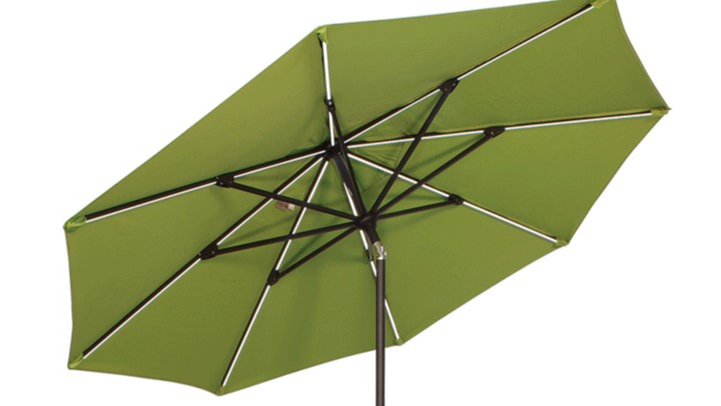 Collar: Collar tilts are one of the easier methods for tilting your umbrella and work in conjunction with a crank. Once your umbrella is cranked and in the fully-open position, you simply twist the collar, which is located above the crank, and the umbrella will start tilting. Not only is this mechanism easy to operate, but it allows the umbrella to tilt in small increments, casting the perfect amount of shade.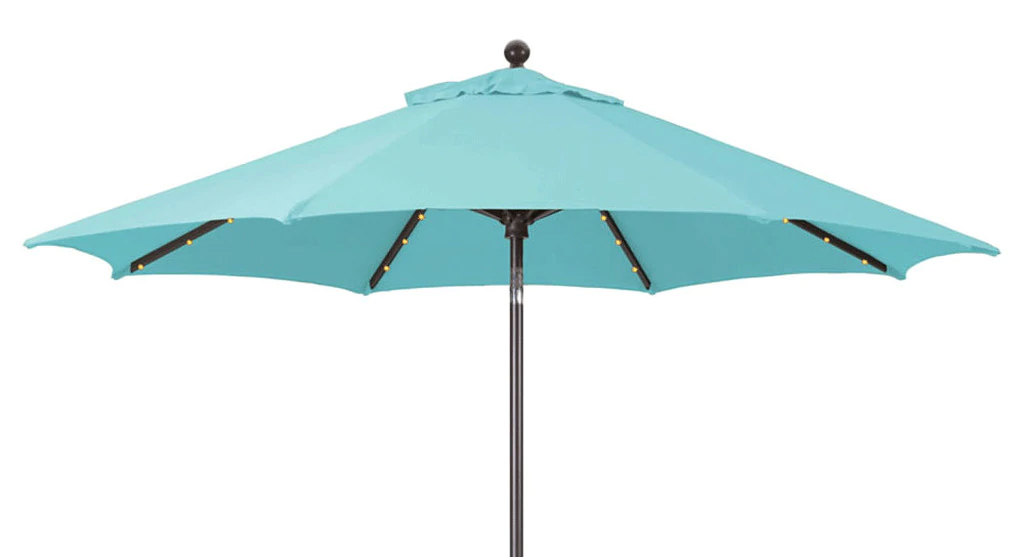 Auto-Tilt: This mechanism is the most straightforward option. To engage the tilt, you turn the crank handle and once the umbrella is fully open, the canopy will start to tilt. If there is one downside to this mechanism, it's that the canopy only tilts in one direction. Most people set up their umbrella so it tilts towards the west.
Lift Types
Another important consideration when buying a patio umbrella, is lift type. Some of the common lift types include: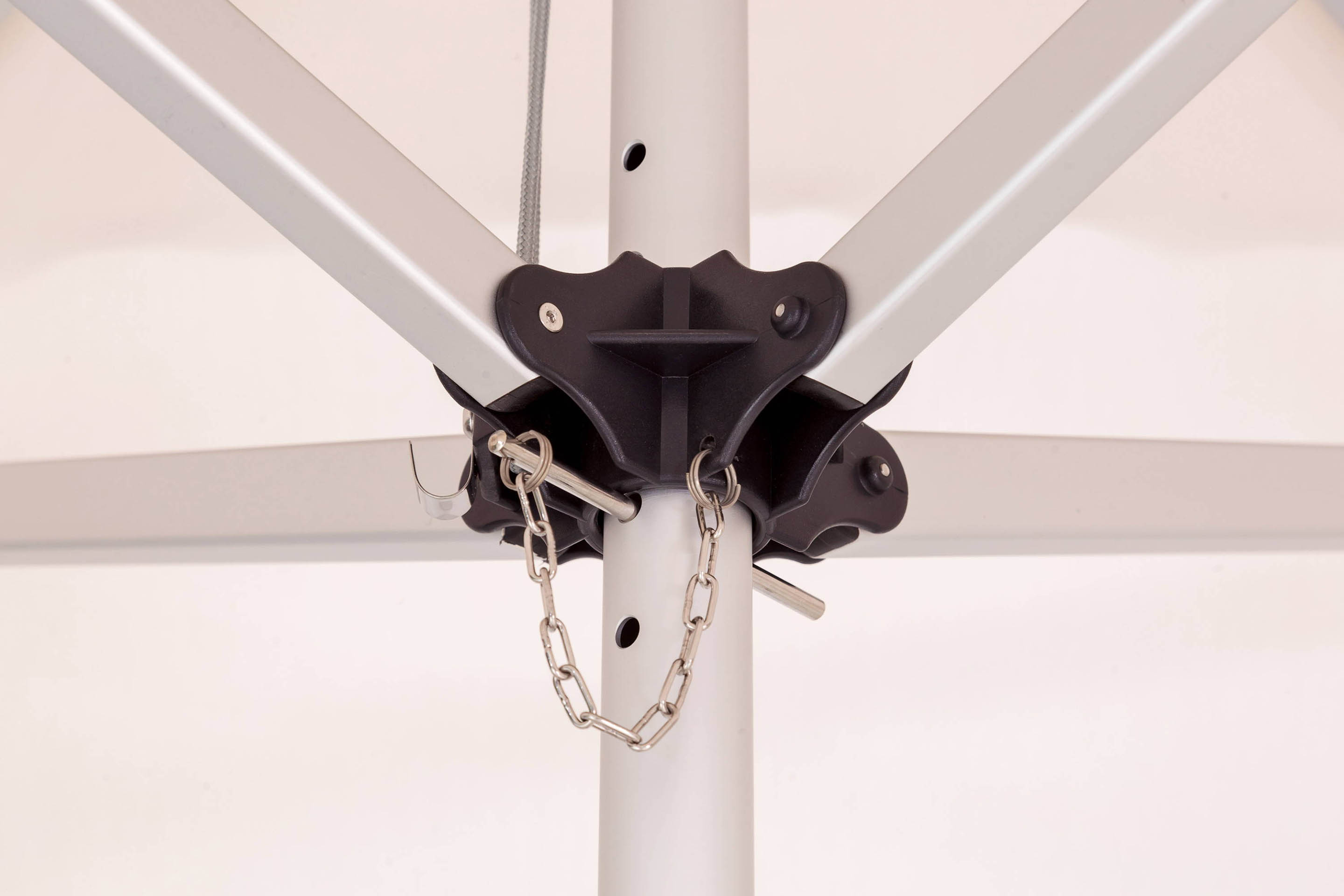 Push-Up: The support structure is manually pushed up by the hub of the umbrella where the canopy ribs come together around the center pole. The canopy then pops or locks into place with a pin or lever, securing the umbrella in an open position. This mechanism is the most like a standard rain umbrella.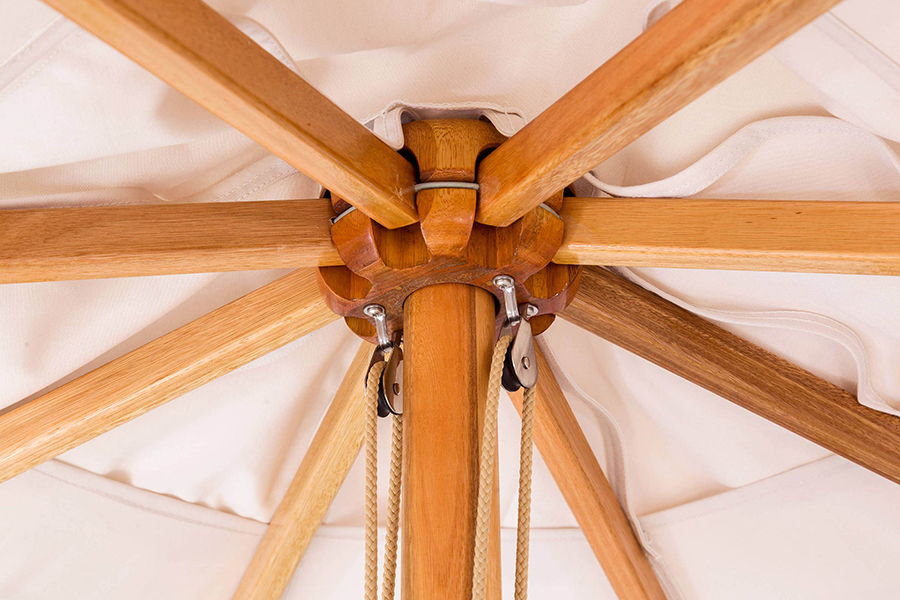 Pulley: A pulley umbrella system uses a rope attached to a pulley to raise and lower the umbrella. Most umbrellas have four pulleys, which allows for an easy open and close. A pin or a cleat helps secure the umbrella in the open position. If you are looking to buy a patio umbrella for a residential or commercial outdoor space, pulleys are a great choice.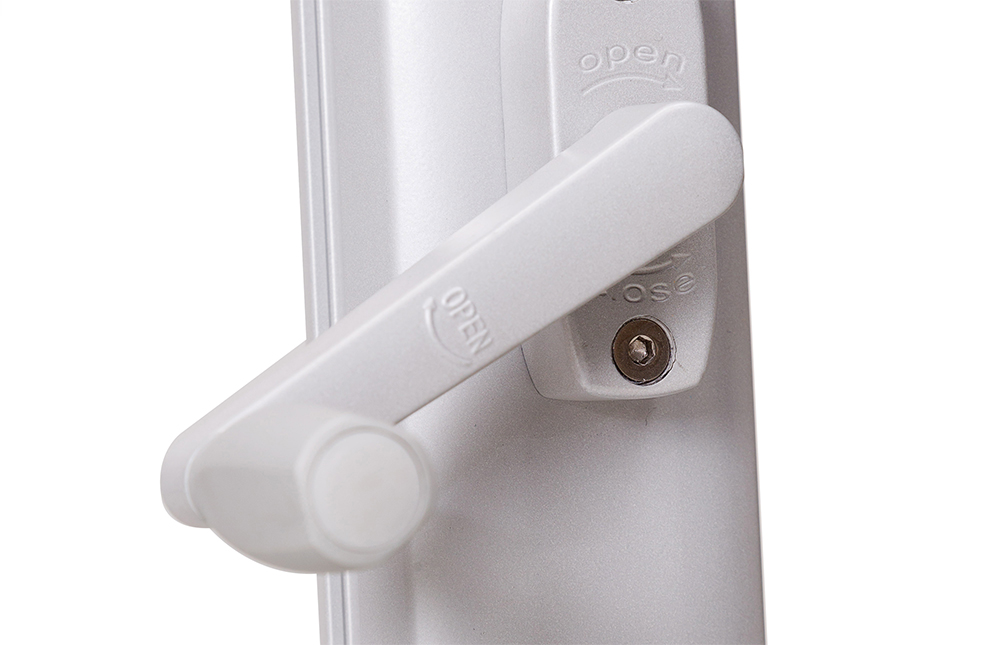 Crank: Placed near the center of the pole, a rotating handle is turned until the canopy is fully opened. The handle then turns in reverse to close the umbrella. Make sure the crank does not interfere with your tabletop, especially if placed within the center of a bar table.
Fabrics
When buying a patio umbrella, there are many different fabrics you can choose from. Some common fabric choices include: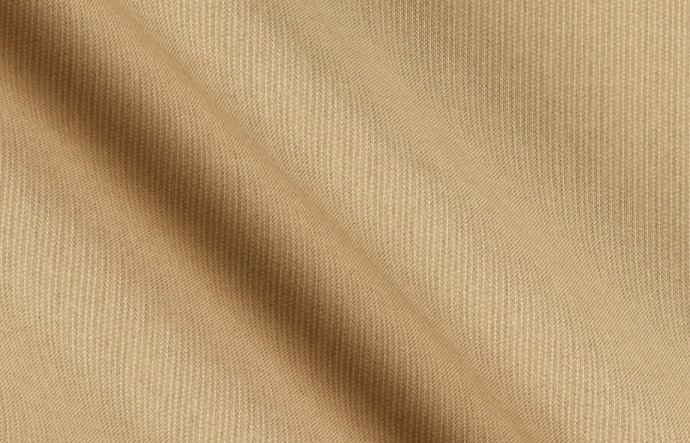 Acrylic: The best quality for an umbrella canopy is made of 100-percent solution-dyed acrylic. Solution-dyed means that the color is all the way through the fabric itself and is not a print on the top of the fibers. Acrylic fabrics are known for their resistance to mildew, mold, stains, and fading. These high-performance fabrics, available in a wide spectrum of colors and styles, are a great choice for hot and sunny locations as they provide up to 98 percent UV protection. Most residential umbrella canopies are made of a furniture weight fabric and many of the heavy-duty umbrellas used in commercial locations have a canopy made with an awning weight fabric. None of these fabrics are waterproof, yet they are highly water-resistant. Water should not flow through the fabric if the canopy is angled, allowing the water to run down to the outer edges. There are many brands of acrylic fabrics and the most well-known brand is Sunbrella. AuthenTEAK carries umbrellas made with Sunbrella, as well as other industry leaders such as Outdura, Bella Dura and Docril.
Polyester: The best value for an umbrella is when the canopy fabric is made of 100-percent solution-dyed Polyester. These fabrics perform almost equally as well as Acrylic fabrics, as they also are fade, stain, mildew and mold resistant, and they block out almost all UV rays. Most of these fabrics are the private label version from the umbrella manufacturers themselves and they are designed to mimic all of the characteristics of the better known Sunbrella acrylic fabrics. Because these fabrics are private label, they are sold at a lower price point. Some of the better-known brands of polyester fabrics for umbrellas are Spuncrylic by Bambrella and O'Bravia by Treasure Garden. If you are looking to buy a patio umbrella with the best value, we recommend selecting a brand that uses polyester fabrics.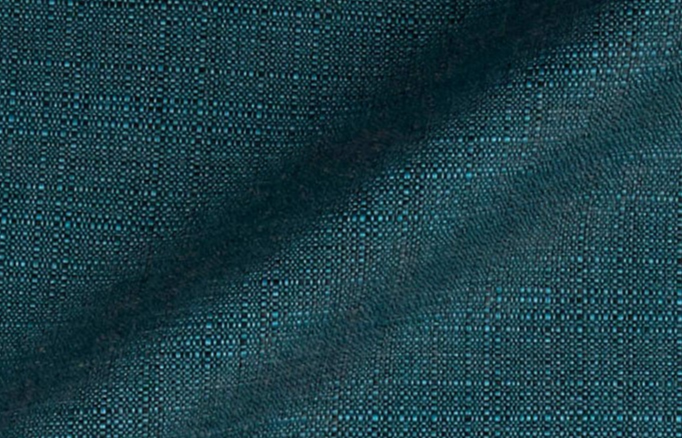 Olefin: Canopies made of 100-percent solution-dyed Olefin are an excellent option for occasional outdoor use or for locations that are not exposed to full-time direct UV rays. Umbrellas made with this fabric will resist stains, mold, and mildew, yet they do not have the same fade resistance as Acrylic or Polyester fabrics. These fabrics are generally found on price points or promotional umbrellas. Most of these fabrics a generic and are not known by their brand name, however, if you are looking for the best of the bunch, look for Solefin by Treasure garden.
Replacement Canopies
An excellent way to extend the life of your umbrella and to save some money is to replace a tired-looking or worn out canopy with a new canopy. If your fame is in good condition, you should consider getting a new canopy to improve the look. A replacement canopy is also a great opportunity to change the color and create a fresh new style.
Note – replacement canopies are brand specific and they are not universal in size. A canopy that may fit a 9-foot octagonal umbrella from one brand will not necessarily fit the same size and shape canopy from another brand. When ordering a replacement canopy, you will first want to know the brand, model, size and shape of your existing umbrella, as well as the number of ribs. Canopies are super easy to replace for both market and cantilever umbrellas and can typically be swapped out in a matter of minutes. Canopies are usually much easier to replace when the umbrella is in the closed position. Please contact us if you would like to learn more about the best way to know which replacement canopy will fit your existing umbrella.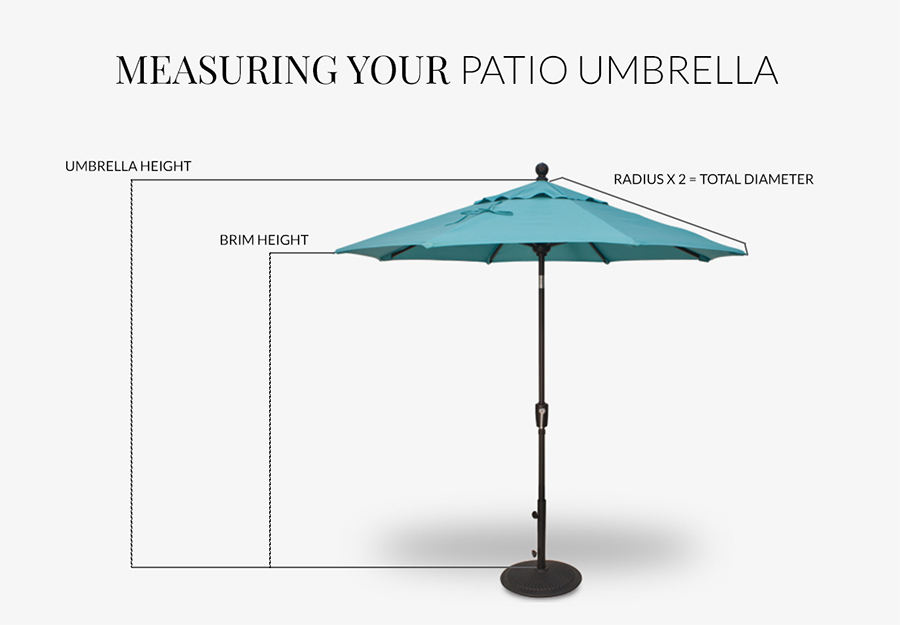 Measuring for a Canopy

One of the easier ways to help determine which canopy size umbrella you currently have is to take measurements. The following info helps explains how to measure your umbrella to help determine which replacement canopy is right for your existing frame.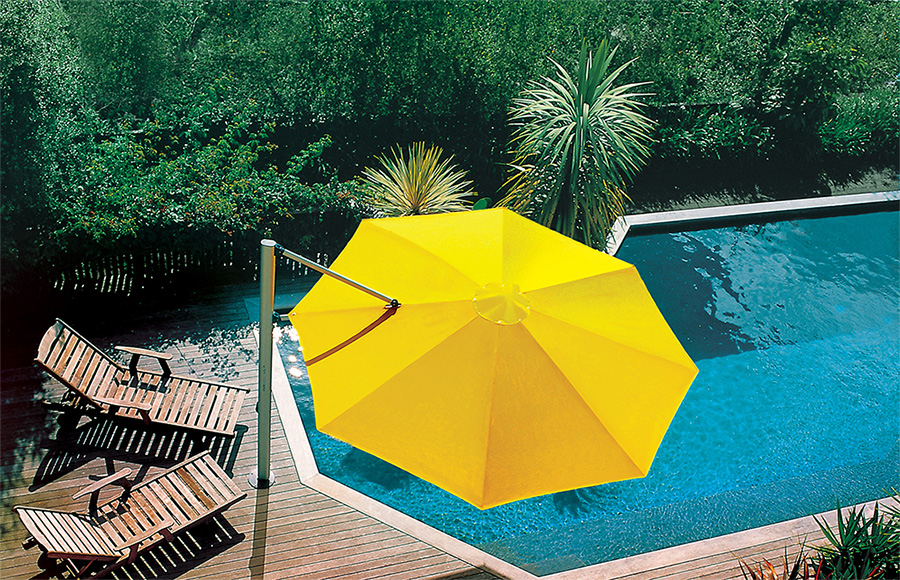 Round, Octagonal, Hexagonal and Square Canopies
Using a tape measure, measure from the top of the rib at the center pole down to the outer edge of the umbrella. This is your radius measurement.
Multiply your radius by 2 to come up with the diameter of your canopy.
Divide that number by 12 to give you the measurement in feet.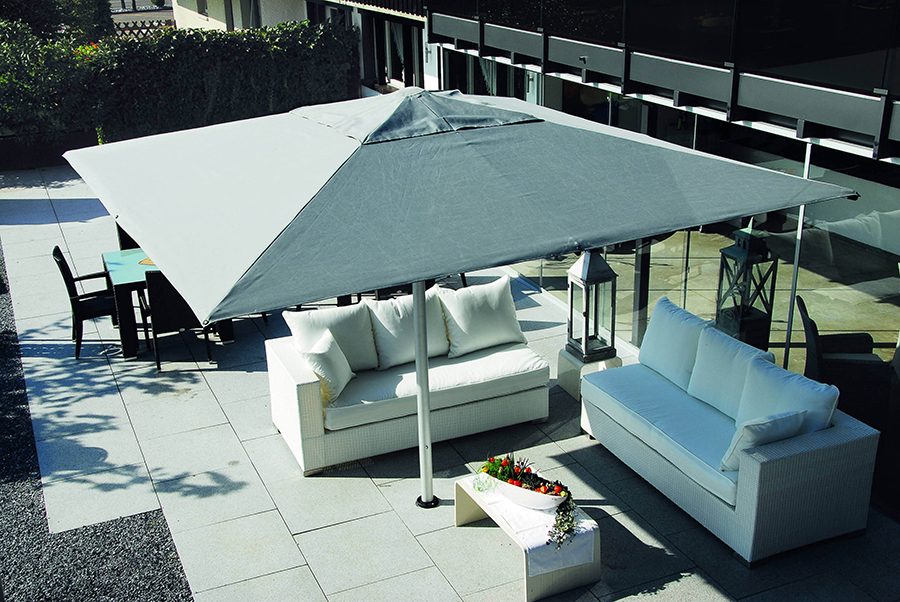 Rectangular Canopies
Using a tape measure, measure the long side for length and the short side for width (not the ribs that angle out towards the corners). These measurements will give you the radius.
Multiply your radius of both measurements by 2 to come up with the diameter for the width and depth of your canopy.
Divide that number by 12 to give you the measurement in feet.
Umbrella Bases and Mounts
When you buy a patio umbrella, you'll have to decide if you want to use a base or mount to secure your umbrella. An umbrella base, frequently referred to as an umbrella stand or even an umbrella anchor, is essential to keeping your umbrella upright and secure in windy conditions. The two main ways to secure your umbrella is by using a traditional base, with or without wheels, or a mount, which stabilizes your umbrella in a fixed place. Both market and cantilever umbrellas can use either a base or mount, but generally, a fixed mount is only used with a large cantilever umbrella. This is because large cantilever umbrellas require a large, chunky and heavy-looking base, but by using a mount, you can keep a nice, clean look while not sacrificing the ability to keep your umbrella secure. Additionally, mounts are generally less expensive than large, chunky bases. The downside of a mount is that you lose some flexibility to move your umbrella.

How to Buy a Patio Umbrella that is Best Suited for Your Situation
Umbrella bases have an aesthetic that can help put the finishing touch on your outdoor space and it's definitely an important decision. However, first and foremost, you should prioritize choosing a base that will keep your umbrella upright, regardless of style. You'll want to determine how heavy of a base you'll need to keep the umbrella secure and upright, and you'll also want to make sure that the diameter of the base's tube or stem will work with the pole of your umbrella frame.
Base Weight – Market Umbrellas
The lightest weight bases available start 25 lbs. and increase up to 150 lbs. Market umbrellas are mostly used in the center of a dining table or as a freestanding umbrella in any number of locations. For freestanding applications, we recommend using a base that weighs a minimum of 80 lbs. A good rule of thumb for freestanding umbrellas is 10 lbs. per canopy foot. For example, a 9 ft. octagonal market umbrella like the Galtech Teak Pulley Round Umbrella should have a minimum base weight of 90lbs to ensure it can withstand average wind conditions. Of course, the larger the diameter umbrella, the safer you will be to have a heavier base.
Conversely, when using an umbrella in the center of a dining table, using a base over 70 lbs. is probably more than you need, unless you have an umbrella larger than 11 ft. in diameter. The reason why you can use a lessor weight base for in-table applications is because the dining table itself will provide additional support.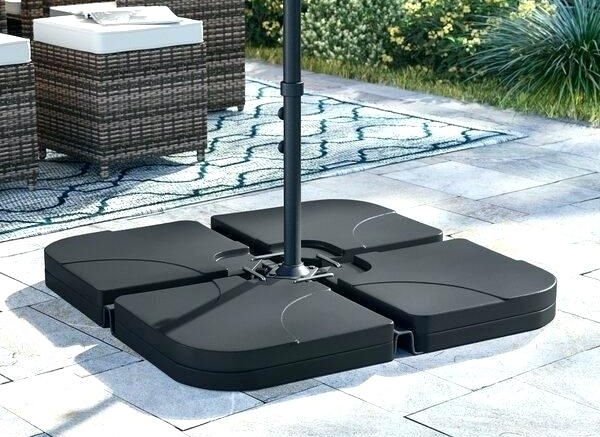 Base Weight – Cantilever Umbrellas
Cantilever umbrellas utilize umbrella bases that are specific to each umbrella and there are limited choices when determining which base goes with which umbrella. As a starting point, make sure your base and umbrella are from the same brand and that the models are compatible. Note - most brands make minor model changes from time to time and the year in which your umbrella is made could determine which base will be compatible. It is important to inquire for additional guidance before ordering a new base for an existing umbrella or vice-versa.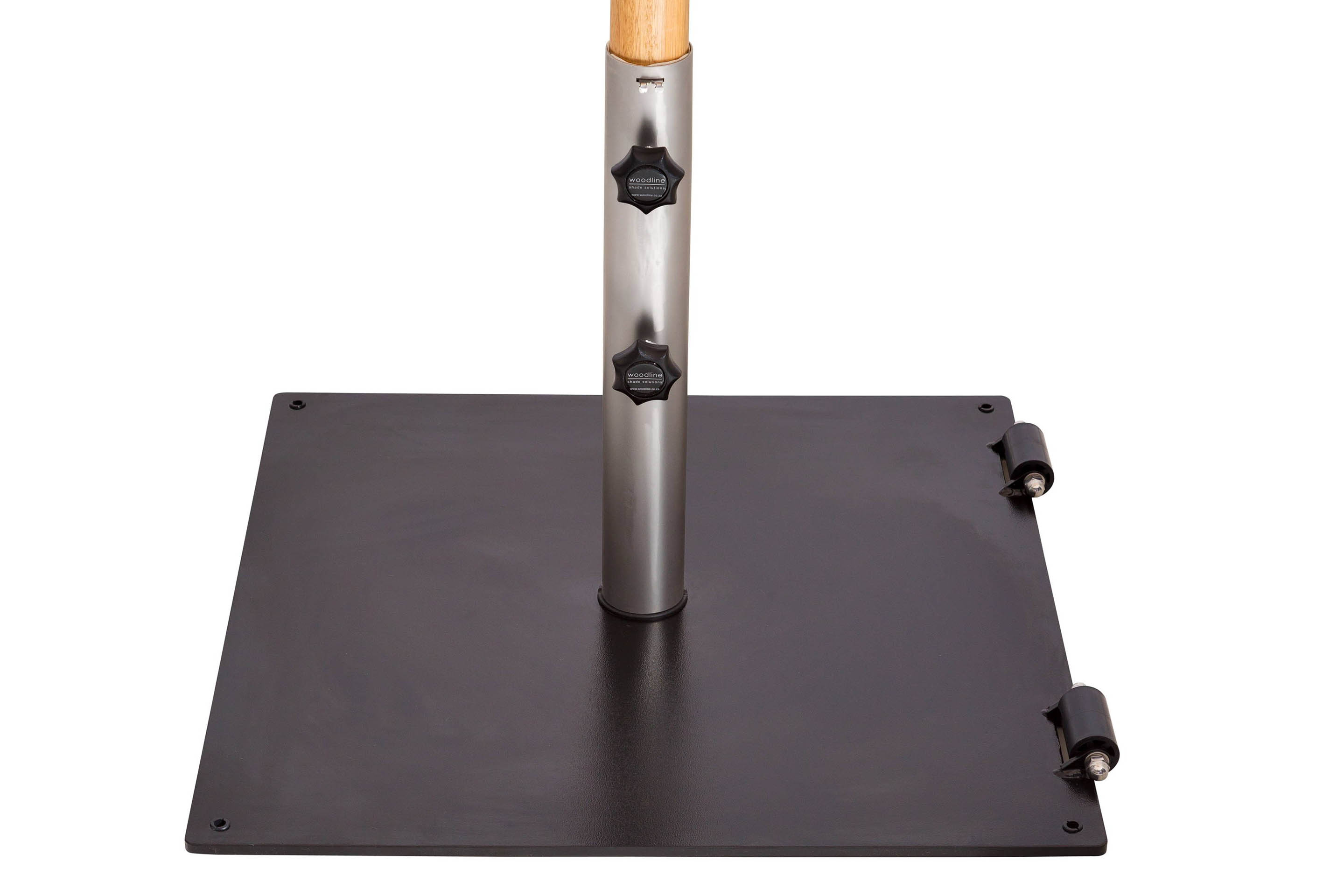 Bases with Wheels
A base with wheels allows you to move your umbrella with ease. Most options with wheels start in the 100 lb. range. These bases typically have two small rear wheels for occasional movement. A few very heavy bases, like the
Treasure Garden 120 lb. base
, have 4 wheels and locking casters. These bases are ideal for commercial locations when moving your umbrella will be a regular occurrence.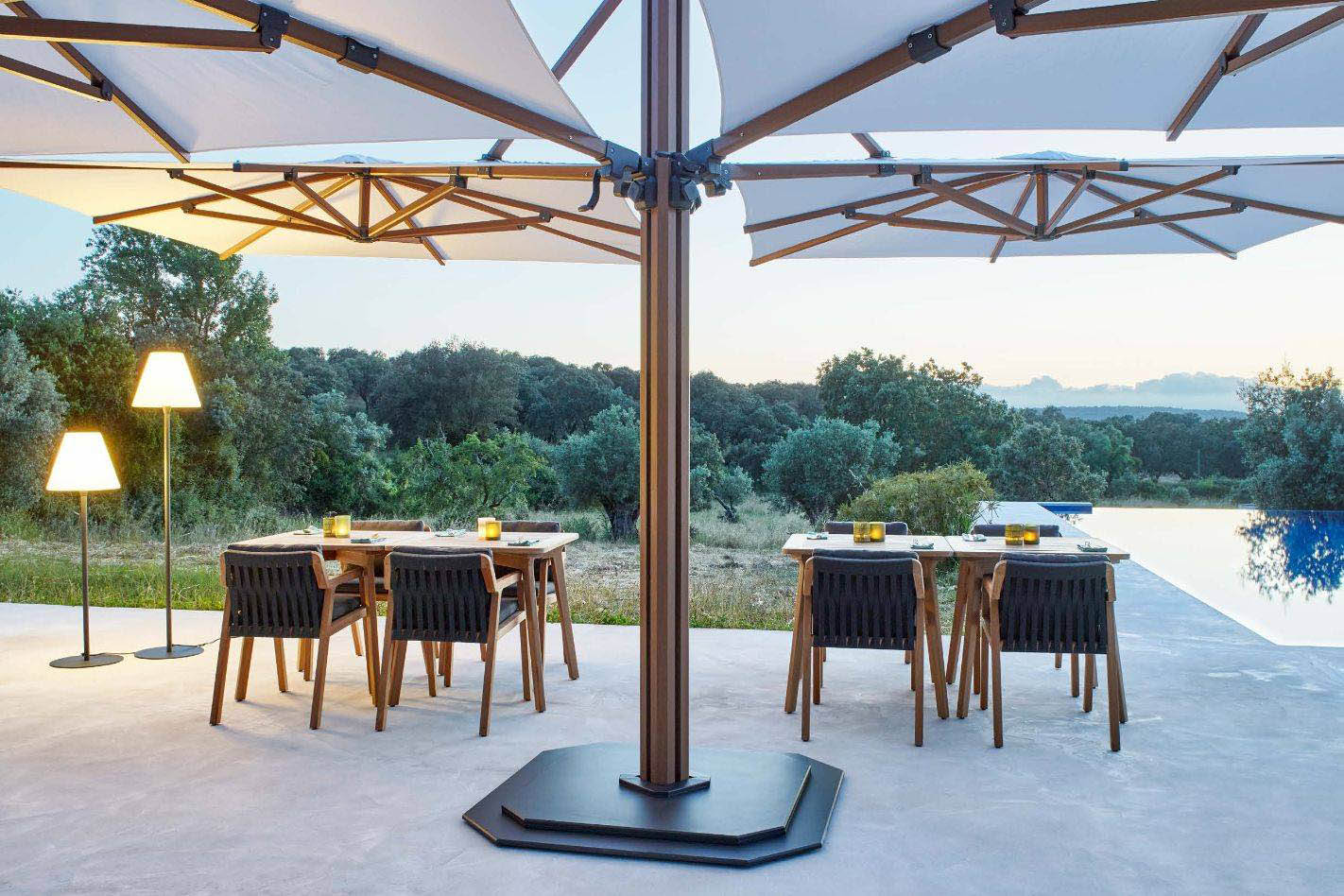 Mounts
There are three main types of mounts: concrete, deck/wood and in-ground. These mounts are generally used with large cantilever umbrellas and require professional installation. These mounts are brand and model specific and are not universal. They cannot be used with any umbrella. If you want to buy a patio umbrella that requires a mount, please contact the AuthenTEAK outdoor experts prior to making a purchase to learn more.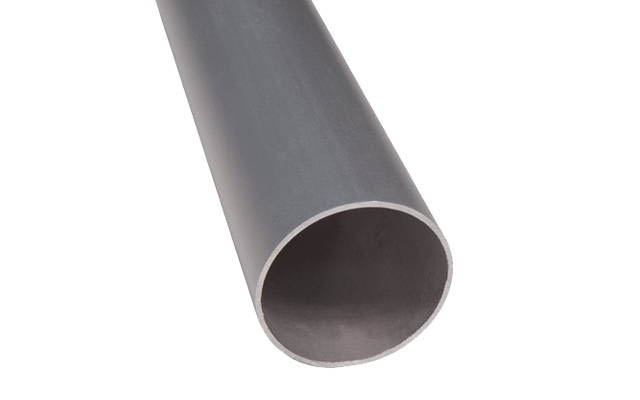 Pole Diameter
When selecting an umbrella base to fit with your umbrella pole, make sure the diameter of the pole is no larger than the inside diameter of the stem (aka tube) on the base. The most common size pole and stem are 1.5-inches; however, sizes vary and go up to 2.5 inches in diameter. When in doubt, you are better off going with a slightly larger stem to ensure the pole will fit inside the stem. A few umbrella bases have stems that work with a pole that slides over the outside of the stem. Inquire for info if you think you have or need that specialty version.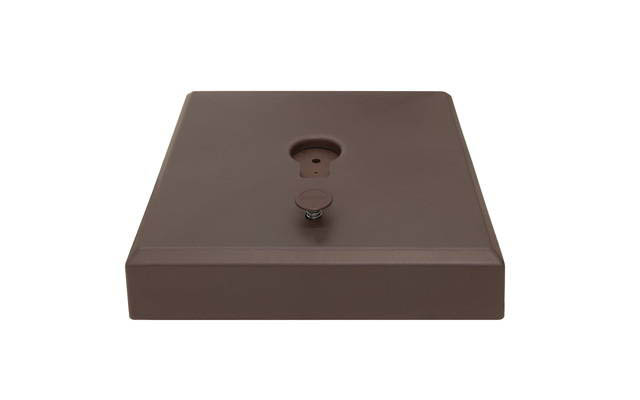 Base Material
Most base weights and stands for market umbrellas are made of Aluminum, Steel, Granite or Concrete. Most of the bases for use with cantilever umbrellas are made of hard plastic, such as the
Treasure Garden AKZ Base with wheels
, and act as more of a shell that gets filled with anywhere from 200 – 400 lbs. of sand to provide the weight. Other bases for cantilever umbrellas are made of galvanized steel plates that are stacked on top of each other to increase the weight until you can achieve your required minimum weight. A few other versions include heavy wood or steel blocks that fit in a steel base frame that secures the umbrella frame. A lessor expensive option to weigh down a base frame is to use stone pavers, available through your local hardware store.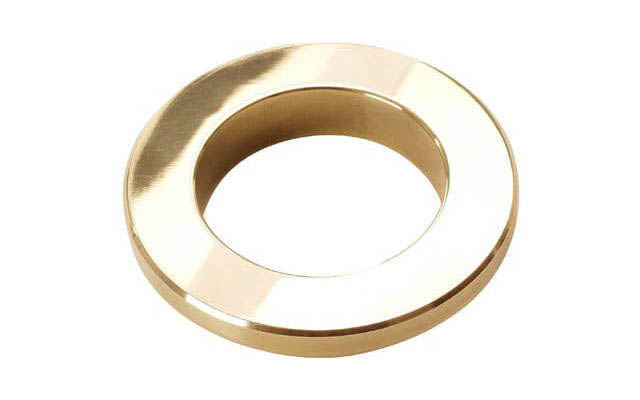 Reducer Rings
A reducer ring is a round piece of wood or metal, usually brass or stainless steel, that is placed on or in the umbrella hole of a tabletop. Reducer rings are used when the diameter of the umbrella hole in your tabletop is much larger than the diameter of your umbrella pole. A reducer ring helps create the perfect fit for your umbrella. Your umbrella will stay vertically upright and won't sway, which may damage your umbrella, your table or both. Reducer rings are brand and model specific and are not interchangeable from one brand or table to another.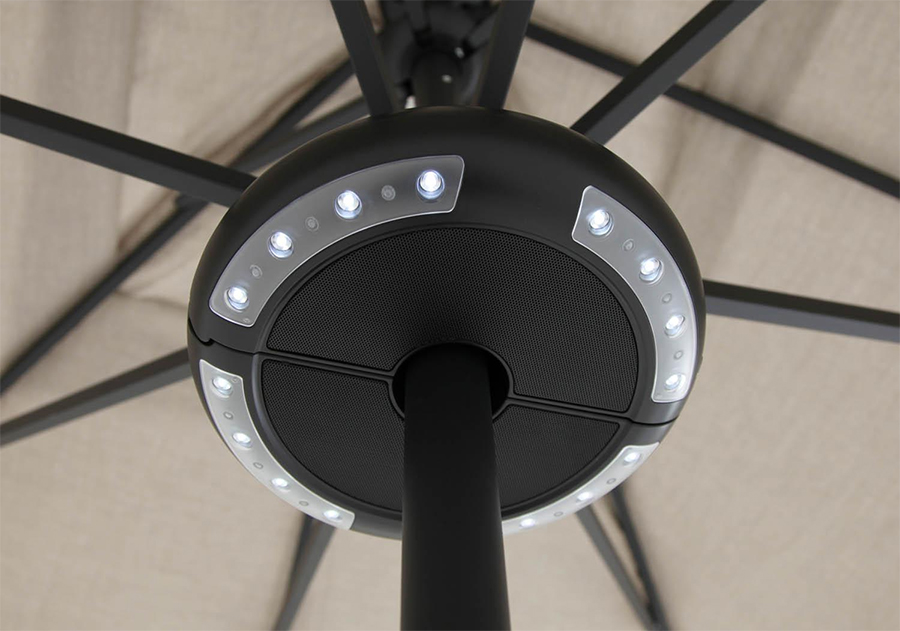 Lights:
If you plan on entertaining into the evening, umbrella lights are a bright way to bring a custom ambiance to your outdoor space. Usually made of long-lasting and rechargeable LED lights that emit little heat, umbrella lights can be secured to the ribs on the inside of a canopy.
Individual lights
can also be clipped to the center pole or even placed along the perimeter of the canopy. Some large cantilever umbrellas, like the
Treasure Garden Starlux
, have lights built directly into the ribs. There are many sizes, colors, and configurations available, allowing for distinct customization.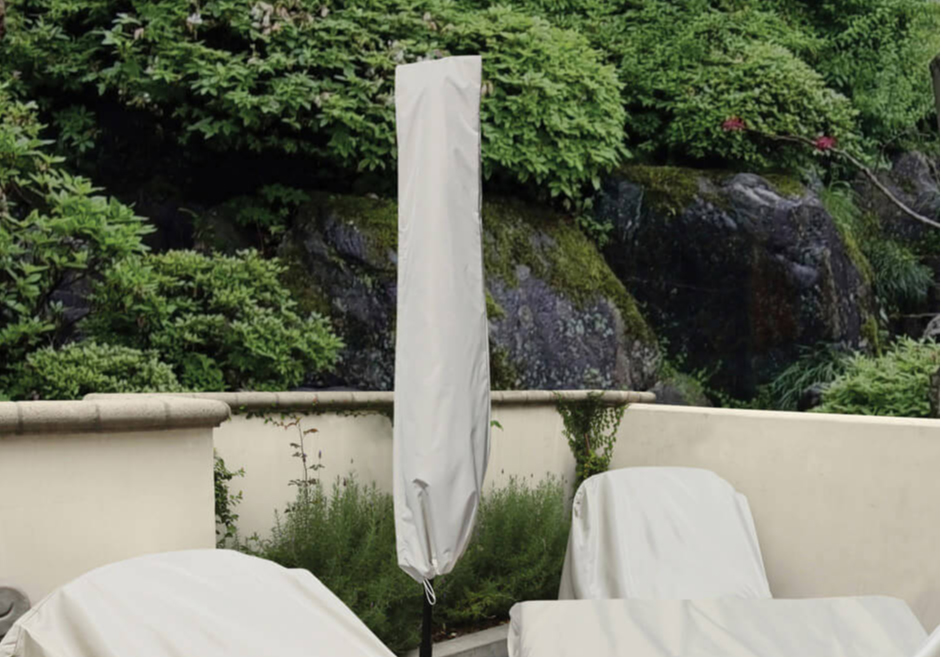 Protective Covers:
Weather-resistant protective covers help keep your frame and canopy clean, dry, and mildew-free. Most protective covers are made from durable all-weather fabrics, that is breathable and easy to put on. Make sure to store your umbrella in an upright position in an enclosed dry area like a basement, garage, or pool house. AuthenTEAK offers a variety of styles and sizes of covers from
Treasure Garden, KoverRoos and more
to help keep your umbrella looking pristine year after year.
Maintenance
To keep your umbrella looking its best and functioning well, here are some general guidelines:
When opening your umbrella, open it gently and do not force it open as it could damage the mechanics and shorten the life of your umbrella. If your umbrella does not open easily, check to see that the pully-rope, the ribs and/or the canopy are not crossed underneath.
Close the canopy when not in use. Do not leave open when unattended.
Use a protective cover whenever possible, not just in the off-season, but for periods of long inactivity.
Keep your umbrella dry when not in use. While most fabrics are weather-resistant, prolonged moisture can cause mildew and shorten the life of your umbrella.
Cleaning the Umbrella Frame: Instructions for washing your umbrella frame are the same no matter the material—metal, wood, or hybrid. Use a damp cloth to wipe down the ribs, finial, and pole. If especially dirty, use a mild soap, but avoid harsh or abrasive cleaners. Minimal TLC goes a long way!
Cleaning an Umbrella Canopy: The first thing to know is that you should not pressure wash your canopy or put it in the dryer. Beyond these two restrictions, cleaning your umbrella canopy is straightforward. Instructions for washing your umbrella canopy are virtually the same no matter the exact material. The first recommendation is to try and clean your canopy while it's still on the frame. Use a garden hose with a spray attachment to wet the canopy, possibly with a mild soap or bleach for tough stains, and then use a medium-gentle nylon bristle brush to remove any surface dirt and debris. Rinse off when done. If this method does not work, you can remove your canopy from the frame and put it in the washing machine on a gentle cycle. Once out of the washing machine, place the canopy back on the frame to finish drying. Again, do not put in a dryer. Like cleaning an umbrella frame, minimal TLC goes a long way!
Selecting and purchasing the perfect umbrella takes time and consideration. When you buy a patio umbrella, you can turn any outdoor space into a stylish, functional and comfortable extension of your home.
Still have questions? Feel free to reach out to our patio experts for assistance with all your umbrella questions. We're available via the chat function on our website in the lower right-hand corner or can be reached by calling our showroom during business hours at: 1-866-360-8325.