A Guide to Planning Your Outdoor Kitchen
Katie O'Leary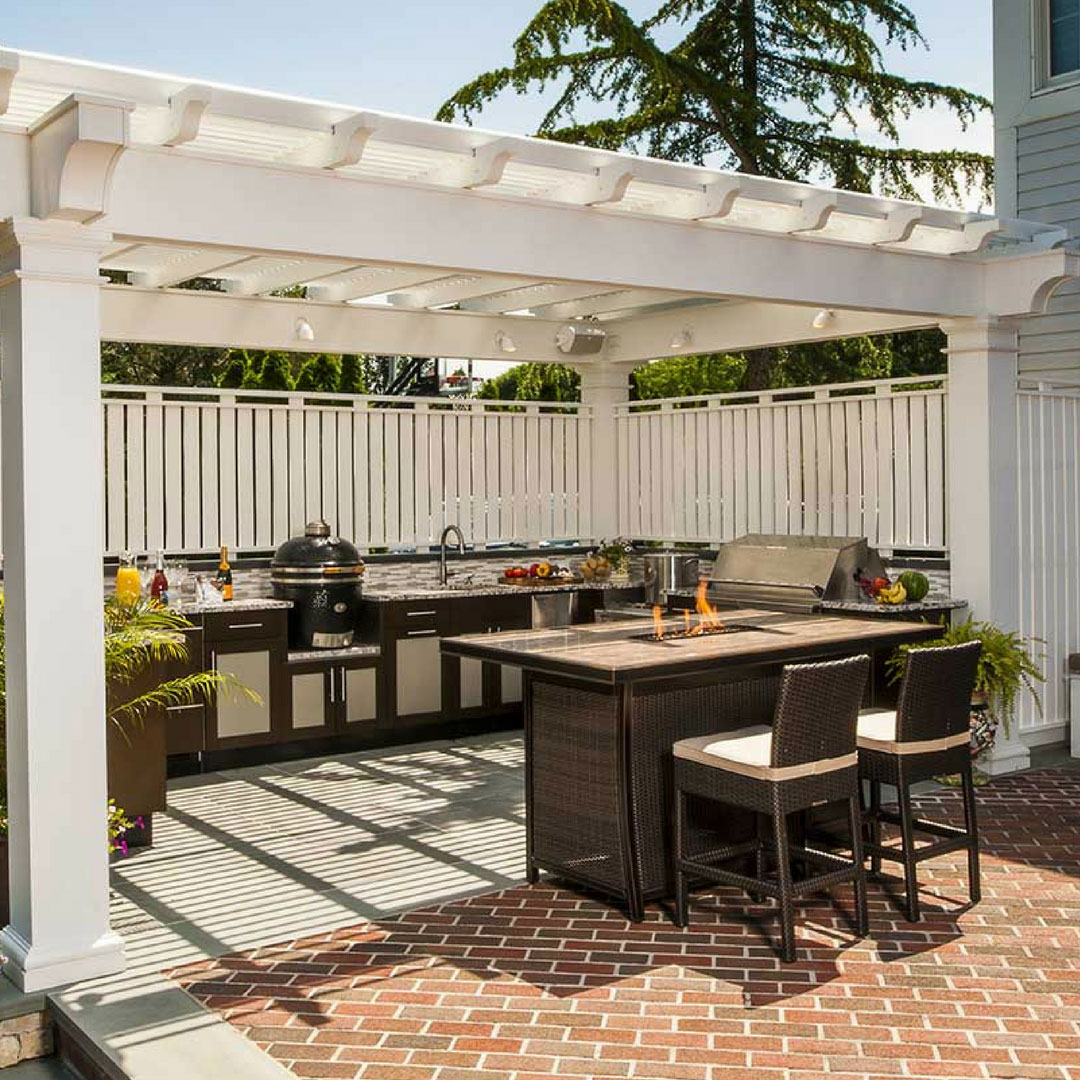 Are you hoping to plan an outdoor kitchen for your patio. Read our informative guide before you begin. Then, let us help you with space planning and appliance selection.
Kitchen Placement and Size
Outdoor kitchens come in many configurations and sizes. Rest assured that whatever your dimensions, the addition of an outdoor kitchen will add both value and enjoyment to your outdoor space. Some homeowners choose to place their outdoor kitchen in close proximity to their indoor kitchen. This allows you to make use of existing structural features—walls and overhangs— as well as ease of connecting to existing gas, electrical and plumbing systems.
Should you choose to place your outdoor kitchen far from your home— perhaps near a pool— consider adding additional features for storage and refrigeration to prevent unnecessary trips back to the house. A sink will provide the convenience of washing your hands and rinsing off platters and utensils. Also, ice makers, beverage centers and wine chillers designed specifically for outdoor use will keep your guests happy and prevent additional trips indoors. If your kitchen is far from your home, you'll also want to consider protection from the elements and lighting in your plan.
Kitchen Usage and Requirements
In order to plan an outdoor kitchen, you should consider how often you envision using your outdoor kitchen as well as who you will be cooking for. If you plan to cook outdoors multiple times a week, add elements that will expand the versatility of your cooking space. A rotisserie, pizza oven and smoker will allow you to vary your dining experience and expand your cooking skills.
Outdoor Kitchen Construction and Utilities
Many homeowners would like to cut down on the cost of their outdoor kitchen by doing much of the work themselves. While this is certainly possible and will provide a cost savings, here are a few things to consider.
Electrical: Make sure your outdoor kitchen contains plenty of electrical connections. A rotisserie grill, refrigeration and even lighting, will require electrical connections. Make sure you plan for enough of them and hire a certified contractor so that your kitchen passes inspection.
Plumbing: Running water is a necessary convenience in many outdoor kitchens. If you are not placing your kitchen in close proximity to your home, a faucet to rinse hands and platters will be a worthwhile convenience. Once you have a plumbing line set up, you may also want to consider adding an ice maker for cool beverages all season long.
Gas: A built-in gas line means never having to replace propane tanks and never running out of gas. If you plan on using your outdoor kitchen more than once a week, this is the best option.
If you are looking for ways to cut costs in your outdoor kitchen project, consider purchasing a pre-fabricated outdoor kitchen island. These units come in many configurations and can be purchased with or without appliances. Once installed, you simply need to add stone, tile and countertop material to achieve a custom outdoor kitchen look. Shop our selection of kitchen islands .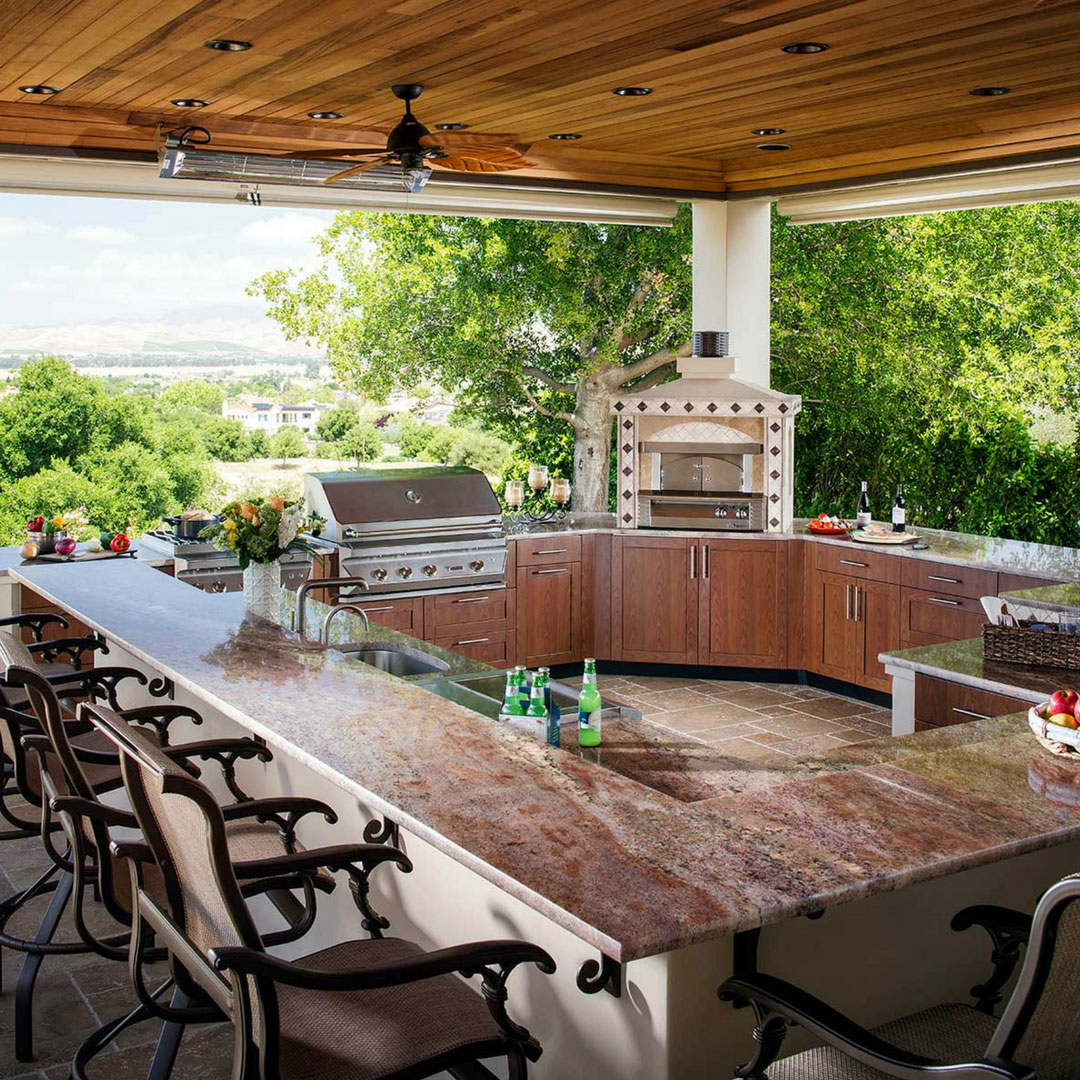 Are you ready to get started making your dream outdoor kitchen a reality? Contact us today for free outdoor kitchen design as well as expert advice selecting your appliances.