Helpful Tips for Teak Furniture Care
Jordan Parrish
Teak is an outdoor furniture favorite and with good reason: An extremely durable hardwood, teak requires minimal care to preserve its good looks and integrity. The qualities that make teak attractive to ship builders—its impermeability, rot-resistance and natural beauty— make it equally appealing as a material for outdoor furniture. In fact, it is the material of choice for most premium outdoor furniture manufacturers, including Kingsley Bate, Barlow Tyrie and Gloster. Better still, teak furniture care is simple and direct. Wondering how to keep your favorite teak pieces in their natural, golden state? Keep reading to learn everything you need to know about teak, teak furniture care and how to keep your teak pieces looking clean and classic.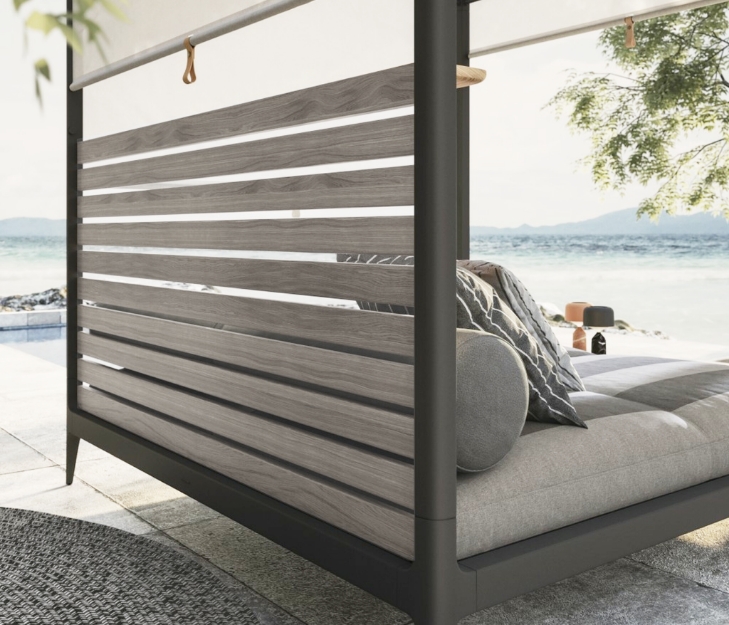 Teak's Natural Aging Process
Your teak furniture care regimen will depend largely on how you want your teak to look – honey brown and fresh, or charmingly aged and silver. Both are completely normal results of this material's unique aging process.
Teak has two states. New pieces of teak furniture will feature a honey brown color (teak's natural state). When teak furniture is new, it usually has a polished look due to the oils naturally occurring in the wood. With time, these surface oils will evaporate. This does not affect the durability of the furniture, as it's the oils below teak's surface that are responsible for its weather-resistant properties.
When teak furniture is left to naturally age outside, its brown color will slowly—over the course of 9-12 months— turn into a silver-gray patina. This is known as teak's weathered state and has a special appeal all its own. The rate at which this happens will depend on how much sun and rain the furniture is exposed to. This aging process does not affect the integrity of the wood and merely offers an aesthetic alternative.
Teak furniture care varies based on which aesthetic you prefer. If you prefer teak's golden hue, there are products you can use to retain its natural color. Alternatively, if you like teak's weathered look, you can simply clean your furniture as needed.
MAINTAINING WEATHERED TEAK
Many people choose to let their teak furniture weather, as it is virtually maintenance-free and provides timeless charm for many a garden setting. Should you decide to let your teak weather to a silver-gray, there's very little that you need to do. Within 5-12 months of leaving the furniture outdoors in the sunlight, it will begin to develop a gray patina. To speed up the process, you can use a product like our Golden Care Teak Patinizer, which will hasten the weathering process and help prevent the adhesion of dirt and mildew.

MAINTAINING NATURAL TEAK
If you want your teak furniture to maintain the golden hue it had when purchased, UV protection will factor heavily in your teak furniture care regimen. Place pieces under an awning or another area away from direct sunlight. Eventually, with time, the weathering process will begin. However, weathering is a cosmetic, surface condition only. Hand sanding with a fine grit sandpaper will remove the outer grey layer and once again reveal that golden shade you love. Applying a product like Golden Care Teak Protector will help to extend the life of the natural finish.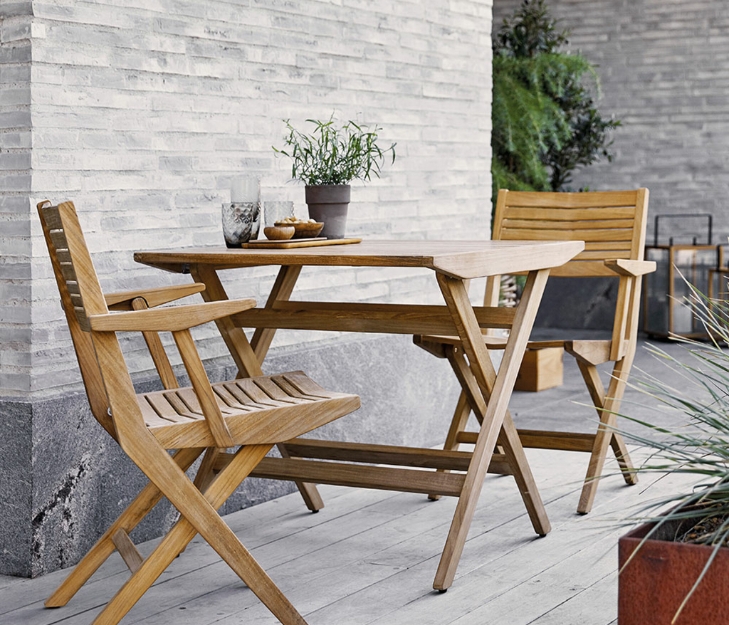 How to Clean Teak Furniture
With time, both weathered and natural teak furniture will accumulate some dirt and debris. Cleaning teak furniture once a year with a soft bristled brush and soapy water will remove most accumulated dirt. For tough stains and mildew, add one-part household bleach to two-parts water to create a soapy solution. Be sure to rinse well with clean water after washing. For tougher stains, there are teak cleaning products available, including Golden Care's Teak Wood Cleaner.
Surprisingly, some of the most common tools for cleaning wood can be the wrong choice when it comes to how to care for teak wood. Pressure washers are to be avoided as they can scour and roughen the wood's surface. Also, the use of steel wool is not recommended, as it can leave a residue that can produce rust spots. To slow the weathering process, let your teak age to a light silver-gray and inhibit mildew growth, you can also use a teak furniture care product like our Golden Care Teak Whitener.
Additionally, to protect your teak furniture from stains like wine, grease or oils from food, we recommend using Golden Care's Teak Shield. This product works by creating a water-based "shield" or layer on the surface of your furniture, preventing stains from seeping through and overall protecting your teak wood patio furniture. This will help preserve your investment and allow you to get the maximum enjoyment from your teak pieces.
Should I Use Teak Oil?
While some people use teak oil to preserve the original teak finish, we do not recommend using it for furniture that will be used outdoors. Teak oils can promote the growth of mold on the surface of furniture as well as create a greasy feel, which will interfere with your enjoyment. Instead, we suggest following the cleaning and occasional sanding steps above to maintain your preferred finish.
Do I Need to Store My Teak Furniture for the Winter?
Keeping your furniture covered isn't a must when it comes to how to care for teak wood, but it certainly doesn't hurt. The great thing about teak furniture is that it can be left outdoors uncovered in any environment. It's a material that truly stands the test of time. However, for those who want to be extra diligent about their teak furniture care, a furniture cover is a great option for winter protection. If you decide to use a furniture cover, be sure to choose a material that allows the wood to breathe. Teak furniture makes for great patio eye candy. And with some simple cleaning and maintenance, you can keep your teak pieces looking good as new. Invest in good products and follow the proper teak furniture care for your pieces and you'll enjoy their beauty for seasons to come.
For all things teak and outdoor furniture maintenance, follow us on Instagram or subscribe to our email list.